Posted: December 11, 2014
Filed under: Art and Design, Fonts in Use, Packaging Reviews
| Tags: Best Packaging Designs, Buckram Embossed Paper, Colorplan Embossed Paper, Colorplan Papers and Boards, Colour in Use: Orange, Creative Packaging, Designed by Well Made Studio, Fonts in Use: Bebas Neue, Fonts in Use: Cam, G.F Smith Papers & Boards, Graphic Design Blog, Logo Design Inspiration, Logo News, Logotypes, New Logo, Packaging Company, Packaging Design, Packaging Design Blog, Packaging Design Resource, Packaging News, Serif Logotypes, Surface Texture, The Best Brand Identities of 2014, The Best Logo Designs of 2014, The Best Packaging of 2014
Comments Off

on Signet 100 HB Pencils designed by Well Made Studio
Opinion by Richard Baird.
Signet is a new pencil range developed by British home, outdoor and lifestyle retailer Pedlars, who applied their expertise to an own-brand product line following a lengthy international search for the perfect pencil. 100, the first of the Signet range and launched in November this year, is made from American basswood, finished in orange with a silver foil detail and crafted by a long-established family-run business in the Czech Republic.
Well Made Studio were given an open brief by Pedlars to select the pencil finish and develop a complementary visual identity and packaging treatment. Informed by modern typography from the mid-20th century with consideration given to future ranges, and using a bright orange board and white ink, the studio looked to create a solid and minimal solution that would stand out from what they describe as a market of fussy vintage-inspired competitors.
---
Posted: May 5, 2014
Filed under: Interior Design, Logo Reviews
| Tags: Black Block Foil, Brand Identity, Brand Identity Design, Brand Identity Reviews, Branding, Branding Blog, Branding Reviews, British Design, Buckram Embossed Paper, Business Card Design, Colorplan Embossed Paper, Colorplan Papers and Boards, Corporate Identity Design, Design For Print, Fonts in Use: Chronicle, Fonts in Use: Johnston, Logo Design & Branding Blog, Logo News, Logotypes, New Logo, Sans-serif Logotypes, Stationery Design, The Best Brand Identities of 2014, The Best Business Cards of 2014, The Best Logo Designs of 2014, Triplex Business Cards
Comments Off

on Penson Group designed by She Was Only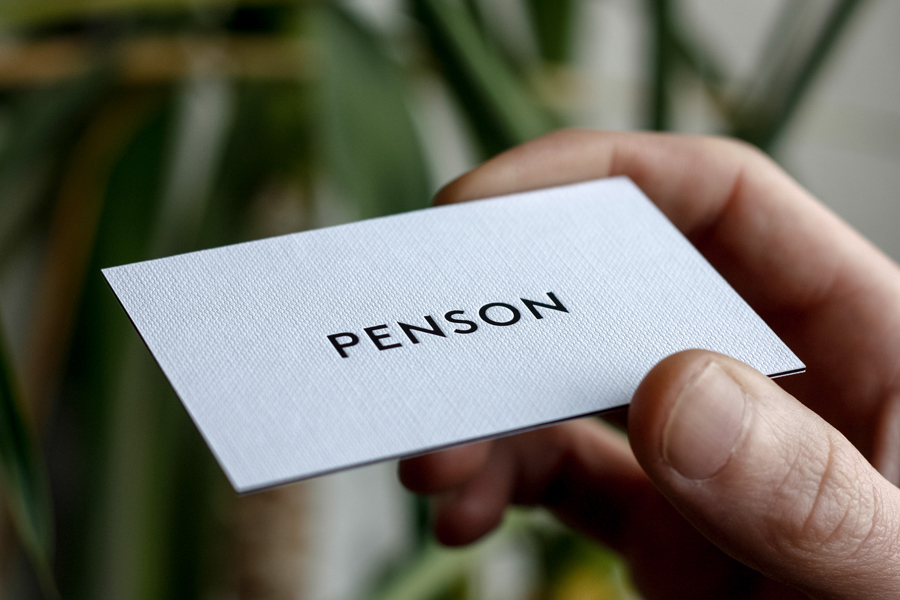 Penson is an award-winning interior design firm that help businesses to achieve their "cultural and commercial ambitions" by replacing dull and inefficient spaces with those that are beautiful and intelligent. Penson's new visual identity, developed by London based design studio She Was Only to coincide with the firm's 10th anniversary, delivers what the studio describe as a "clean and confident solution", consistently executed, that better reflects the firm's high quality projects. This extended across business cards, website and signage.
---