Posted: March 13, 2015
Filed under: Fonts in Use, Food and Drink, Packaging Reviews
| Tags: Best Packaging Designs, Brand Identity Design, Brand Identity Reviews, Branding, Branding Blog, Branding News, Branding Reviews, Creative Packaging, Design For Print, Designed by Peter Gregson Studio, Graphic Design Blog, Logo Design & Branding Blog, Logo News, Minimal Package Design, Packaging Company, Packaging Design Blog, Packaging Design Resource, Serbian Design, Silver Block Foil, Spot Colours, The Best Packaging of 2015, The Very Best of 2015, Wine Design, Wine Label Design
Comments Off

on Djurdjic Winery designed by Peter Gregson
Opinion by Richard Baird.
Vinarija Đurđić is Serbian wine producer with vineyards on the west side of Sremski Karlovci with views of the Danube. Set-up in 2004 the winery is one of the youngest growers in the region. While describing itself as being unburdened by the generational history of many other wine businesses, it has embraced a traditional bench-grafting technique and growers principles that have their origins in early 20th century Italy, something that has secured Vinarija Đurđić both praise and criticism. These themes are brought to life across new wine labels created by Peter Gregson Studio.
---
Posted: December 4, 2013
Filed under: Food and Drink, Packaging Reviews
| Tags: Back of Pack Design, Best Packaging Designs, Box Packaging, Designed by Peter Gregson Studio, Food Logos and Packaging Design, Food Packaging, Health Food Packaging, Illustration, Packaging Design, Packaging Design Blog, Packaging News, Packaging Opinion, Script Logotypes, Serbian Design, The Best Packaging of 2013, Typography
Comments Off

on Basket Snacks designed by Peter Gregson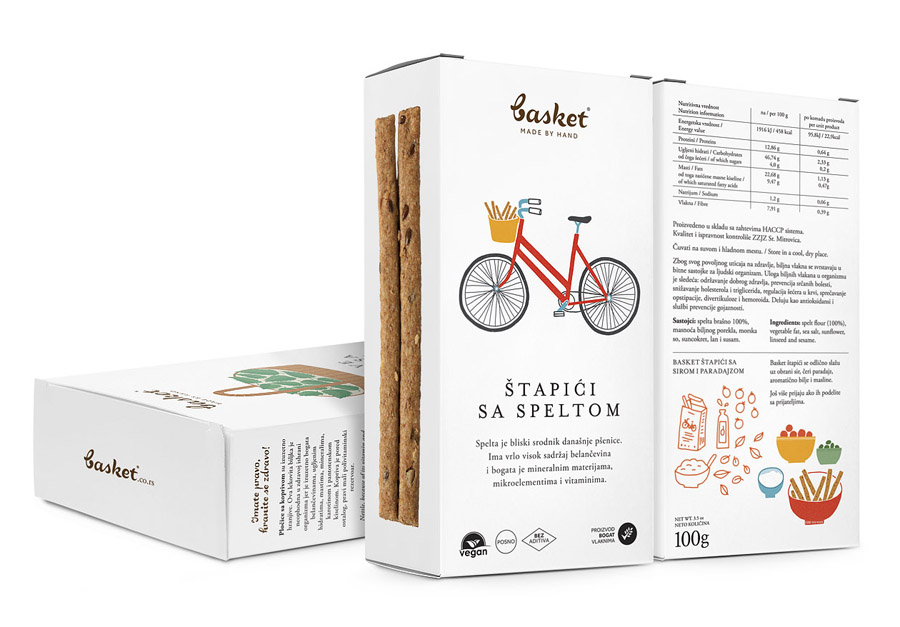 Basket is a family run business located in the Serbian village of Golubinci who produce baked, additive and preservative free foods, made by hand from whole-wheat flour. Replacing a local but rudimentary aesthetic with a more commercial and communicative resolution of design conventions, Peter Gregson, working in collaboration with illustrator Marijana Rotthat, utilised contrasting type, plenty of white space, certifications front of pack and a loose illustrative style to neatly convey authentic regional hand craft and high quality in a contemporary way.
---