Posted: May 28, 2015
Filed under: Cafes, Bars and Restaurants, Logo Reviews
| Tags: Brand Identity, Brand Identity Design, Brand Identity Reviews, Branding, Branding Blog, Branding News, Branding Reviews, British Design, Business Card Design, Custom Typefaces & Logotypes, Deli Logos and Packaging, Design For Print, Design News, Design Opinion, Design Reviews, Designed by & Smith, Food Logos and Packaging Design, Food Packaging, From Europe, From the United Kingdom, Graphic Design, Illustration, Logo Design & Branding Blog, Logo Design Inspiration, Logo Designs, Logo News, Logo Opinion, Logotypes, New Logo, Paper and Card Packaging, Poster Design, Restaurant Logos, Seafood Packaging, Serif Logotypes, Sign Design, Slab-serif Logotypes, Spot Colours, The Best Brand Identities of 2015, The Best Custom Logotypes, The Best Logo Designs of 2015, Uncoated Papers & Cards, Visual Identity Design Blog
Comments Off

on Smack Lobster Roll by & Smith, United Kingdom
Opinion by Richard Baird.
Smack Lobster Roll is a takeaway business, located on Mayfair's 26 Binney Street, serving freshly cooked lobster in brioche rolls, as well as a variety of other fillings. In conjunction with a name change, formerly Smack Deli, and to coincide with the opening of a second site on Dean Street in Soho, British graphic design studio & Smith worked with Smack to clarify brand position and develop a new brand identity treatment. This went on to include logotype, illustration, stationery, business cards, packaging, menu design, signage and web design.
---
Posted: May 12, 2011
Filed under: Food and Drink, Logo Reviews, Retail
| Tags: Bag Design, Brand Identity Design, Branding, British Design, Business Card Design, Designed by & Smith, Designed in London, Logo Design & Branding Blog, Logo Designs, Packaging Design, Serif Logotypes, Slab-serif Logotypes, Stationery Design, Sweet Packaging
Comments Off

on SugarSin designed by & Smith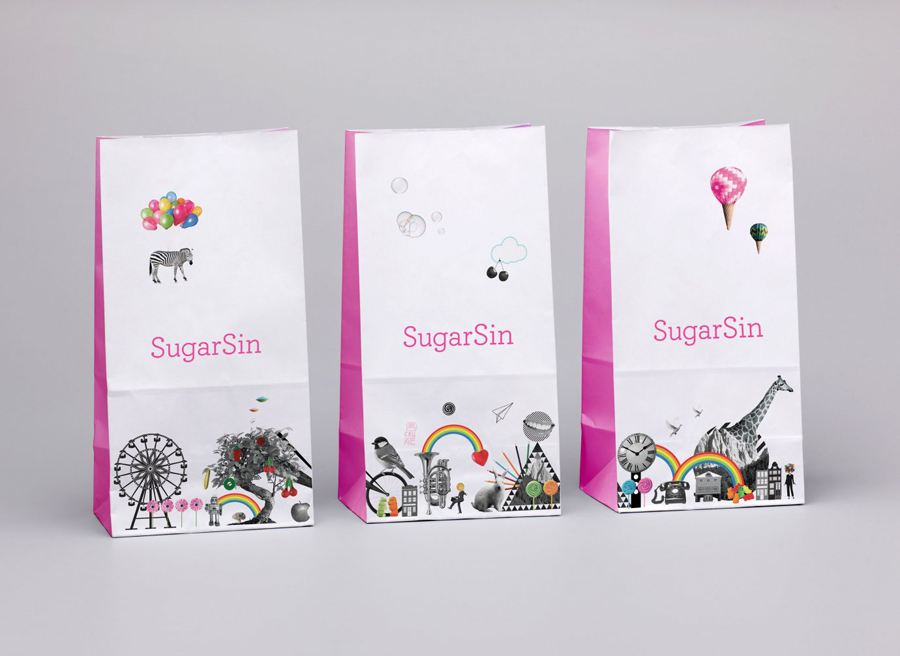 SugarSin will be a modern sweet shop experience opening in central London later this year, billed as 'non-traditional' their brand identity was undertaken by UK based design agency & Smith who developed a more sophisticated retail proposition for both adults and children.
---