Posted: April 16, 2015
Filed under: Logo Reviews, Music
| Tags: Brand Identity Reviews, Branding Blog, Branding Reviews, Business Card Design, Coloured Paper, Colourful Business Cards, Condensed Typography, Design For Print, Design Opinion, Design Reviews, Designed by Hardy Seiler, Festival and Event Brand Identities, German Design, Graphic Design, Graphic Design Blog, Logo Design & Branding Blog, Poster Design, Stationery Design, Theatre Programme, Typography, Unbleached Materials, Uncoated Papers & Cards
Comments Off

on Masala Weltbeat Festival by Hardy Seiler, Germany
Opinion by Richard Baird.
Masala Weltbeat Festival is a celebration of traditional and contemporary world music, and looks to arouse curiosity and foster interest in the many cultures of the world under the unifying presence of music. Masala takes place in and around the German city of Hannover, hosts over 4,000 musicians from 90 countries and also runs workshops, exhibitions, theatre performances, an outdoor world market and programmes created for children and families. This June, Masala will celebrate its 20th year and reached out to Bureau Hardy Seiler to create a new brand identity concept that had the potential to extend across a variety of printed collateral including mailers, posters, record sleeves, business cards, flyers and programmes.
---
Posted: April 3, 2014
Filed under: Logo Reviews, Theatre
| Tags: Brand Identity, Brand Identity Design, Brand Identity Reviews, Branding, Branding Blog, Branding Reviews, Business Card Design, Condensed Logotypes, Design For Print, Designed by Hardy Seiler, German Design, Illustration, Logo Design & Branding Blog, Logo News, Logotypes, New Logo, Sans-serif Logotypes, Stationery Design, The Best Brand Identities of 2014, The Best Logo Designs of 2014, Theatre Logos, Theatre Programme
Comments Off

on Freies Theater Hannover designed by Bureau Hardy Seiler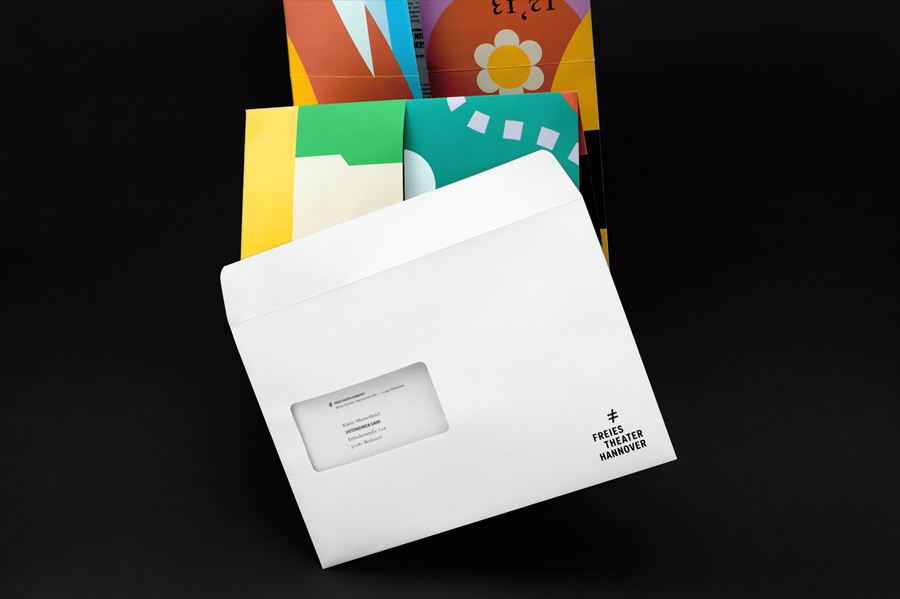 Freies Theater Hannover offers a diverse programme of classical and contemporary theatre, multimedia productions, musical experiments, modern dance and educational initiatives for both children and adults that take place across many of Hannover's independent theatres.
Bureau Hardy Seiler, working in collaboration with Created by Monkeys, was recently commissioned by the organisation to develop a new brand identity solution that would unite the diverse programme and the variety of locations under one unified visual system, deliver a recognisable visual impact across the city and convey some of the emotion of live performance. This was achieved through the juxtaposition of sans-serif and serif typography, bright geometric illustrative detail, black ink and unprinted white space across a stationery set and a bi-monthly mailer that doubles as a poster.
---