Posted: July 9, 2014
Filed under: Food and Drink, Packaging Reviews
| Tags: Best Packaging Designs, Bottle Label Design, Bottle Packaging, Branding Reviews, Creative Packaging, Design For Print, Handcraft, Health Food Packaging, Illustration, Muesli Packaging, Packaging Company, Packaging Design, Packaging Design Blog, Packaging News, Packaging Opinion, Sans-serif Logotypes, The Best Custom Logotypes, The Best Logo Designs of 2014, The Best Packaging of 2014, Unbleached Materials
Comments Off

on The Beginnings designed by Asketic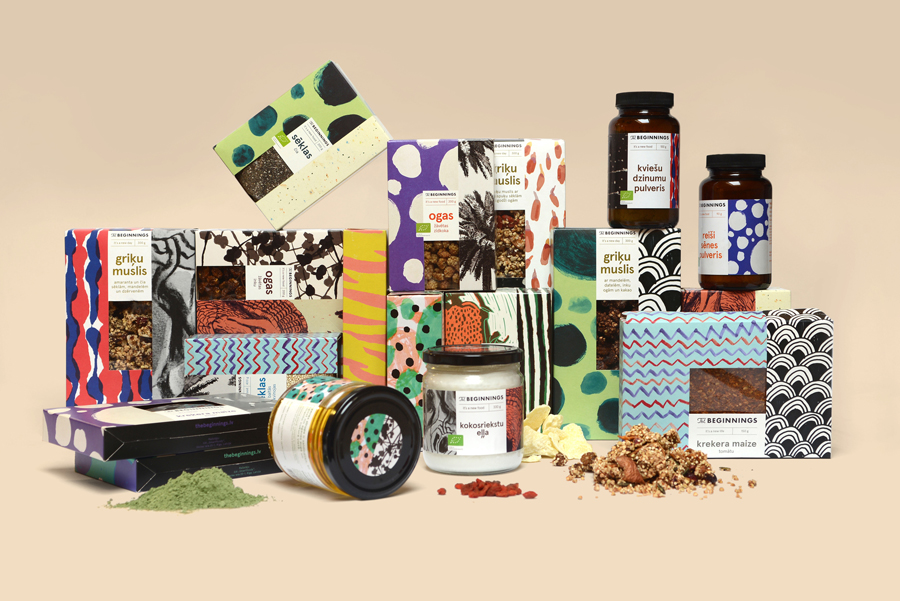 The Beginnings is a Latvian raw food and ingredients business creating and sourcing a variety of mueslis, jams, honeys and spices from around the world. Developed by multi-disciplinary design firm Asketic, The Beginning's brand identity and packaging treatment goes all in for handcraft and contrast, mixing a variety of patterns and images informed by the origins of each ingredient to establish an ever changing and easily expandable set of assets. Each pattern is rendered with a loose authenticity, clearly drawn and painted by hand with a good mix of pen and watercolour work, lots of brush detail, a simple but bright colour palette, earthy material textures and a white panel that frames information set in a distinctive sans-serif.
---
Posted: July 11, 2013
Filed under: Food and Drink, Packaging Reviews
| Tags: Best Packaging Designs, Design Opinion, Designed by Robot Food, Designed in Leeds, Food Logos and Packaging Design, Illustration, Muesli Packaging, Packaging Design, Packaging Design Blog, Packaging News, Responsive Websites, Snack Packaging Design, Snack Pot Packaging, The Best Packaging of 2013, Typography
Comments Off

on Stoats Porridge designed by Robot Food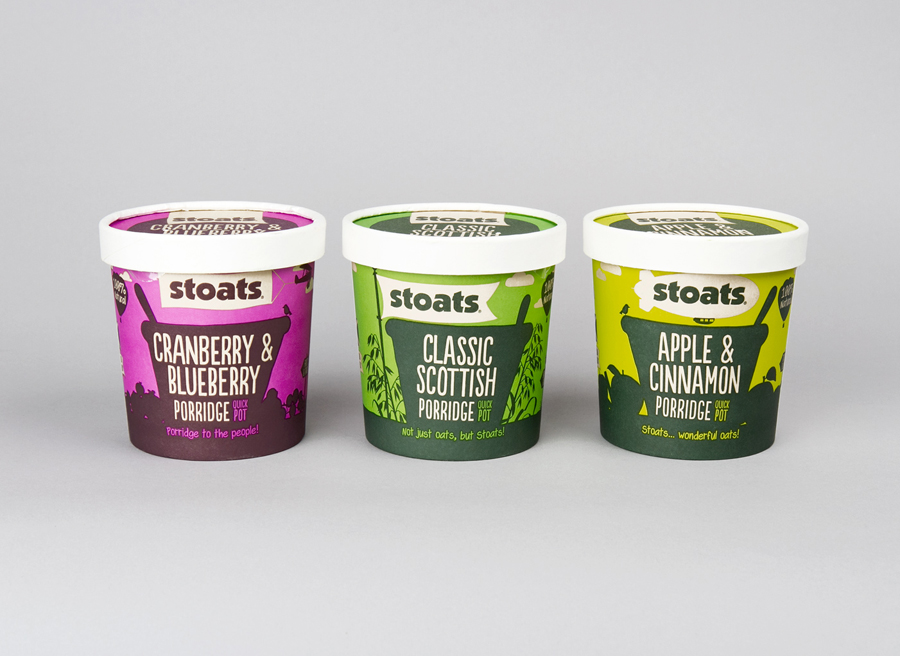 Stoats is a Scottish oats company that began life in 2005 as a converted American hot dog sales stand serving porridge at summer music festivals around the UK, and now has a range of packed, ready to eat retail products that include flavoured porridge and porridge bars.
Stoats recently commissioned Leeds-based independent design studio Robot Food, as part of a complete rebranding exercise, to develop a new packaging and responsive website solution as well as uniforms, trailers, vans and marketing material that would build on the Stoats story, add vibrancy and establish a more proprietary brand image.
---