Posted: October 15, 2015
Filed under: Art and Design, Logo Reviews, Self-Initiated
| Tags: Brand Identity Reviews, Branding, Branding Blog, Branding News, Branding Reviews, Business Card Design, Design For Print, Design Opinion, Design Reviews, Design Studio Logos, Designed by Studio Una, Envelope Design, Fonts in Use: Bau, From Europe, German Design, Graphic Design Blog, Kraft Paper, Logo Design & Branding Blog, Logo Designs, Logotypes, Minimal Logos, Sans-serif Logotypes, Sans-serif Typography, Stationery Design, The Best Brand Identities of 2015, Triplex Business Cards, Type Foundry: FontFont, Typography, White Ink
Comments Off

on Studio Una, Germany
Opinion by Richard Baird.
Studio Una is graphic design business, run by Sebastian Hager and Sebastian König, with an office in the German city of Hamburg. The duo works within the fields of visual communication and brand identity design, online and in print, and describe themselves as attaching great importance to the aesthetic effect of design, alongside strong concepts and strategic decisions. This positioning is conveyed throughout their new visual identity using a mix of kraft paper and white ink, pattern and type, applied to notebooks, business cards, box tape, note cards, folders and badges.
---
Posted: May 23, 2013
Filed under: Fitness, Health and Beauty, Fonts in Use, Packaging Reviews, Sport
| Tags: Amber Glass and Plastic Packaging, Best Packaging Designs, Branding, Cosmetic Packaging, Design News, Design Opinion, Design Reviews, Designed by Mucho, Fonts in Use: Austin, Fonts in Use: FF Kievit, Packaging Design, Packaging Design Blog, Packaging News, Pastel Colours, Serif Logotypes, Sport Logos and Packaging, The Best Packaging of 2013, Type Foundry: Commercial Type, Type Foundry: FontFont
Comments Off

on Fisix designed by Mucho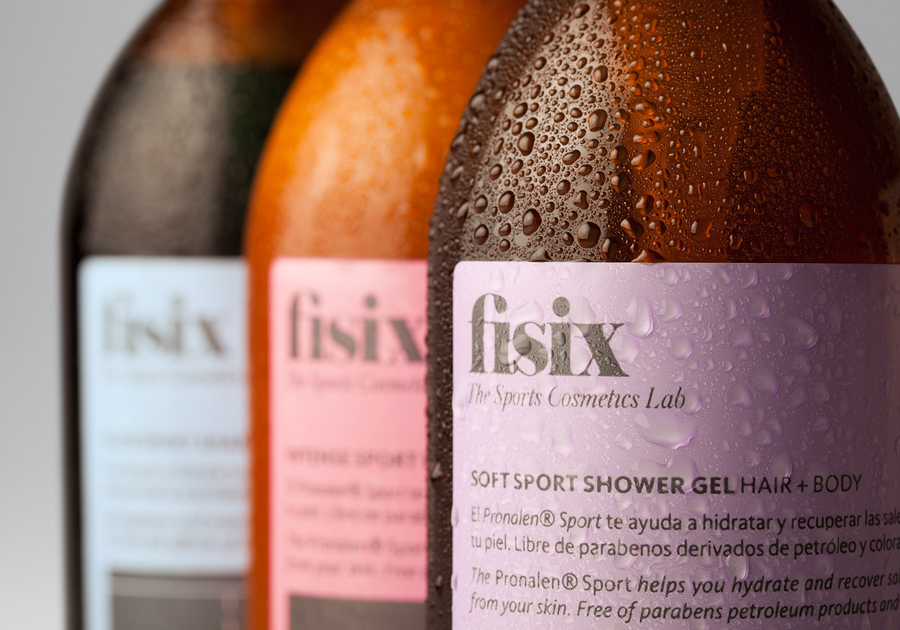 Fisix is a line of cosmetic products that includes shower gels, shampoos and hydrating skin balms, developed by four marathon running friends who 'couldn't find a range that met their needs as sportsmen', branded and packaged by multidisciplinary design agency Mucho.
Mucho's design solution unties the diagrammatic, geometric forms and typographical, sans-serif utility and neutrality of the pharmaceutical and sports science industries with the subtle fashion and on-trend design sensibilities of a tightly spaced, lowercase serif logotype, italics, and a flat, economical, unisex grey and pastel colour palette. A smart balance of formulated effectiveness and the more exclusive, restrained qualities associated with high fashion and professional cosmetics.
---