Posted:
Filed under: Food and Drink, Graphic Design Reviews, Packaging Reviews
| Tags: Alcohol Packaging, Bottle Packaging, Branding, Branding Blog, Branding Reviews, Creative Packaging, Design For Print, Design News, Design Opinion, Design Reviews, Designed by Bold Inc., Distillery Logos and Packaging, From Australia, Graphic Design, Graphic Design Blog, Illustration, Packaging Company, Sans-serif Typography, The Best Packaging of 2016, Typography, Vodka Packaging
Comments Off

on Absolut Botanik by Bold Inc., Australia
Opinion by Richard Baird.
Absolut Botanik is a new ready to drink, pre-mixed, single-source vodka range from distiller Absolut, flavoured with Scandinavian lingonberries, cloudberries and blueberries, blended with either pear, apple or lime. The range features a distinctive and bespoke single-serve bottle with a silver crown cap, and the Absolut logotype framed by rich illustrative detail. This mixes bold watercolour strokes with finer pen and ink work. The packaging design, created by Bold Inc., looks to engage the market with a strong character and story, and to convey a sense of craft and playfulness. This post was updated October 2017 with images of Berry Lemon, a new addition to the range.
---
Posted:
Filed under:
Food and Drink
| Tags: Alcohol Packaging, Bottle Packaging, Drinks Packaging, Graphic Design, Handcraft, Illustration, Packaging Design, Packaging News, Swedish Design, Vodka Packaging
Comments Off

on Absolut Flavored Vodka designed by The Brand Union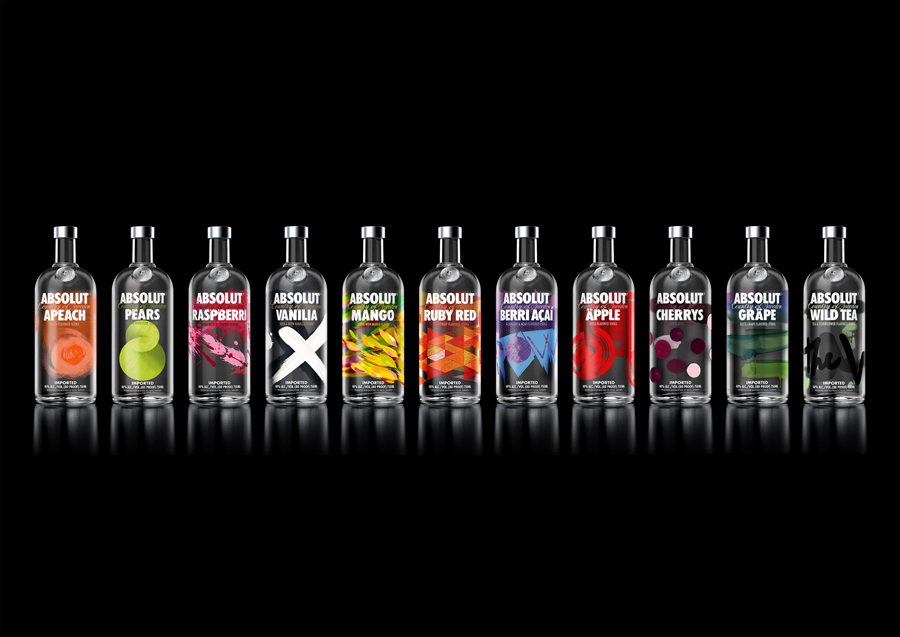 The Brand Union have redesigned the packaging for Swedish premium vodka brand Absolut's complete flavour range bringing them in line with the more expressive directions of their recent special editions. Based around a diverse set of handcrafted illustrations which replace the lengthy script of the originals – a detail that drew together the brand's heritage and ingredient quality – the "vibrant new designs bypass design conventions to artistically express the core essence of the flavours in the Absolut Vodka range", whilst retaining their distinctive and proprietary structure.
---