Posted: February 11, 2015
Filed under: Art and Design, Logo Reviews, Self-Initiated
| Tags: Brand Identity, Brand Identity Reviews, Branding, Branding Blog, Branding News, Business Card Design, Colorplan Papers and Boards, Coloured Paper, Colourful Business Cards, Design For Print, Design News, Design Opinion, Design Reviews, Design Studio Logos, Duplex Business Cards, Fonts in Use: Neuzeit, Fonts In Use: Simplon, G.F Smith Papers & Boards, Letterhead Design, Logo Design & Branding Blog, Logo Design Inspiration, Logo Design Resource, Logo Opinion, Minimal Design, Pastel Coloured Papers, Sans-serif Logotypes, Stationery Design, The Best Brand Identities of 2015, The Best Business Cards of 2015, The Best Logo Designs of 2015, Type Foundry: Swiss Typefaces, Uncoated Papers & Cards, Visual Identity Design Blog
3 Comments »
Opinion by Richard Baird.
Two of Us is a new British design studio run by Ash O'Brien and Ian Caulkett working from Brighton and Birmingham. Together they specialise in brand identity design, have a philosophy that is based around an honesty and openness in the sharing of feedback, and individual styles and skill sets that when working together complement each other. As an alternative to large studios, the duo choose to pick out the small-scale and personal two-man nature of their business with a simple naming strategy and visualised as a contrast of type detail, type size and of colour. this runs across business cards, letterhead, parcel stickers and website.
---
Posted: June 13, 2014
Filed under: Fonts in Use, Logo Reviews, Television and Radio
| Tags: Brand Identity, Brand Identity Reviews, Branding, Branding Blog, Branding Reviews, Business Card Design, Canadian Design, Coloured Paper, Design For Print, Design News, Designed by Blok, Film Production Logos, Fonts In Use: Simplon, Graphic Design, Letterhead Design, Logo Design & Branding Blog, Logo Designs, Logo Opinion, Logos, Logotypes, Sans-serif Logotypes, Spot Colours, The Best Business Cards of 2014, Tote Bag Design, Type Foundry: Swiss Typefaces
3 Comments »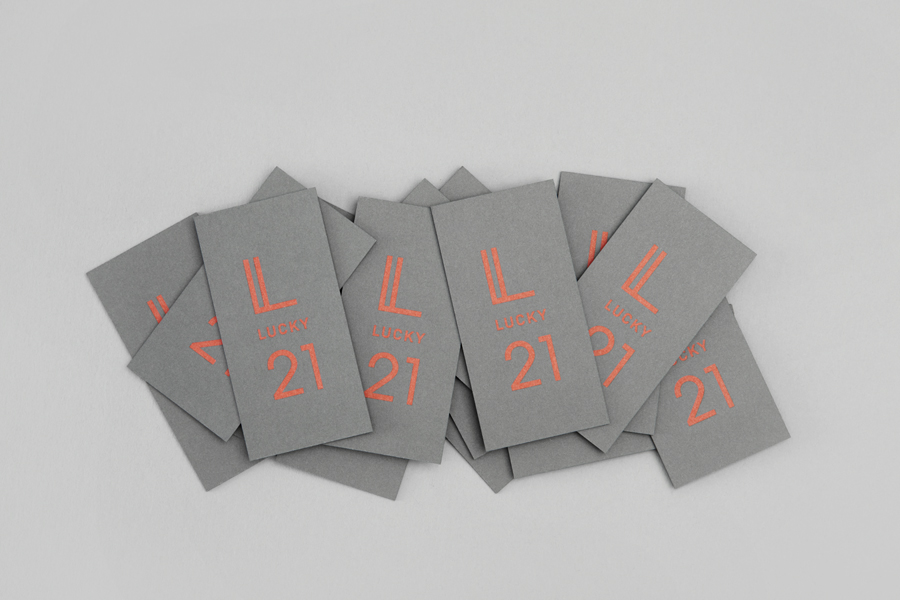 Lucky 21 is a film production company, located in the US city of Dallas, who bring a "contagious energy and tireless drive" to the industry and have a production team and director roster that includes the talents of Jeff Bednarz, The Chartrands, and Tom Ryan, some of whom have worked for big brands such as TGI Fridays, AIG and Home Depot. Lucky 21 recently commissioned design studio Blok to develop a new visual identity solution, which included type, pattern, material and language choices, that would help the company to establish a strong brand personality and better position them to move into and take on the competitive Los Angeles market.
---