The Science Channel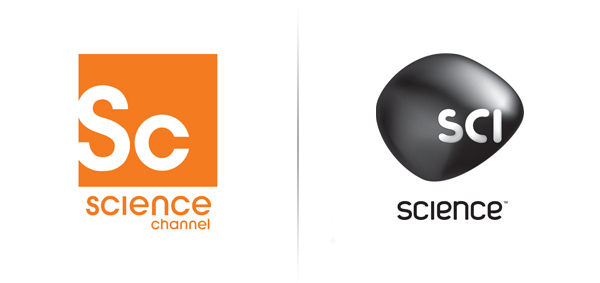 Discovery Science was a cable and satellite channel delivering science and technology related programming to over 68 million US homes and was originally launched in 1999. It had its first relaunch in 2002 becoming the Science Channel and will undergo its third in June this year to become just 'Science'.
The original logo the initials 'SC' set inside an orange box was simple in its visual explanation and reference to the periodic table. Although an obvious choice it still worked well in capturing the essence of science in a common and accessible form but came up short representing the other aspects of their programming. The typography (Avant Garde) was a bit off with some awkward letter forms that didn't balance well with one another. As a broadcast identity it was used playfully but without an overriding style or architecture and failed to capture an expanding programming line up and a diversifying audience.
"SCIENCE is more than a channel – it's a multifaceted, multiplatform community that captures a distinct zeitgeist within our culture. To reflect this, we're officially dropping the 'Channel' from our network name," "I'm also thrilled to unveil our new logo, Morph.  It's futuristic, it's novel – and there's nothing else like it on television. Morph is constantly in motion and always will be changing, on-air and online."

– Debbie Adler Myers, Executive Vice President and General Manager
In contrast the new logo is completely different, the rigid orange box has been replaced by an organic black pebble containing the initials 'SCI' and named 'Morph'. In the continuing tradition of the channel the name has been further reduced to become simply  'Science', and is set in a modern clean typographical choice (looks like a modified Titillium Maps 29L). As a static logo-mark it has a strong visual impact, it looks unusual for a television identity with a very physical and tactile sensibility. The type choice for the word-mark is fine but the early termination of the top part of the 'S' and bottom part of the 'C' in 'SCI' feels a bit too fussy and could have done with less stylisation. As with most broadcast identities this logo really comes to life on screen bursting with lots of creative and cohesive visual ideas which suitably parallels the interesting and changing state of our planet and the channels content.
[youtube=http://www.youtube.com/watch?v=fJ-aC0NZneo]
[vimeo width=590 height= 330 http://vimeo.com/25212805]
---