Dutch Gold designed by Mike Ballinger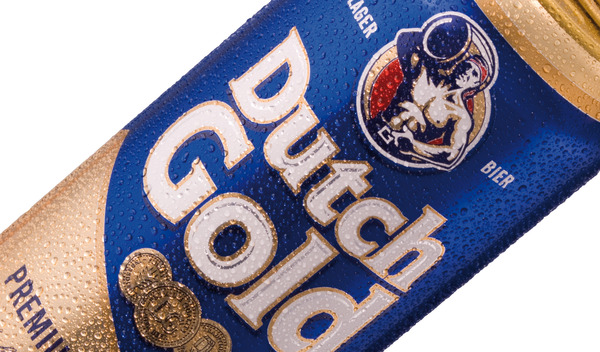 Dutch Gold is premium Belgium lager brewed by Inbev and distributed by Comans in Ireland where it is the third most popular beer. "Dutch Gold reflects what customers really need: Excellent quality beer at a value for money price". Recently Dutch Gold has received a refresh to its key illustration, cans and multi-pack directed by Irish based designers Mike Ballinger and Adam Gallacher.
"The brief was to reposition Dutch Gold as a more premium lager beer within the Irish market, being mindful to not alienate their current customer base. Research showed that Dutch Gold was predominately consumed by the working class and students and therefore had a poor taste perception. In blind taste tests Dutch Gold was rated in the top three lager beers widely available in Ireland.
Key elements of the Dutch Gold brand were identified and an initial design phase worked through 26 degrees of change. From a clean up of the original can through to a radical change. Next work was carried out on the icon, with the help of a professional illustrator to get rough sketches of the Dutch Gold Pirate. The sketches were refined and vectorised into three options and finally rolled out into the final design".
– Mike Ballinger
Follow BP&O:
RSS
Facebook
Twitter
This is a very well conceived and executed treatment of the original illustration which appeared unresolved and lacked any real character. The revisions deliver a more realistic visual that conveys a sense of strength and attitude.
If you liked this then you may also like:
---