Will & Jamie's by Designers Anonymous
Opinion by Richard Baird Posted 27 April 2011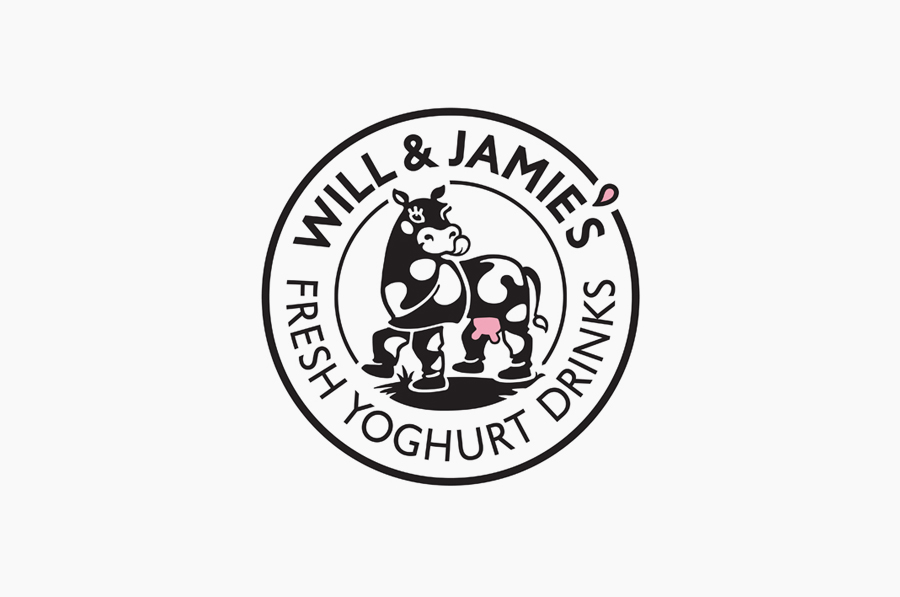 Will & Jamie's is a new joint venture between Welsh dairy farmers Will Prichard and Jamie Adams producing and distributing a range of fresh yoghurt drinks. Their new name and identity was designed and developed by London based design agency Designers Anonymous.
Simplicity has come to mean honesty in this product sector and this identity follows in this tradition while developing a fun and playful sensibility. Rather than the home style/home-made visual aesthetic, Designers Anonymous have pursued a flexible character based personality.
Based around an illustration of a pantomime cow the identity is a good visual analogy between hidden but always obvious and an open honest business practice while suitably communicating the partnership between the two founders. The roundel lock-up feels spacious and utilises simple typography and is built around a well realised illustration, colour is left to a minimum and really shows how simple and effective the identity is while also keeping reproduction costs low.
The cow character is utilised well in a number of different positions and situations conveying the characteristics and relationships between the graphic identity, its placement (on stationary, on-line and on-pack) and the people 'behind' the brand. What really stands out for me is the blend between the illustrated character and a real-life pantomime costume that delivers two distinctive but not contradictory aesthetics.
"To add provenance to the brand, we commissioned propmakers to make a bespoke pantomime cow costume. A photoshoot was organised at their farms in Pembrokeshire, and the farmers were shot in different positions and situations to express a variety of messages. E.g. The cow curtsie's for the complement slip." – Designers Anonymous
The two visual concepts of illustration and photography come together well on-line and as printed collaterals balancing the playful with an accessible real world aesthetic.