Milliken by Salt Branding
Opinion by Richard Baird Posted 2 May 2011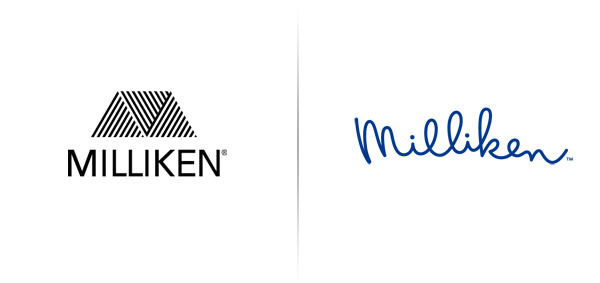 Milliken is a large textile, chemical and floor covering business based in Spartanburg, South Carolina with a history dating back to 1865. It has over 10,000 employees across 7 countries and a reputation as Fortunes 'Best Company To Work For' and voted Ethispheres 'World's Most Ethical Companies'. Following the death of their chairman Roger Milliken in 2010, Milliken has refocused and updated its visual architecture with the help of Salt Branding to represent a more human centred approach and features a word-mark based around the signature of its former chairman.
"Our identity brings together all our strengths – ground-breaking products, deep customer relationships and operational excellence – to create innovative solutions that help our customers succeed."…"the new logo is simple, playful, bold, and signals a continuing commitment to excellence, leadership, and ethics." – Milliken
I really like the original identity, it had a timeless quality and was suitably representative of a textile based company. The type was a little dull with some tracking issues but the 'Industrial M' carried enough character and impact to pull it all together. The new word-mark is a complete change in direction and delivers a much more personal touch. The letter-forms have been neatly realised and deliver a strong sense of movement and energy like an unwinding bit of string while the animation draws on the chemical elements of the business. The line weight feels heavy enough to matter but light enough to care.
While I feel the inspiration borders on sentimental, the result is visually very pleasing and succeeds in embodying a spirit of playfulness, curiosity and discovery, accessible qualities large industrial companies are very eager to develop. The new identity was accompanied by the launch of a design inspiration website and a new corporate video.