Sustain by Simon Inman
Opinion by Richard Baird Posted 5 May 2011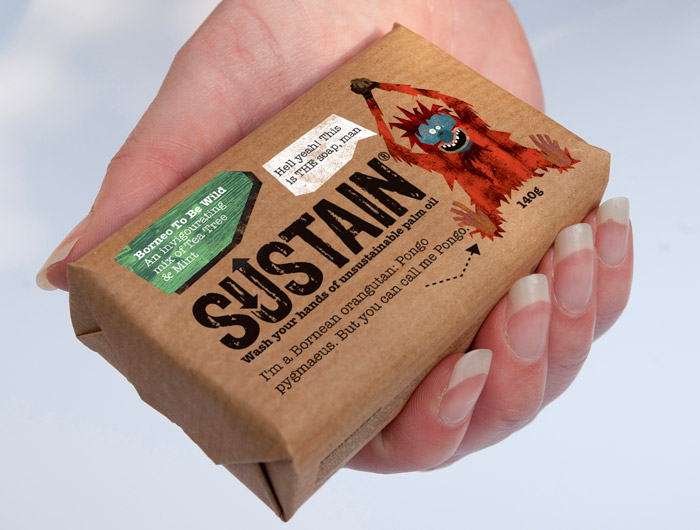 Sustain is a sustainable palm oil soap that has been designed to promote awareness of the continued use of unsustainable resources in the development of everyday products and is a collaborative project between Simon Inman an illustrator based in North Yorkshire, UK and copyrighter Chris Miller.
Based on the idea that the production of unsustainable palm oil leads to the destruction of wildlife and habitats the soap series uses three key illustrated animals as a narrative vehicle to deliver the key message.
"…we wanted to show people some of the species that they would be helping save by buying Sustain."…"We developed three characters based on threatened animals and created some lovely copy that would tell people about each animal and the habitat they lived in. The pack design was kept simple and I created a brand logo that could be easily recognised and work by itself."
This is an interesting and topical message which is delivered in a very friendly and accessible way. The characters are playful, well illustrated and consistent while the use of texture gives each a very tactile and earthy appearance. The logo delivers a strong impact and while the 'U' perhaps doesn't quite work as much as an 'O' would the textures give it a sense of authenticity. The copywriting avoids any forceful dictatorial messages and chooses to engage on a casual, fun, witty and informal level neatly complimenting the illustration work. The choice of sub-straight is sensible and blends the visual cues of recycling with the excitement of receiving an unexpected parcel.