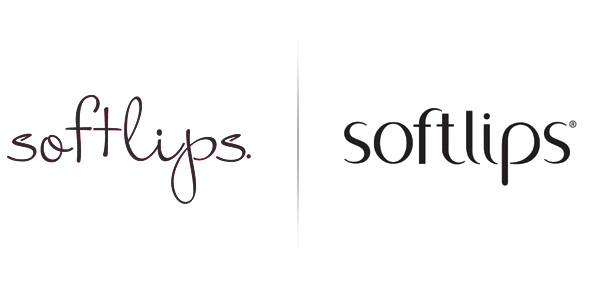 Softlips is a range of premium protective lip products owned and distributed by US based The Menthlolatum Company. This month they began rolling out a new identity system which included a new word-mark, revised packaging and marketing campaign.
The original script word-mark sat comfortably within their 16 – 24 year old demographic, its loose flowing lines expressed a carefree and youthful attitude. Each character looked neat but missed out on some much needed ligature details to pull it all together. In contrast the new identity delivers far more sophistication and likely to appeal to the older market while creating a more aspiring product for their younger customers. The letter-forms look well considered and while the t and l feel a bit far apart they are predominantly well spaced with some magic moments in the F and T, I and P combinations. The word-mark succeeds through its simplicity and has been well executed across the products range contrasting well with the bright and colourful packaging.
My only gripe is the use of the Museo font family as the brand's secondary typeface. There is no doubt the letters have plenty of character but it's widespread use has inevitability reduced its overall effectiveness and could be associated with any number of other brands.