Sophia Georgopoulou by Sophia Georgopoulou
Opinion by Richard Baird Posted 16 May 2011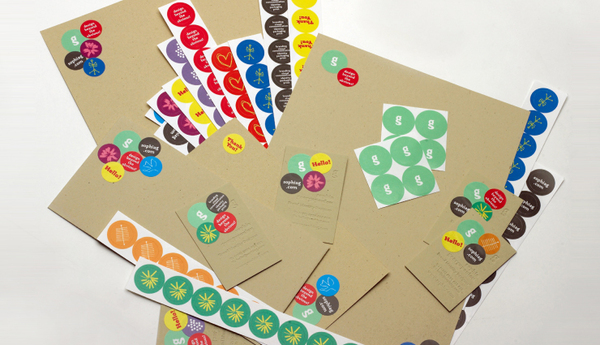 Sophia Georgopoulou is a designer from Athens Greece, with experience in branding, visual communication, web development, packaging and print. This year Sophia created a new logo-mark and ecologically inspired stationary concept to represent her design services.
"This identity is an ecological solution because none of the elements are printed. Round stickers with various messages and colors are used as the main mean of communication. The business card is printed by the "de-bossing" method on a thick recycled paper. Same stickers are used on the letterheads, envelopes etc. in order to avoid printing them." – Sophia Georgopoulou
The monogram logo-mark is a simple and effective solution to Sophia's long name that works best outside of the circle embossed on the business card. What really drew my attention was the ecological and modular nature of this identity and the possibilities of future expansion. Although the messages and illustrations are currently a bit limited there is a great level of character in each with the potential to broaden the style and visual vocabulary. The concept delivers a unique, thoughtful and tactile method of dialogue and suitably represents a well rounded designer with strong ideas.