Tonic by Little Big Brands
Opinion by Richard Baird Posted 30 June 2011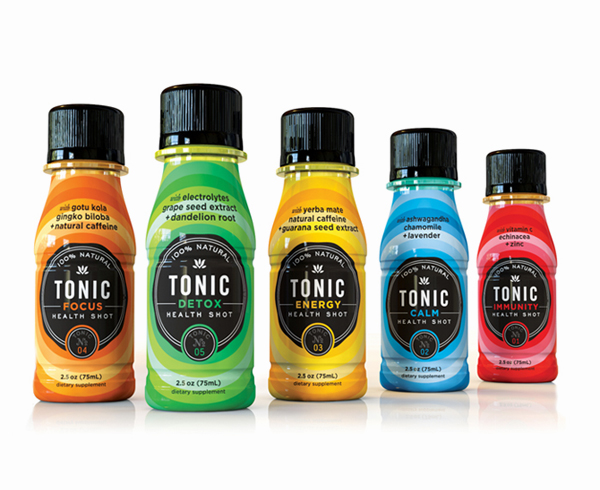 Originally named 'Potion', Tonic is a healthy range of fruit based energy 'shot' products that have been designed to fit into the natural food market. Their re-brand, managed by New York based Little Big Brands created an aesthetic that captures the products unusual blend of effective natural ingredients and energy drink proposition.
"First and foremost, vibrant color palettes were chosen to speak to the nature of each SKU – relaxing blues for 'Calm', vital reds for 'Immunity', medicinal greens for 'Detox, stimulating oranges for 'Focus', and uplifting yellows for 'Energy'. The shots literally radiate the healthful goodness inside the bottle. The badge locks up vital information while remaining organic and having a little fun with 'Tonic No 1′. Key ingredients are featured on the neck, with the placement keeping critical information from falling into the bottle gutters." – Little Big Brands
Taking cues from the classic Victorian medicinal tonic shops the identity lock-up has a nice refined aesthetic with small details that give it an almost genuine and classic sensibility. The typography is simple with neat little quirks (see the 'No.5' etc) that carry this theme well. The waves of colour work well to convey a rippling flow of energy and to differentiate the flavours but I am not convinced these sit well with the visual style of the brand and lack a little sophistication. That said it works quite well on-line with the additional brand assets.
Essentially two quite different sensibilities have been brought together that individually capture health and energy. The combination does feel a little awkward but for a new and unique proposition it does stand out against the brash aesthetics of other energy drink products.