Sir Taste-A-Lot by Neumeister
Opinion by Richard Baird Posted 8 May 2012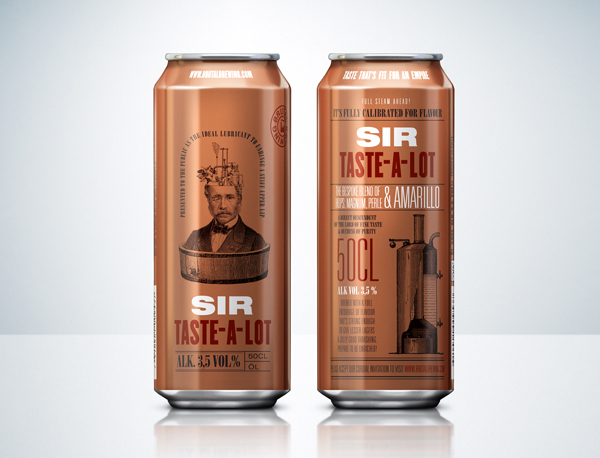 Sir Taste-A-Lot is a new low alcohol beer from Brutal Brewing, a small craft brewery operated part time by the employees of Spendrups, a leading Swedish brewer, and is responsible for beers such as Cheap Thrills, Pistonhead Cruisin Lager and Hale To Nothing. Based around the themes of science and craft, Stockholm based design agency Neumeister developed a packaging solution that confidently blends an etched illustrative style with a non-format, mixed typographic approach and copper treatment.
"Numerous test brews later, we are proud to present Sir Taste-A-Lot, a 3,5% lager beer that actually lives up to its fancy-schmancy name. Sir Taste-A-Lot is unique for the Swedish retail market. It is a full-bodied, dry-hopped super lager that comes in a smart 50 cl can. For hops, we use Magnum for a taste of bitterness. And for a citrusy and flowery edge, Perle and rare Amarillo hops are added in. So now you can drink really good lager beer that doesn't cost a fortune. And it will never gather dust on a shelf. Because that would be beneath its lofty name." – Brutal Brewing
"Based on the craftsmanship and science behind the art of brewing, we developed a design that truly stands out on the shelf. A copper can with illustrations of the characteristic man himself: Sir Taste a Lot. Offering you an exquisite and full-bodied aroma of Magnum, Perle and Amarillo hops, to be enjoyed at a slow pace." – Neumeister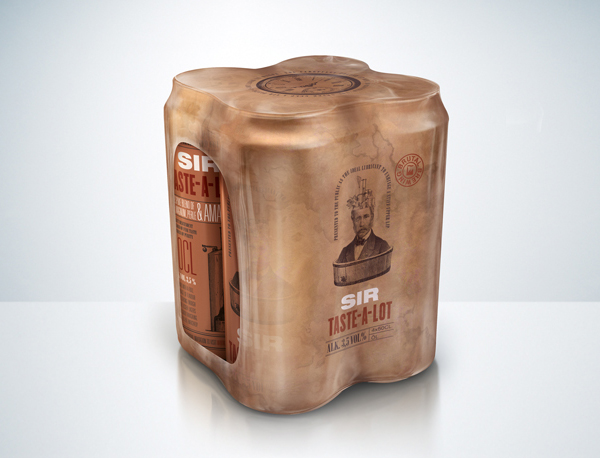 I really like the representation of industry and craft visualised through the classic hand drawn technical detail of the steam vat and the mix of different styles, weights, heights and the stacked and underlined nature of the typography. The Sir Taste A Lot character, set at the heart of the can, feels authentic in his etched illustrative execution but quirky in composition that compliments and reflects the fusion of type. A copper colour palette delivers a distinctive and industrial, reflective of traditional brewing techniques while appearing contemporary in today's market. Resolved, these components have a subtle and underlying steam punk aesthetic works really well to draw together traditional values, handcrafted quality and a sense of playful experimentation with an eccentricity that really captures a sense of passion, creativity and enthusiasm.