Toni's Eierlikoer by Moodley
Opinion by Richard Baird Posted 10 February 2013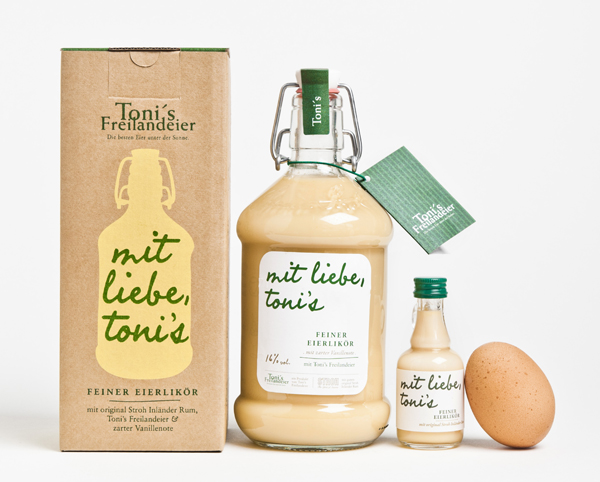 Toni's is an Austrian organic egg brand owned and run by Toni Freilandeier. As part of an increasing product diversification – with eggs still firmly at the core – brand and strategic design agency Moodley recently developed the packaging for Toni's Eierlikoer, a vanilla and egg liqueur in a flip-top bottle and packed in an uncoated, unbleached box with a screen-printed finish.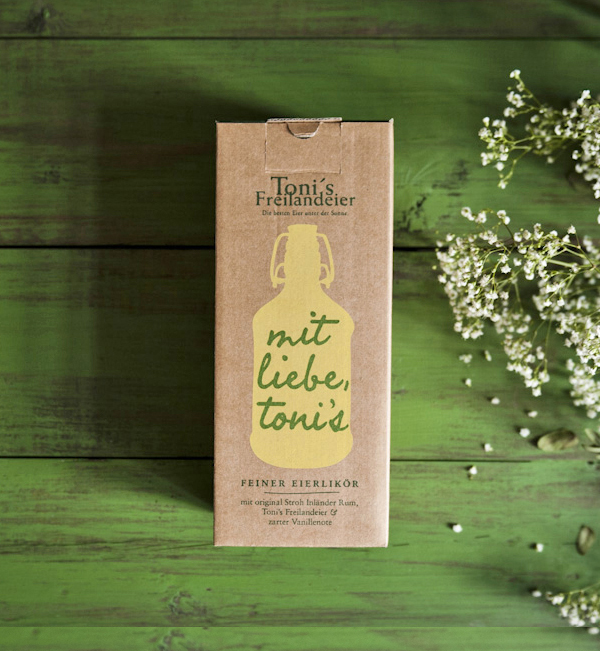 "Products from the 'Toni's' brand have always stood for the theme of "freedom" – as the brand is the pioneer of the famous organic free-range eggs in Austria. The hens at "Toni's"have been enjoying life, roaming around in freedom, for more than 25 years – a question of attitude and of good taste.
Therefore, the visionary, Toni Hubmann, continues to adopt new and sustainable approaches. How wonderful that there is now also Toni's fine egg liqueur, made of original Stroh Inländer Rum, real Fairtrade vanilla, lots of love (after all, the slogan is: "from Toni's with love") experience and of course, fine Toni's free-range eggs.
In order to protect the taste even more, it is filled into shapely glass, swing top bottles and wrapped in a sturdy, beautifully illustrated box. The typography and colours of the new, 100% recyclable, packaging have high brand recognition. A feast for both the eyes and the palate." – Moodley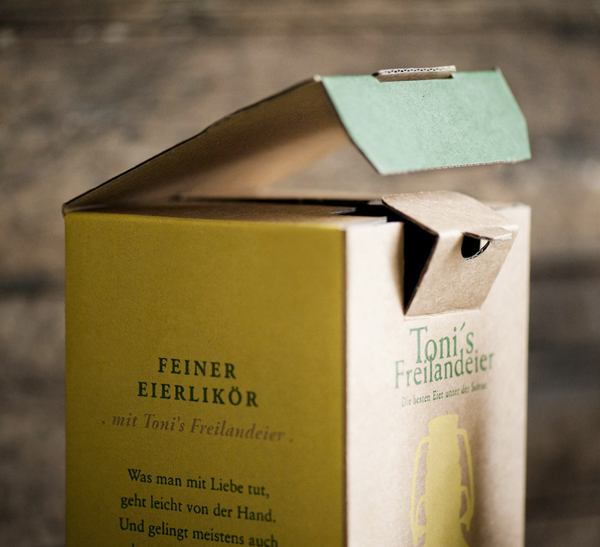 The design solution contrasts the friendly, everyday accessibility of a lowercase handwritten script – rendered with authentic imperfections, changes in pen to paper pressure and a light enthusiasm – with the quality and experience associated with a well spaced serif and uppercase headings. These are well executed across the earthy, natural and traditional textures of an unbleached substrate, the freshness of a two-tone, cut grass green tag, the local industry cues of a flip-top structural design and the contemporary, on-trend sensibilities of a light coloured screen-print and ample space. Appropriately fusing a variety of established consumer perceptions to achieve both communicative effectiveness and a more distinctive aesthetic.