Posted:
| Author: Richard Baird
|
Filed under: Cafes, Bars and Restaurants, Logo Reviews
| Tags: Brand Identity, Brand Identity Design, Brand Identity Reviews, Branding, Branding Blog, Branding Reviews, Coaster Design & Beer Mats, Coloured Paper, Colourful Business Cards, Custom Typefaces & Logotypes, Design For Print, Finnish Design, Foil Blocking, Fonts in Use: Bernhard Brushscript, Food Packaging, Gold Foil, Here Design, Logo Design & Branding Blog, Logo Designs, Logo News, Logo Opinion, Logotypes, Metallic Spot Colours, New Logo, Pastel Coloured Papers, Restaurant Logos, Sans-serif Logotypes, The Best Brand Identities of 2014, The Best Custom Logotypes, The Best Logo Designs of 2014, Visual Identity Design Blog
|
Comments Off

on The Palomar Restaurant by Here, United Kingdom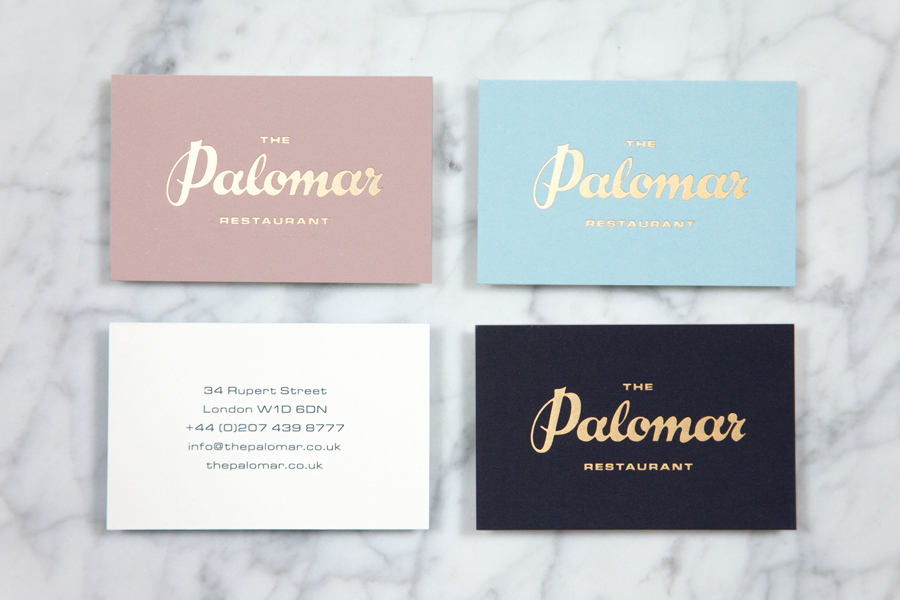 The Palomar Restaurant is located at the heart of London's Soho district with a menu that is described as being reflective of the foods of modern-day Jerusalem and influenced by the cultures of Southern Spain, North Africa and the Levant. Its interior features a zinc kitchen bar, mosaic marble and reclaimed parquet floors, marble surfaces, oak panelled walls, a skylight providing natural light and royal blue leather upholstered furniture.
The restaurant's graphic identity, created by Here, intends to conjure up the "romantic and nostalgic feelings of bygone days" and draws its inspiration from and establishes a continuity with, many of the classic details of the restaurant's interior, whilst also reflecting the crafted nature of its menu. This is done through the graphic detail of a hand drawn script and uppercase extended sans-serif typography, and materially using the texture of uncoated paper and the gloss and perceived quality of a gold block foil. This links a variety of assets that included menu design and coasters, neon signage and business cards. This post was updated December 2017 with images of The Palomar Cookbook, also designed by Here.
---