Posted: April 15, 2015
Filed under: Logo Reviews, Music
| Tags: Brand Identity Reviews, Branding Blog, Branding Reviews, Club Logos, Coloured Paper, Design For Print, Design Opinion, Design Reviews, Designed by Face Creative, Embossed Paper, From Latin America, Gold Foil, Graphic Design, Graphic Design Blog, Logo Design & Branding Blog, Logo Design Inspiration, Logo Design Resource, Logo Designs, Logotypes, Mexican Design, Music Venue Logos, Postcard Design, Sans-serif Logotypes, T-shirt Design, Typography
Comments Off

on Hardpop 7 Years by Face, Mexico
Opinion by Richard Baird.
Hardpop is an electronic music venue located in the Mexican city of Juárez. It plays host to both international and national DJ's and has been acknowledged twice by DJ Magazine as one of the best clubs in the world. Hardpop's brand identity, a contemporary interpretation of military insignia, and a mix of conventional and unconventional typographic forms created by graphic design studio Face—a significant departure from its previous identity—draws its inspiration from an interior of classic and modern detail. To celebrate the venue's seventh bithday, Face created a number of anniversary specials and a new flyer system that would fit neatly within Hardpop's signature style.
---
Posted: September 9, 2013
Filed under: Leisure and Tourism, Logo Reviews
| Tags: Brand Identity, Brand Identity Reviews, Branding, Club Logos, Coloured Paper, Design For Print, Die Cut Design Detail, Foil Blocking, Graphic Design, Holographic Block Foil, Logo Design & Branding Blog, Logo Design Trends: Clever Logos, Logo Designs, Logos, Logotypes, Sans-serif Logotypes, The Best Brand Identities of 2013, The Best Logo Designs of 2013
Comments Off

on Club at South Place Hotel designed by This Is Colt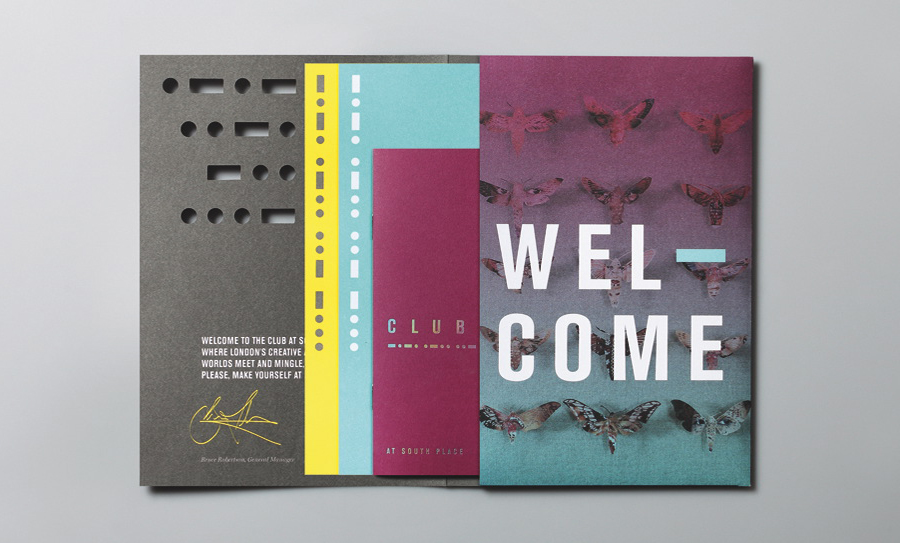 Club is an exclusive private members area hidden from the public within London's South Place Hotel. Its visual identity, developed by This Is Colt and designed to establish a connection with the parent brand but with "a personality of its own", is built around a logotype constructed from the same contemporary, condensed sans-serif characters of the hotel's identity but is paired with a morse code underline detail and executed as a holographic foil print treatment across a variety of coloured papers.
---