Posted: October 19, 2015
Filed under: Fonts in Use, Food and Drink, Packaging Reviews
| Tags: Best Packaging Designs, Brand Identity Reviews, Branding, Branding Blog, Branding News, Branding Reviews, British Design, Coconut Water Packaging, Creative Packaging, Design For Print, Design News, Design Opinion, Design Reviews, Designed by B&B Studio, Designed in London, Drinks Packaging, Fonts in Use: Brandon, From the United Kingdom, Graphic Design, Graphic Design Blog, Health Food Packaging, Illustration, Logo Design & Branding Blog, Logo Design Inspiration, Logo Design Resource, Logotypes, Packaging Company, Packaging Design, Packaging Design Blog, Packaging Design Resource, Packaging News, Raw Food Packaging, Sans-serif Logotypes, Typography, Uncoated Papers & Cards
Comments Off

on Unoco Raw Coconut Water by B&B Studio, United Kingdom
Opinion by Richard Baird.
UK based Unoco works with a community of smallholders in the Philippines to produce an unrefined, unpasteurised and untreated raw coconut water. This is drawn from young coconuts, characterised by their green rather than brown colour, picked at their nutritional prime and placed into bottles rather than tetra pak or cans using HPP. This process gives the water a distinctive pink colour, a result of oxidisation, which is said to be confirmation that all the natural goodness of the water has been retained.
Graphic design agency B&B Studio recently worked with Unoco to reinvent its brand identity and package design, and embraced an approach that favours bold organic typography, bright colour and plenty of white space as a way to express the rawness of product within a category dominated by processed alternatives.
---
Posted: February 20, 2014
Filed under: Food and Drink, Packaging Reviews
| Tags: Back of Pack Design, Best Packaging Designs, Branding, Coconut Water Packaging, Creative Packaging, Designed by Marx, Drinks Packaging, Packaging Company, Packaging Design, Packaging Design Blog, Packaging News, Pastel Colours, The Best Packaging of 2014
Comments Off

on The Coconut Collective designed by Marx Design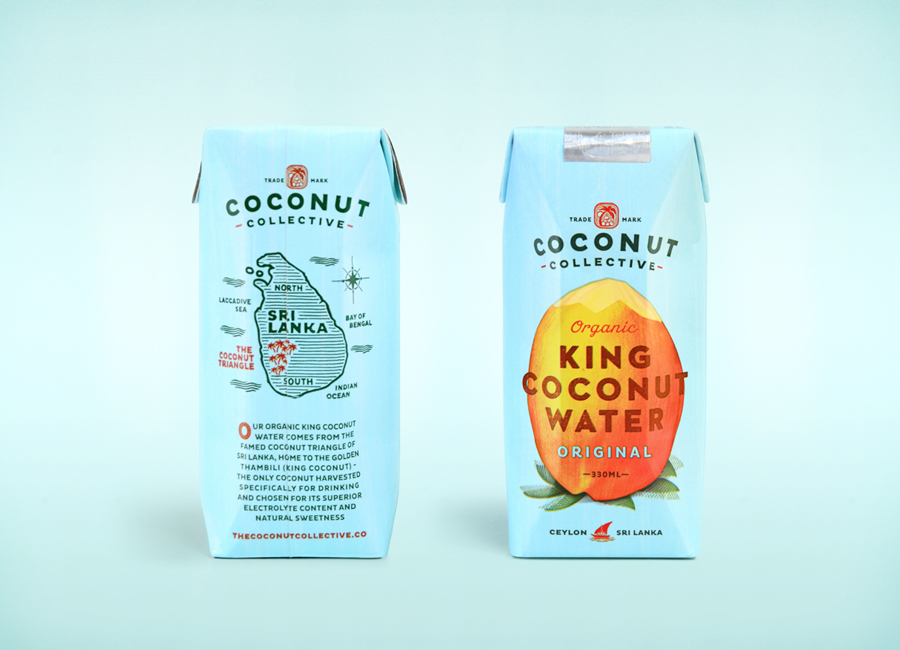 The Coconut Collective is a new Australian brand of organic, flavoured, coconut waters drawn from Sri Lanka's king rather than green coconut, a first for the market. Soulfresh, the company behind the brand, describe the water from the king coconut as having a 'cleaner taste profile', one that should appeal to a broader consumer base.
The Coconut Collective's brand identity and packaging treatment was recently developed by New Zealand-based studio Marx Design. Their approach, a communicative mix of subtle sun bleached and tinted wood backgrounds, large coconut imagery, bold uppercase typography, an unusual but distinctive pastel colour palette, map and boat illustration, ingredient story, and stamp texture, neatly deliver a tropical, exported sensibility with a contemporary eye for colour that draws attention to a new coconut variety and its unique provenance.
---