Posted: May 11, 2017
Filed under: Cafes, Bars and Restaurants, Graphic Design Reviews, Logo Reviews
| Tags: Austrian Design, Black Block Foil, Blind Emboss, Brand Identity, Brand Identity Reviews, Branding, Branding & Packaging of 2017, Branding Blog, Branding Reviews, Coloured Paper, Custom Typefaces & Logotypes, Custom Typography, Design Blog, Design News, Design Opinion, Design Reviews, Designed by Band, Emboss Detail, Graphic Design, Graphic Design Blog, Laid Paper, Logo Design & Branding Blog, Logo Design Resource, Logo Opinion, Logotypes, The Best Graphic Design Work of 2017, Typography
Comments Off

on Hill Of Grace Restaurant by Band, Australia
Opinion by Richard Baird.
Hill of Grace Restaurant was created by renowned Australian wine maker Henschke and is located at the historic Adelaide Oval. With the intention of elevating experience, Henschke worked with design studio Band to develop a new brand identity that would match the quality of its food and wine, and establish a stronger connection with the roots of the brand, the Henschke vineyard. This is explored through photography, features custom typeface and redrawn logotype, and included the design of menus, stationery, invitations and business cards with a strong material quality in the use of laid paper, textured surfaces and blind emboss and black block foil detail.
---
Posted: May 12, 2014
Filed under: Leisure and Tourism, Logo Reviews
| Tags: Brand Identity, Brand Identity Design, Brand Identity Reviews, Branding, Branding Blog, Branding Reviews, Business Card Design, Condensed Logotypes, Condensed Typography, Designed by Band, Edge Painted Detail, From Australia, Hotel Logos, Logo Design & Branding Blog, Logo News, Logotypes, New Logo, Sans-serif Logotypes, Sign Design, Stationery Design, The Best Brand Identities of 2014, The Best Logo Designs of 2014, White Block Foil
Comments Off

on The Franklin Boutique Hotel designed by Band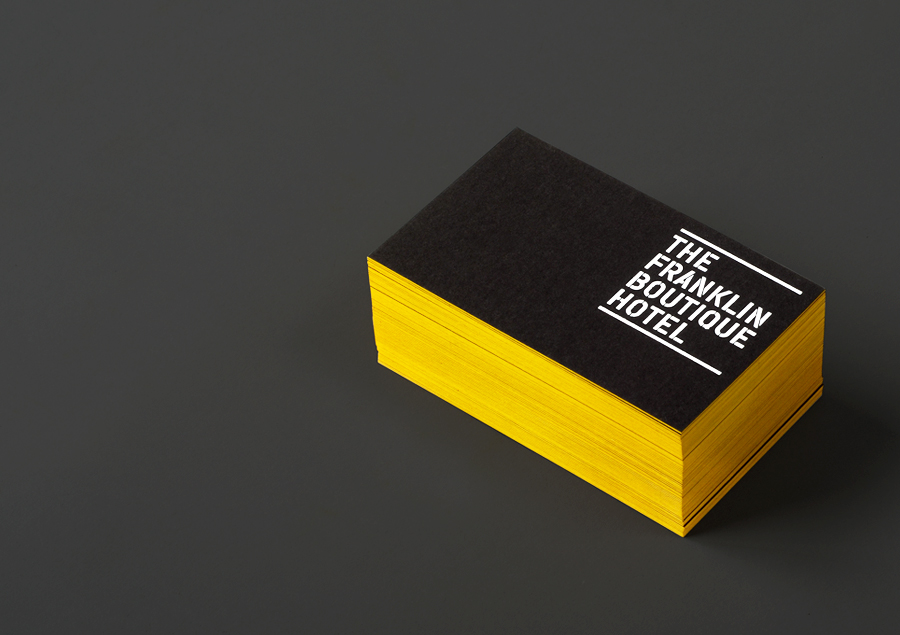 The Franklin Boutique Hotel provides seven room accommodation at the heart of the city of Adelaide. Rooms feature interior detail such as white tiles, exposed utilities, chipboard panels, high quality finishes and original artwork from local artists, as well as modern conveniences that include en suite bathrooms, Nespresso machine, ipod dock radios, refrigerators and irons. Following a successful reinvention of the attached pub, the owners addressed the accommodation above by hiring Adelaide based design studio Band to develop a new brand identity, which included logotype and printed collateral, that would reflect the urban edge of the hotel.
---