Posted: January 4, 2016
Filed under: Logo Reviews, Property
| Tags: Binding, Brand Identity Reviews, Branding, Branding Blog, Branding Reviews, Brochure Design, Catalogue Design, Colour in Use: Green, Coloured Paper, Corporate Identity Design, Croatian Design, Danish Design, Design For Print, Design News, Design Opinion, Design Reviews, Designed by Studio8585, Designed in Copenhagen, Fonts by Peter Biľak, Fonts in Use: Greta, Graphic Design, Graphic Design Blog, Logo Design & Branding Blog, Logotypes, Minimal Design, Minimalist Brand Identities, Modernist Brand Identities, Print Finishing, Property Development Logos, Sans-serif Typography, Stitch Detail, The Best Brand Identities of 2016, The Best Graphic Design Work of 2016, Type Foundry: Typotheque, Typography, Uncoated Papers & Cards
Comments Off

on Smokovik by Studio8585, Denmark
Opinion by Richard Baird.
Smokovik is an exclusive property development, located on the Croatian Island of Krk, designed by renowned local architect Idis Turato. The development will be made up of both residential and commercial buildings that share a functional and sustainable build practice, a favour for modernity, flat surfaces and Mediterranean sea views. Smokovik's brand identity, created by Studio8585 now working from Copenhagen, included logotype, brochure and website design, a copywriting component and art direction.
---
Posted: March 21, 2014
Filed under: Fitness, Health and Beauty, Logo Reviews
| Tags: Brand Identity Reviews, Branding, Branding Blog, Branding Reviews, Business Card Design, Colourful Business Cards, Croatian Design, Dentist Logos, Designed by Studio8585, Embossed Paper, Fonts in Use: Monosten, Logo Design & Branding Blog, Logo Design Trends: Clever Logos, Logo News, Logotypes, New Logo, Pastel Colours, Responsive Websites, Spot Colours, Stationery Design, The Best Brand Identities of 2014, The Best Business Cards of 2014, The Best Logo Designs of 2014, Tote Bag Design, Type Foundry: Colophon
Comments Off

on KMP designed by Studio8585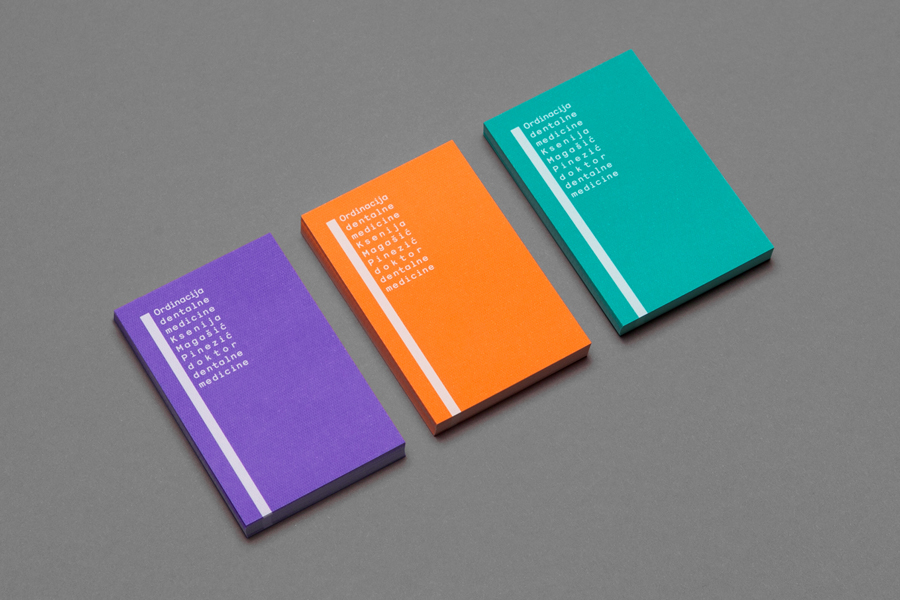 Dr. Ksenija Magašić Pinezić provides affordable dental services locally and to international dental tourists in a warm and friendly practice located in the Croatian coastal city of Rijeka. Design agency Studio8585 worked with Ksenija to develop a new brand identity design—which went on to include a logo, stationery, business cards, tote bag and responsive website—that would make the most of a lengthy name.
---