Posted: September 10, 2016
Filed under: Food and Drink, Packaging Reviews
| Tags: Best Packaging Designs, Creative Packaging, Design For Print, Design Opinion, Design Reviews, Designed by Essen International, Fonts in Use: Maax, From Scandinavia, Graphic Design, Graphic Design Blog, Logotypes, Minimal Design, Minimal Logos, Minimal Package Design, Minimalist Brand Identities, Packaging Company, Packaging Design, Packaging Design Blog, Packaging Design Resource, Packaging News, Sans-serif Logotypes, Sans-serif Typography, Silver Ink, Smile In The Mind, Swedish Design, The Best Packaging of 2016, The Very Best of 2016, Typography, Uncoated Papers & Cards
Comments Off

on Mathias Dahlgren Edition by Essen International, Sweden
Opinion by Richard Baird
Mathias Dahlgren Edition is a set of contemporary kitchen appliances which are the product of a collaboration between the Grand Hôtel Stockholm, its renowned Swedish Michelin starred chef Mathias Dahlgren, and kitchenware retailer Dafra. Scandinavian graphic design studio Essen International worked with the trio to translate the culinary vision and creativity of Mathias Dahlgren into a modern graphic expression and packaging solution that would be perceived as creative and timeless, whilst working across a variety of boxes as well as pan and pot inserts.
---
Posted: February 1, 2013
Filed under:
Packaging Reviews
| Tags: Best Packaging Designs, Design News, Design Reviews, Designed by Essen International, Designed in Stockholm, From Scandinavia, Graphic Design, Label Design, Minimal Package Design, Packaging Design, Packaging Design Blog, Packaging News, Swedish Design, Tangent GC, The Best Packaging of 2013, Typography
Comments Off

on Tangent Garment Care designed by Essen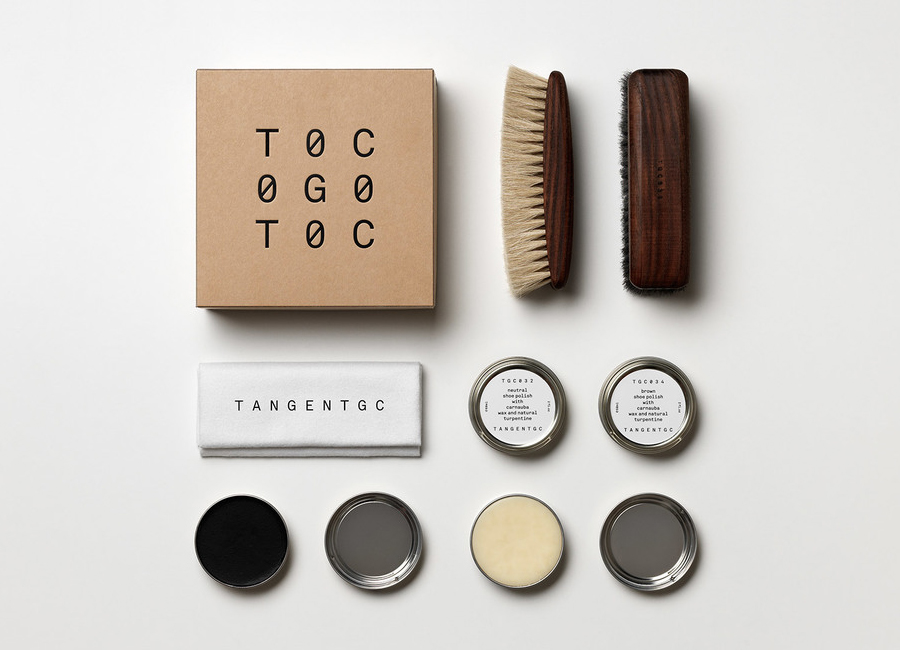 Design agency Essen have recently completed a packaging and rebranding project for Tangent Garment Care, a Stockholm-based company committed to the development of organic garment and shoe care products that aim to ensure longevity. Their design solution – a simple, utilitarian, monochromatic typographical approach – delivers a sense of information purity through the rejection of superfluous language or superficial graphic detail and choosing to divide content only by the uppercase and lowercase typesetting of a neutral sans-serif. A subtle combination that works well to convey a collective brand practicality and researched effectiveness, and the open and honest use of natural ingredients in each product—appropriately placed at the centre of each label.
---