Posted: March 9, 2015
Filed under: Food and Drink, Packaging Reviews
| Tags: Best Packaging Designs, Botanical Illustration, Box Packaging, Copy Opinion by Seth Rowden, Copywriting, Creative Packaging, Design For Print, Designed by Marx, Drinks Packaging, From New Zealand, Guest Opinion, Handcraft, Illustration, Packaging Company, Packaging Design, Packaging Design Blog, Packaging Design Resource, Packaging News, Packaging Opinion, Soft Drink Packaging, The Best Packaging of 2015, The Very Best of 2015
7 Comments »
Opinion by Richard Baird & Seth Rowden
StrangeLove is an Australian energy drink creator with a four flavour range made up of Ginger Beer, Blood Orange & Chilli, Smoked Cola and Bitter Grapefruit. Although mass-produced, each variety has been crafted to taste homemade using high quality organic ingredients, and developed in response to other energy drink brands who have failed to live up to their premium positioning. Keen to avoid the visual tropes of the category and secure a witty, eye-catching and original look, Marx Design worked with StrangeLove to improve on the illustrative brand character established by their earlier bottles using simpler compositions, plenty of white space and sharp copywriting.
---
Posted: March 23, 2012
Filed under: Food and Drink, Packaging Reviews, Self-Initiated
| Tags: Amber Glass and Plastic Packaging, Best Packaging Designs, Bottle Packaging, Design Reviews, Drinks Packaging, Graphic Design, Label Design, Letterpress, Packaging Design, Packaging Design Blog, Packaging News, Soft Drink Packaging
3 Comments »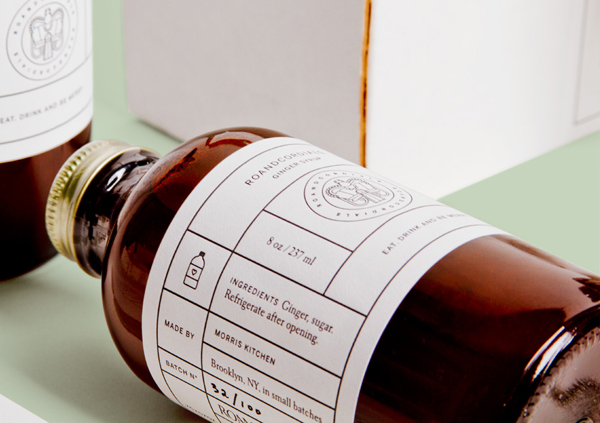 Towards the end of 2011, as part of a thank you to clients, friends and collaborators, multi-disciplinary design studio RoandCo created RoAndCordials, a ginger syrup gift packed and branded under a classic medicinal theme.
---