Monsoon designed by Pompei A.D.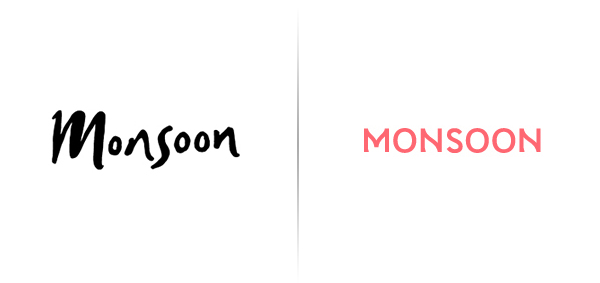 Monsoon is a women and children's clothing retailer based in the UK which began trading in 1972 and delivered a pre-tax profit of £32.96 million in 2010. They also own the retailer Accessorize and have a combined 425 stores in the UK and over 1000 worldwide. In December 2010 they started rolling out a logo and visual identity system across their stores and on-line space which was designed and managed by New York design agency Pompei A.D.
This is a significant change of tone for Monsoon that moves them away from their loose handwritten script in favour of a more formal sans-serif. Combined with a change in case – a trend for retailers during 2010 (see Next and HMV) – and flourishes across the bars of the N and M these deliver a far more premium, youthful and fashion led aesthetic whilst maintaining their original proposition of affordable quality and accessibility. It successfully builds on their current high street presence that moves them away from the older demographic of retailers such as Next and more in line with Zara and Warehouse, with the former also unavailing a revision to its own logo-type earlier this month.
More brand identity design work featured on BP&O:
---