JCPenney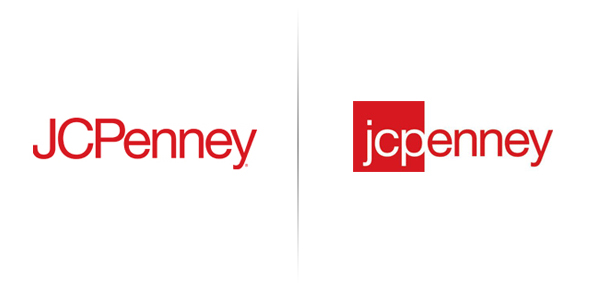 JCPenney is an American department store that specialises in the retailing of affordable clothing and household products. First established by James Cash Penney in 1902 (as Golden Rules), JCPenney has grown significantly with over 1,100 stores and a 2010 annual turnover of $17.9 billion. Recently JCPenney launched a new visual identity (now jcpenney) designed by student Luke Langhus as the result of a competition, reigniting another debate on the validity of spec work in the design community.
"In a move symbolizing jcpenney's transformation to become America's favorite shopping destination for discovering great styles at compelling prices, J. C. Penney Company, Inc. (NYSE: JCP) today celebrated the evolution of its enduring brand with the unveiling of a new, modern logo. Endorsed by thousands of consumers through extensive research, the fresh, bold design is the most meaningful update to the Company's logo in 40 years. It signifies the Company's great progress in creating a more exciting and relevant shopping experience. At the same time, it honors the Company's iconic roots as an affordable shopping destination that is relied on by the more than half of America's families that shop jcpenney each year."
The full press release can be read here.
The original logo-type, set in Helvetica, was handled technically very well but resulted in a safe solution but with a corporate undertone. This new revision, again typeset in Helvetica is handled similarly well but now all lower-case framed by a red square and aligned to the right. Compared to the previous iteration there has been no great evolution and lacks any of the fresh and bold impact promised in the press release. Aesthetically it is evident that this project had its origins in speculative work (with 200 entries) rather than as a strategic process representing nothing but a purely superficial change. No definite reasoning has emerged for the addition of the red box but it is very reminiscent of Gap's recent blue box mistake (the result of another competition). This is how jcpenney describes it:
"The logo was designed to evoke a sense of movement and discovery as the letters appear to break out of the box"
In my opinion there is very little movement infused into this identity solution, on the contrary it feels rigid and divided. I understand the 'discovery' element as boxes are associated with the excitement of receiving gifts and buying new products but it still stretches the concept a bit too far (you can impart any meaning to a square or a circle). It appears as though the 'concept' statement above may have been retrospectively added after the submission process rather than a driving force behind the idea. The possibility of splitting the box away and using JCP for own brand products is there but there is no indication that this will be the case.
This is another example of how competitions (no matter how technically well resolved the result may be) leads only to simple superficial changes rather than representing a clear evolution expressed through a broader and more communicative system.
More brand identity design work featured on BP&O:
---