Slowly Does It Food designed by Berg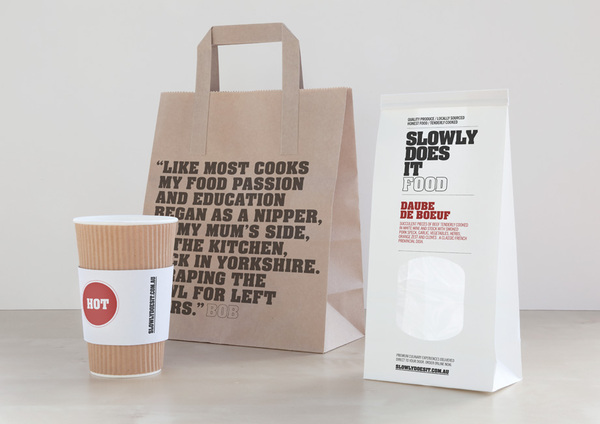 Slowly Does It Food is a concept that produces high quality home-style food that delivers directly to homes and offices. Owned by Bob Walker and based in Sydney Australia the company engaged with Glasgow based Berg to create their identity and packaging that would communicate the passion and concept of slow cooked food.
"At Slowly Does It Food we are driven first and foremost by taste. We aspire to deliver gourmet food to your table that excites, surprises, comforts and brings warmth to those who devour it."
– Slowly Does It
Predominantly based around type the branding and packaging communicates a straight forward proposition, it doesn't hide behind any overtly sophisticated design mechanics. The casual and informal conversational style projected through the owner 'Bob' delivers an open sensibility, one that aspires to build trust in quality and service.
"We needed to convey Bob's passion and no-nonsense approach to food. Selecting a robust typeface and monochromatic palette gets the message across loud and clear, whilst using Bob's own quotes delivers meaning and depth to the brand which quite literally is an extension of Bob's own personality. These were then applied to environmentally responsible packaging materials. Clean, simple and honest – 'It's all about the food'."
– Berg
The type choice is wonderfully direct, weighty (almost meaty) and works well to carry both the brand message and product information. The packaging layouts are simple, striking and well handled with plenty of space to carry a type based concept. The silver packaging looks very space age and works really well with the bright complementary colour palette but treads a fine line between being very trendy and looking like sophisticated cat food (but in a fun way). I could easily see this translating into a supermarket proposition with clear packs.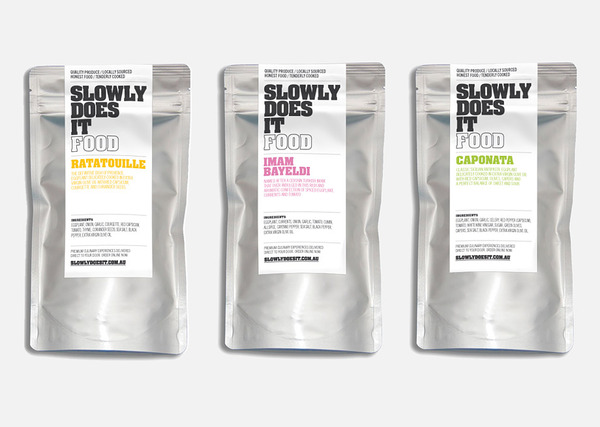 Follow BP&O:
RSS
Facebook
Twitter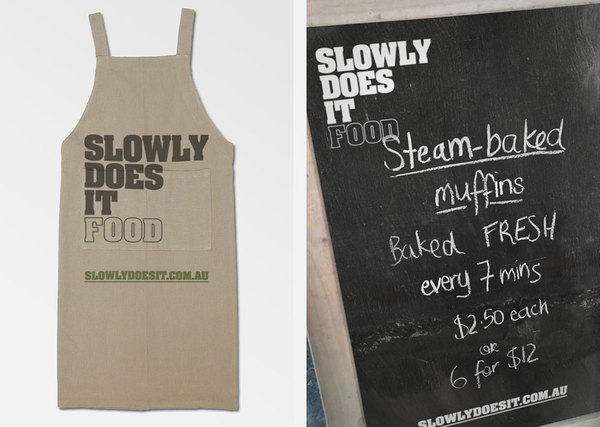 More from Berg:
---