Magners Specials by Him+Her
Opinion by Richard Baird Posted 12 September 2011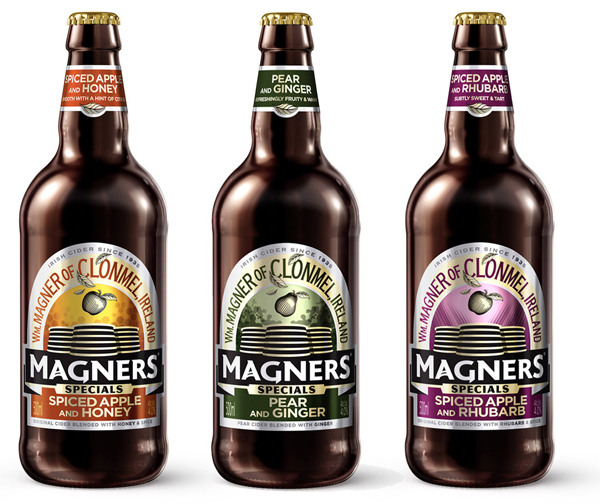 Following the year on year growth of the blended cider market, Magners, an Irish cider brand owned and distributed by the C&C Group, have recently launched three new varieties of their own. London based design agency Him+Her were commissioned by Magners to refresh their identity and develop a packaging solution to compliment and express the more sophisticated and artisan proposition.
"We've created the new packaging for Magners Specials which has been hitting stores over the last few weeks. Magners Specials is a premium sub-brand from the house of Magners, featuring crafted cider blends with indulgent flavour combinations such as Ginger and Pear, Spiced Apple and Honey or Spiced Rhubarb and Apple."
"The design features the new identity for Magners that we've been working and the graphics within the arch (an equity exisitng within the brands heritage) is used to help denote the flavour experience of each of the products and is supported by new glassware to bring a new dimension to the brand." – Him+Her
I generally avoid the more commercial projects but the visual blend of engraved fruit, modern and classic type choices and detailed but subtle background illustrations really caught my eye and add a far more premium dimension to the heritage of the Magners brand. Him+Her were also responsible for updating the identity which now appears far more distinct with neat custom typographical details and baskets rendered with far more depth and weight.
The fruit and leaf images, inspired by 18th and 19th century botanical engravings deliver a suitably traditional aesthetic to the label while the different blends executed in a comparatively modern style have a subtler aesthetic and distinctive colour palette that compliment the golden highlights and foil substrate.
The typography is very well handled throughout, the treatment of the flavour varieties, set in Gotham feels a bit loose in places and vertically restricted but generally sits well within the overall hierarchy of the label.