Mahiki by Design Bridge
Opinion by Richard Baird Posted 24 October 2011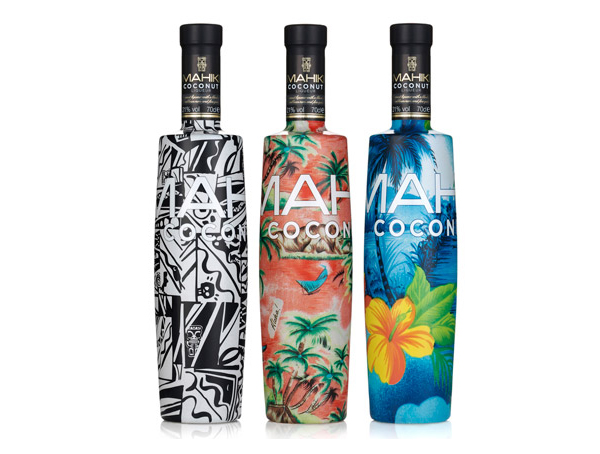 Mahiki is a Tiki inspired London nightclub owned by the Brompton Group that draws celebrities and royalty alike. As part of a brand extension exercise they approached independent and international creative agency Design Bridge to develop packaging for its new premium coconut liqueur for the club and high-end retailers based around vintage Hawaiian prints.
"With the emphasis on authenticity, we turned to original Hawaiian prints and fabrics, scouring vintage clothing shops for our main inspiration and literally dressed the Mahiki bottle in a classic Hawaiian shirt.  Our three different designs depict key symbols of this fun and escapist but often misrepresented and misunderstood culture: the South Pacific sea and landscape, the hibiscus motif and Polynesian carvings and statues. They also add an inviting collectability factor. The design's tactile matt finish not only creates a premium feel, it echoes the textures of the genuine article's coconut buttons and rayon. The challenging print and production process gave us the opportunity to develop our theme to the last detail  – with mock stitching to conceal shrink sleeve joins and a garment label to carry the barcode and legal information." – Design Bridge
The translation from fabric print to shrink wrapped bottle has been exceptionally well realised giving each bottle a unique character under a consistent and resolved style. A large rendering of the Mahiki logo-type wraps the circumference of the bottle with a hand painted, wooden sign sensibility that works well with the playful, laid back artwork and Tiki theme. The product details on the reverse have been contained within a label device that has frayed edges and a slight discolouration that helps to reinforce the vintage t-shirt concept. A more conventional premium aesthetic has been applied to the bottle tops contrasting the sans-serif logo-type with a script description in a black and gold colour palette. The bright and rough visual texture and vintage execution presented as premium proposition is an interesting and original approach that manages to be a good reflection of the club without simply replicating established brand components.