Rewined by Stitch
Opinion by Richard Baird Posted 8 November 2011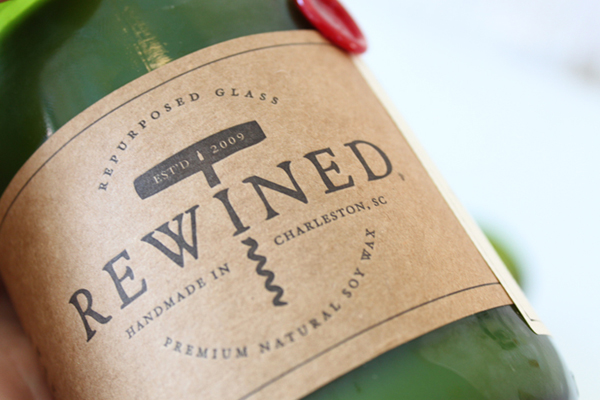 Rewined is a brand of premium soy wax candles housed in reclaimed wine bottles, handmade in Charleston, South Carolina. Their new branding and packaging, developed by design agency Stitch, utilises a number of tactile print and sticker techniques to emphasise the candles handcrafted nature and recycled origins.
"Rewined Candles are smart, smell great and now have a brand new logo and packaging. These handsome candles are all natural soy wax candles poured into discarded wine bottles. They have a family of intoxicating scents which are all designed to mimic flavors and aromas you find in your favorite varietals of wines. Adam came to us looking to enhance his current packaging. We redesigned his logo using hand-drawn type and redesigned his kraft paper labels with simple typography and a layered labeling system. Each candle has a "vintage and producer" label, allowing each candle to be signed and dated by the candle maker. A wood veneer wax topper sits on top of the candle to keep them clean and free of dust before use. We also developed a color system using wax seals to color code each varietal scentr and finished off the packaging with a small green sticker reminding each purchaser to please recycle again. To top it all off, each label was letterpressed (by Sideshow Press) and hand applied making these candles truly unique and handcrafted."
– Stitch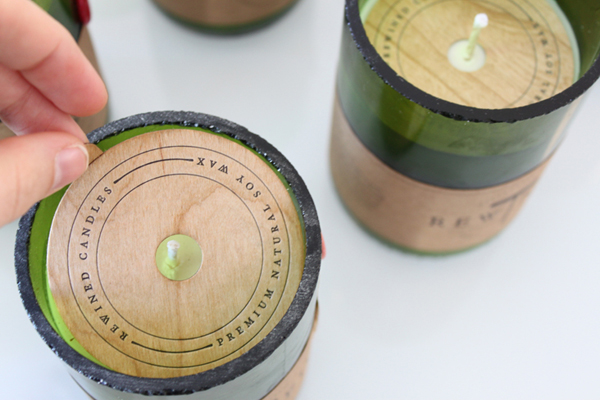 Candles are quickly becoming a must have design item (see Alixx and Candles of New Zealand) and as such the packaging results are becoming significantly more interesting and communicative. This project drew my attention for its multitude of packaging techniques that each contribute to the experience of the product.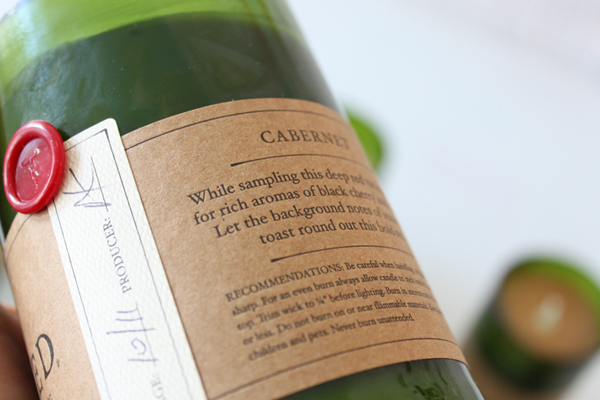 Here, the themes of quality, candle and wine craft have been coherently resolved through a neat combination of handwritten stickers – giving each product a 'vintage' – and a quality assured 'wax' seal token in a range of colours that introduces a brighter, contemporary highlight to the earthy tones of an unbleached substrate. The recycled letter-pressed labels and rubber stamped sticker aesthetic neatly emphasises the handmade nature of the candles with a subtle human imperfection that works well with the rough cut of the bottles.
A circular wood veneer placed inside the candle compliments the tone of the labels and adds further texture to the product. The branding is simple and solid, focusing on the idea of heritage, drawn from wine making, origin and local industry with a classic circular crest lock-up.
Each component has a smart rationalisation that seamlessly blends product and packaging emphasising its proposition and most importantly, adding value.