Russian North by Art Lebedev
Opinion by Richard Baird Posted 17 November 2011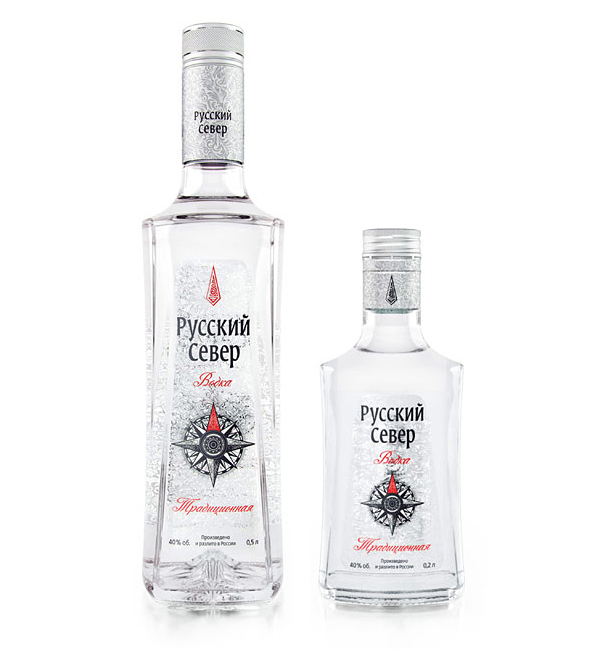 Russian North is a new vodka product owned and distributed by Ukrainian based Global Spirits and developed for the russian market. The products branding and packaging was undertaken by international design studio Art Lebedev and blends traditional northern iconography with modern structural design techniques.
"The original idea behind the Russian North bottle is in its unconventional facets refracting the light. The bottom is embossed with a compass to protect you from knock-offs. The "frosted window" pattern shimmers from the inside of the bottle out, making Russian North stand out on store shelves as in its private spotlight." – Art Lebedev Studio
There is a smart and complementary utilisation of classic illustration work, typographical components and structural design techniques that seamlessly blend together to form a contemporary take on a classic aesthetic. The flock illustrations are really well executed with a tight and ornate style that works around the north pointing needle and embossed features of the cap. Their application on the reverse side of the labels in conjunction with the faceted construction of the bottle create a frozen and glistening aesthetic as the light refracts through the glass. These facets also give the glass a thicker quality, a feature of early bottle making delivering a weighty style and reinforcing the traditional tone. The inverted compass detail at the bottom is a really nice detail that ties the graphic work with the physical features of the bottle, creating a well resolved and distinctive character. These components make up for a fairly straightforward typographical direction and the devices used to differentiate the varieties.