Off Piste by Ben Dalrymple
Opinion by Richard Baird Posted 5 December 2011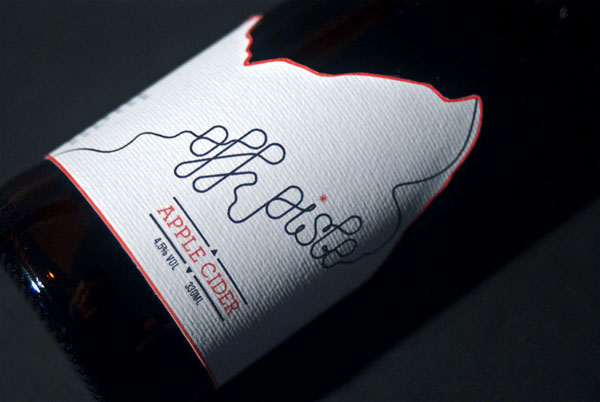 Off Piste is a fictional New Zealand cider brand designed by recent graduate, Ben Dalrymple. The concept is an interesting snowy take on the classic summer fruit beverage that gives the brand a contemporary and unusual ice cold aesthetic.
"Off Piste apple's are grown in the New Zealand backcountry highlands, they are sun-ripened and patiently fermented to retain a unique crisp apple cider flavour. The name 'Off Piste' pays homage to the mountainous landscape of New Zealand, and also the idea that Off Piste's apple cider is 'off the beaten track', its unique, its exciting, and it doesn't follow conventions." – Ben Dalrymple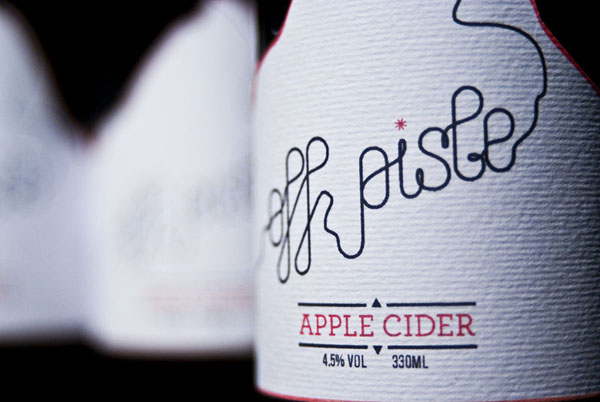 I generally avoid posting student work as I feel that while there is often a brief there are less real world considerations and restrictions to deal with but Ben's work really interests me. The idea of snow and summer fruit would seem a strange combination but in an increasingly crowded market this idea really manages to capture the refreshing and over ice trend of modern cider drinking. The typographic line work is effectively executed and cleverly manages to marry both name, downhill skiing and a sense of energy while the secondary typeface, Museo Slab, adds a slightly agricultural undertone that works well to draw in the aspect of harvesting. The tactile and bleached label and box substrates are a smart choice that gives the brand a local handcrafted quality and contemporary brightness against the deeper and more traditional tone of the bottle. The neon spot colour reminds me of quirky skiing jackets that gives the brand a very contemporary edge while remaining relevant to the proposition of coolness (both in taste and fashion). The compass printed on the lid plays well to the idea of adventure and outdoor activities and is a neat detail to a well thought out and unusual take on cider packaging.