RoandCordials by RoandCo
Opinion by Richard Baird Posted 23 March 2012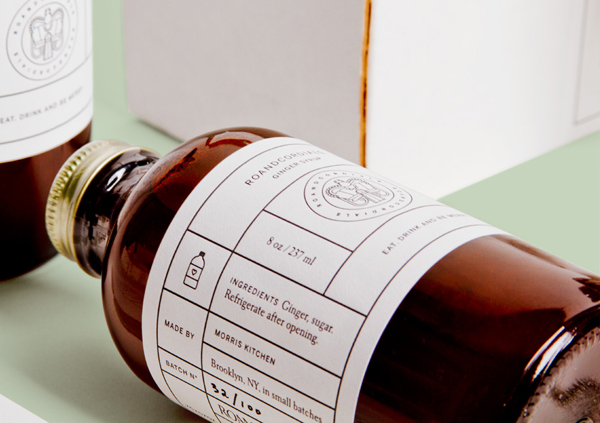 Towards the end of 2011, as part of a thank you to clients, friends and collaborators, multi-disciplinary design studio RoandCo created RoAndCordials, a ginger syrup gift packed and branded under a classic medicinal theme.
"Having recently moved into a new studio space, we wanted to tie in our 2011 Christmas gift with our office warming party. Based on the theme of RoAndCordials, we collaborated with Morris Kitchen who provided us with beautifully bottled and equally delicious Ginger Syrup. We printed the bottle labels in the style of traditional medicine/cordial bottles, including Ginger Syrup cocktail recipes and Happy Holiday messages in the text."
"In lieu of moving to White Street and the festive season, we decided on a White theme for our party – and nestled the bottles on white shredded paper in a white cardboard box. The party invites were letterpressed in the same style as the bottle labels, and placed on top of the bottles. To remind our guests to wear white, we stamped this message onto small white squares of fabric and placed on top of the invite. For a final touch, we printed addressable stickers that wrapped around the box, mimicking the invite and bottle label." – RoandCo
I find that these occasions are a great opportunity for design agencies to show what they can do without the commercial restraints they have to deal with all year round. For me the medicinal simplicity of this solution far exceeds the layout and design qualities of real medical products. The single weighted line throughout has a strong, reliable and consistent quality that together with a simple sans serif type looks very contemporary. This is contrasted with a secondary serif choice, a simple unbleached box, letter-pressed print treatment and a hand constructed finish that delivers a more personal and crafted sensibility.