Chi Coconut Water by Leahy Brand Design
Opinion by Richard Baird Posted 27 March 2012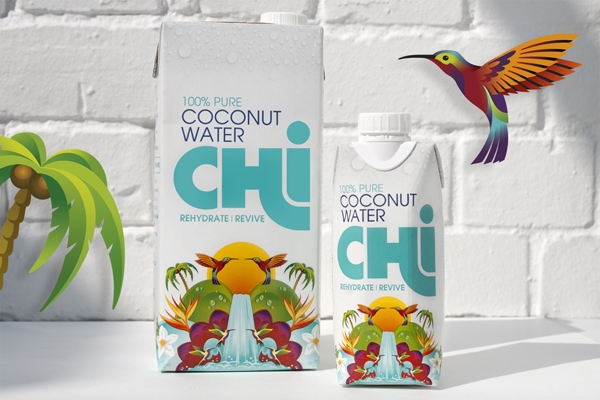 Chi is a new brand of coconut water launched this week to the retail trade at the Food and Drink Expo taking place at the NEC in Birmingham. London based design agency Leahy Brand Design (LBD) was responsible for creating the brand's identity, packaging solution and exhibition stand. Julie James has kindly provided BP&O with an insight into the product and design process on behalf of LBD.
"In recent years, consumer interest in coconut water has developed as an alternative to bottled and flavoured waters, smoothies, fruit juices and super drinks. This drove Chi's founder, Jonathan Newman to launch his 100% natural, unadulterated rehydrating drink to the world.
With Newman needing his new drink to capture immediate attention on retailers' shelves and grab market share, he appointed London-based LBD to develop an iconic, easily recognisable design. The brand identity and packaging had to deliver a premium product that communicates balance, calm, hydration and provenance whilst transporting consumers away from their everyday lives.
Creating Chi Island
Tim Leahy, managing director of Clerkenwell-based LBD explains how they approached the design of the new product: "We are always looking for big ideas to help create brand leaders and decided to tell the story of Chi Island – an escape to paradise far away from busy lives. The waterfall communicates a natural place to revive and hydrate, the humming birds the sweetness of the coconuts and the mirrored illustrations reflect a unique sense of vitality and balance. The design is fresh, clean and premium and is set to create real stand-out on shelf." Leahy concludes "Chi is all about delivering natural wellbeing and now has a really exciting creative platform on which to get noticed with the potential to grow the brand further."
Said Jonathan Newman, founder of Chi: "Every successful product has an incredibly strong brand image. I knew this would be central to Chi as well. LBD have been with us since the beginning and have delivered every time. You look at the package and you understand in one glance what it is, what it does, and who makes it. When consumers are browsing a store's shelves – this will make a huge difference between them picking us and any other drink available."
Chi is produced on a plantation in Thailand, where the local coconut water is said to be far sweeter than that produced anywhere else. A percentage of profits go to the One Seed One Life charity, which supports local orphanages throughout Thailand.
The innovative use of a Dreamcap* for the personal 330ml container is the first in the world for a tetrapak of this size."