Middagsfrid by Bold
Opinion by Richard Baird Posted 27 March 2012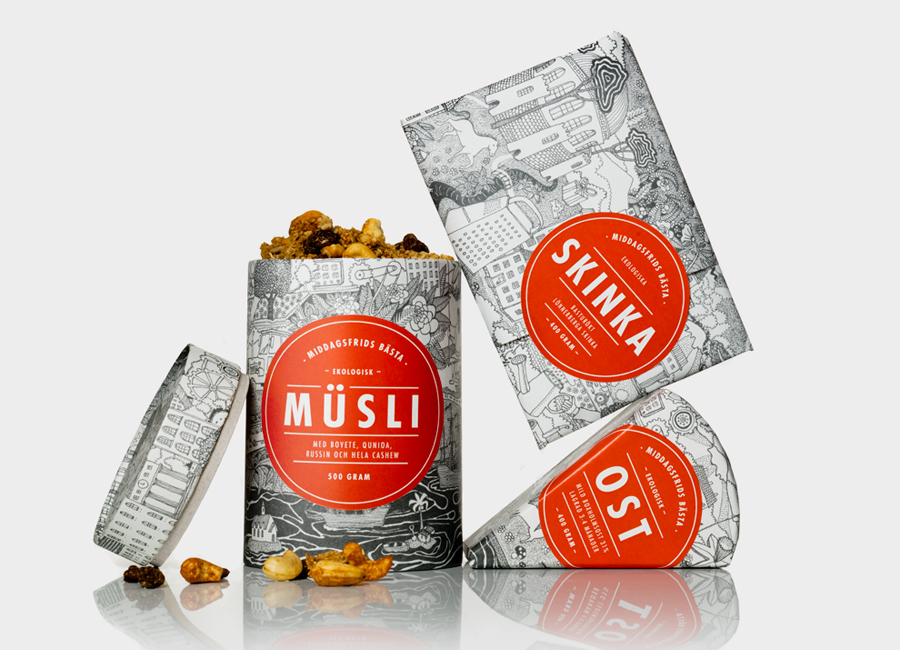 Middagsfrid is a service that delivers ingredients and recipes to busy inner city families with limited free time but a desire for high quality, preservative free food. In 2011 Middagsfrid launched its own range of products branded and packaged by Stockholm based Bold working in collaboration with illustrator Peter Herrman.
"For the Middagsfrid food packaging series we asked illustrator Peter Herrman to sit down with the client and listen to all that they had to say about their history and future, their ambitions, their products and their production. All this was incorporated into a detailed illustration that is used as a base for all packagings." – Bold
The contrast of a simple label and identity set against the depth and detail of the illustration delivers a significant impact which is amplified by a restrained two-tone colour palette. The sketched style, pencil tones and textures of the artwork in conjunction with an uncoated substrate have a newspaper-like quality and mirror the traditional way of wrapping locally sourced goods. Peter Herrman's illustration has a playful, positive and a family orientated narrative style that successfully captures a sense of creativity and exploration in its detailed, dynamic and brand specific depictions. The sticker-like aesthetic of the roundel reinforces and utilises the healthy and wholesome perception of regional handcrafted goods while a heavy and light sans serif combination introduces a bold and contemporary finish.