Flyt by Strømme Throndsen Design
Opinion by Richard Baird Posted 2 April 2012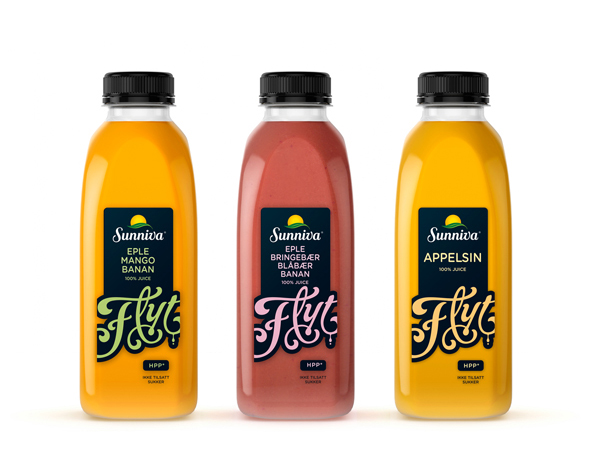 Flyt (Float in English) is a new range of juices from Norwegian producer Sunniva that utilises a high pressure pasteurising technique to retain the natural nutrients and flavour qualities associated with 100% freshly squeezed fruit. Oslo based independent design studio Strømme Throndsen was responsible for developing the sub-brand name and graphic identity for the three 0.75 litre varieties.
Flyt's packaging is an interesting visual fusion of high quality, individual personality and subtle technological cues that makes it unique and distinctive within the fresh juice catagory. Based around a logo-type, executed as a mix of graffiti details (cleverly emphasised by the duality of a paint and juice drop) and a classic illustrative script approach, the identity delivers a strong sense of spontaneity, movement and energy that has an on-the-go urban and youthful sensibility that could easily be perceived as classic and elegant. Each letter has been nicely rendered contributing to or flowing through to the next character, and while the cropping is a little disappointing there is a nice and well balanced mix of weights and flourishes. The Sunniva identity, in its fairly conventional way, keeps the brand looking like a genuine (albeit conventional) fresh fruit juice brand and appropriately balances the flighty aesthetic of the sub-brand.
The rounded terminals and thin consistent line weight of the accompanying sans serif typeface offers a neat contrast to the organic forms of the logo-type that alongside a contained HPP and a fairly restrained layout delivers a suitably high-tech quality. The black label delivers a stark contrast against the natural vivid qualities of the juice and follows a more premium convention but binds each component and reinforces its contemporary proposition.