Creagent designed by Bond
| Author: Richard Baird

|

Filed under: Art and Design, Logo Reviews | Tags: Brand Identity, Brand Identity Reviews, Branding, Business Card Design, Coloured Paper, Designed by Bond, Designed in Helsinki, From Scandinavia, Icon Design, Illustration, Logo Design & Branding Blog, Logo Design Trends: Flexible Logos, Logo News, Logos, Sans-serif Logotypes, Stationery Design, The Best Brand Identities of 2013, The Best Logo Designs of 2013, White Ink

|

Comments Off

on Creagent designed by Bond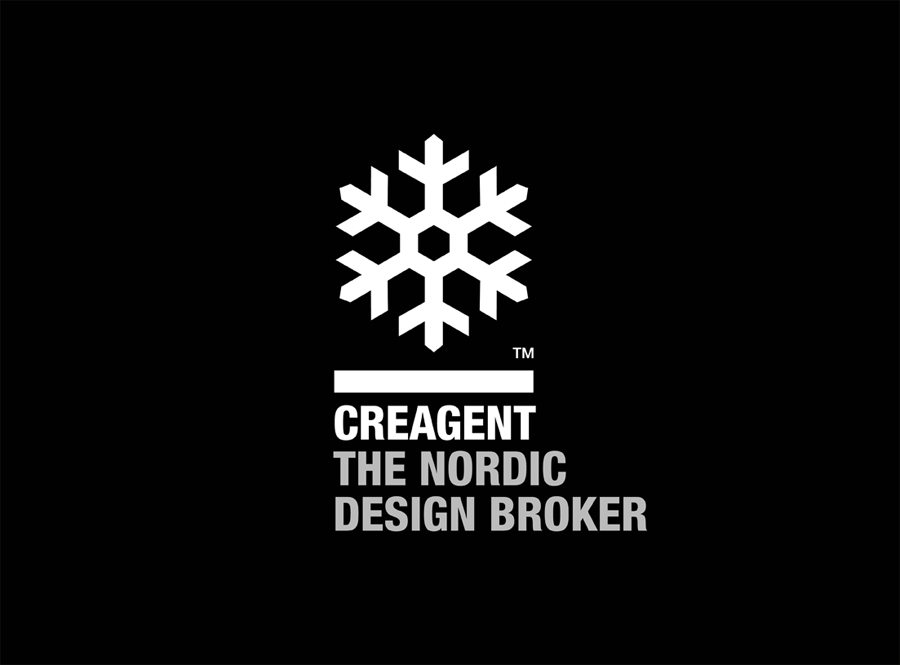 Creagent is a Finnish 'design broker' that provides a "unique pool of talented designers from all fields and a wide range of expertise to match various business needs." Creagent's new brand identity and website, developed by multidisciplinary design studio Bond – currently on a roll with new work for Allsorts and the University of the Arts Helsinki – utilises a bold, brightly coloured set of pictograms and sans-serif slogans to "communicate the value of design."
The pictograms for the most part are well rendered and coloured, the representative mix of Creagent's Nordic scope and the 'value of design' are, without the slogans, communicatively a little loose, perhaps a touch generic and lack some of the wit of Designers Anonymous' similarly styled brand identity. They are however cohesive in their illustrative simplicity, work together particularly well across the website and, in conjunction with the heavy, condensed, uppercase sans-serif – a choice that neatly mirrors the bold qualities of the pictograms whilst tempering their more playful nature with a subtle and efficient corporate sensibility – manages to make the service appear distinctive and accessible to both creatives and businesses looking to acquire creative talent.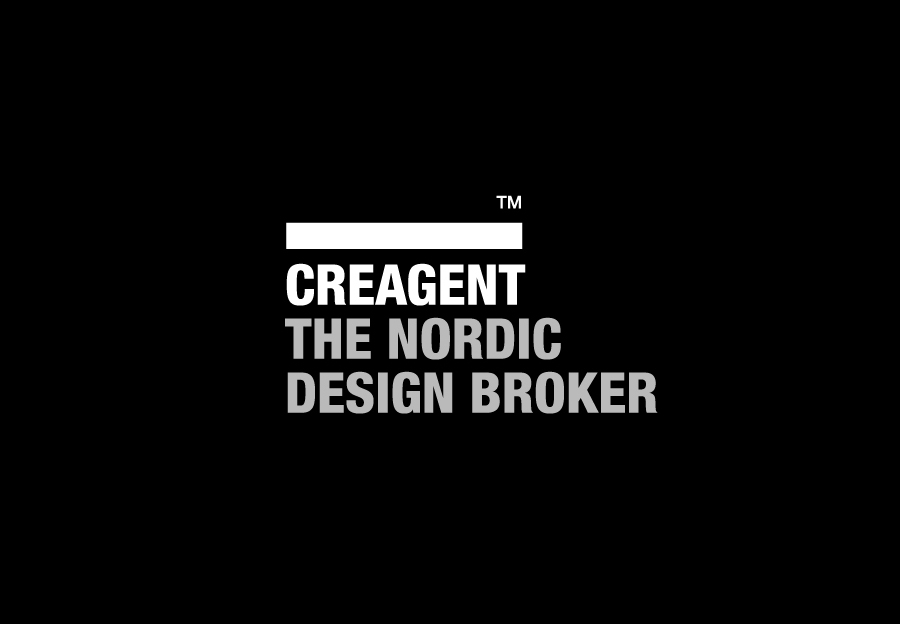 Follow BP&O:
RSS
Facebook
Twitter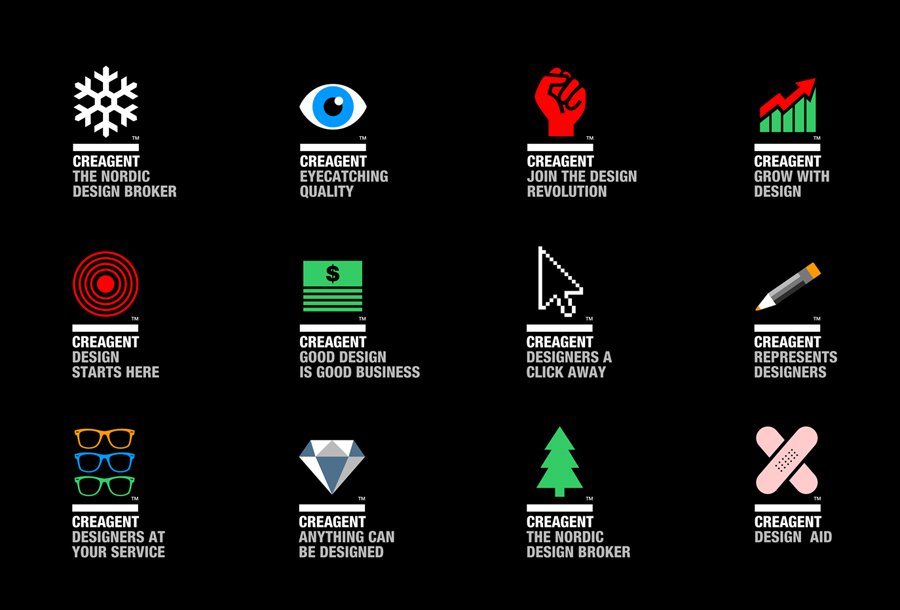 In print colour is lost in favour of a white and grey ink across a weighty black board, a combination that adds a tactile high quality to the identity whilst retaining the pictogram's impact through their confident oversized application. Overall the concept is straightforward and absent subtlety but its 50/50 balance of graphic and typographic communication achieves a solid equality between creativity and its management.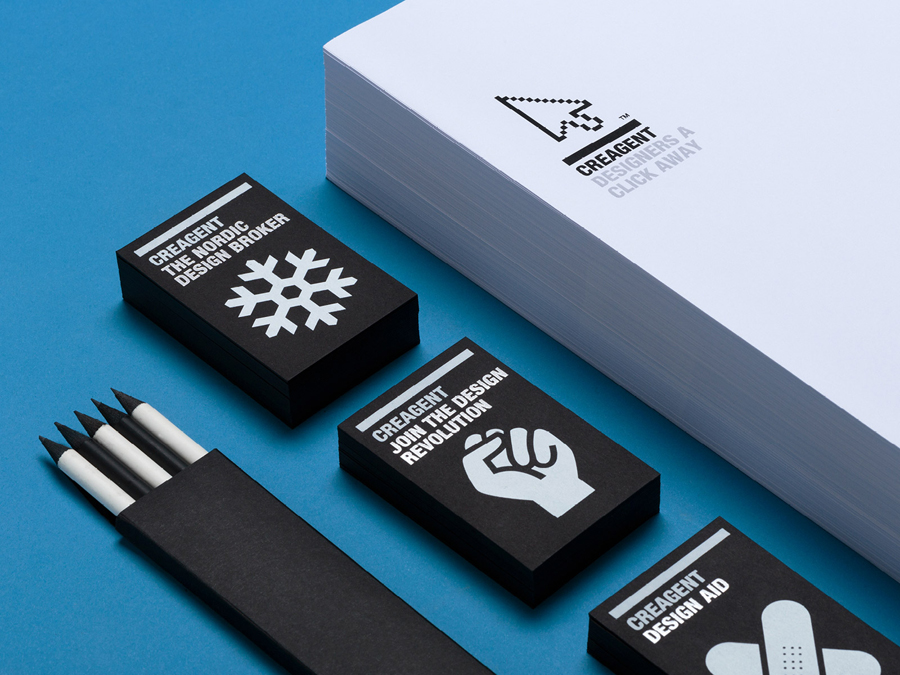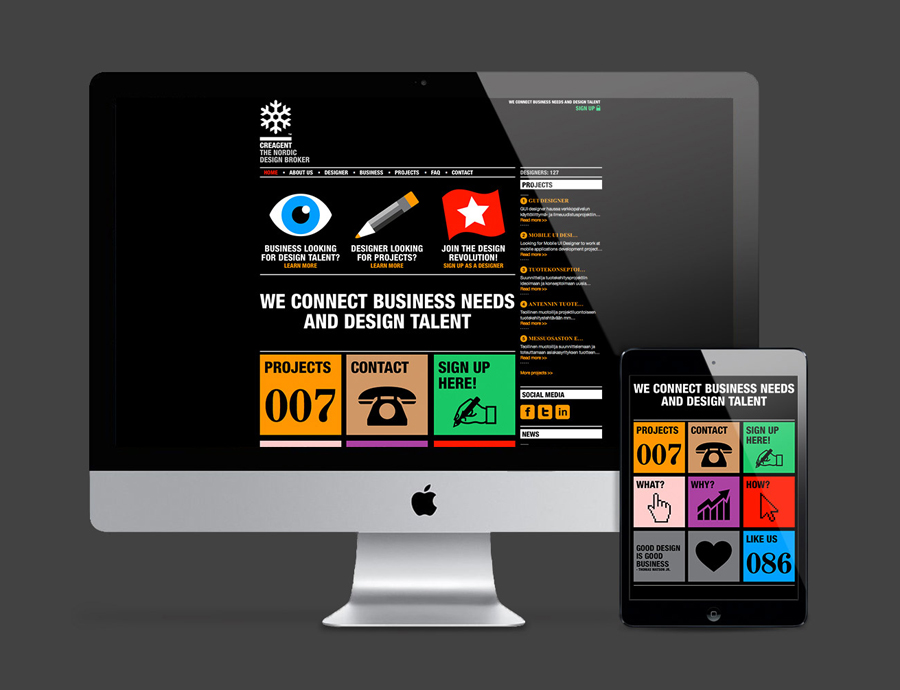 More brand identity work by Bond:
Support BP&O
Thank you to everyone who has visited BP&O since its beginning in 2011. As many of you know, BP&O has always been a free-to-access design blog that seeks to offer extended opinion on brand identity work. It has sought to be the antithesis of the social media platform that often disentangles form, context and content. Writing articles can take 2-4hrs and are carefully researched.
I am passionate about design writing and believe that spending time to write about work, rather than just posting images, furthers design discourse. If you have enjoyed this article, have been with the site from its early days and would like to help contribute to its future, please consider supporting the site with a small PayPal donation. This will go towards the costs of hosting, CDN (to make the site quick to load) and Mailchimp, and cover some of the time it takes to research, write-up, format and share posts.
---