Ingierstrand Bad designed by Uniform
| Author: Richard Baird

|

Filed under: Cafes, Bars and Restaurants, Logo Reviews | Tags: Brand Identity, Brand Identity Design, Brand Identity Reviews, Branding, Coaster Design & Beer Mats, Colour in Use: Red, Design For Print, Designed by Uniform, From Scandinavia, Logo Design & Branding Blog, Logo Opinion, Logos, Logotypes, Norwegian Design, Restaurant & Cafe Menu Designs, Sans-serif Logotypes, The Best Brand Identities of 2013, The Best Logo Designs of 2013, Tinted Photography, Vintage Photography

|

Comments Off

on Ingierstrand Bad designed by Uniform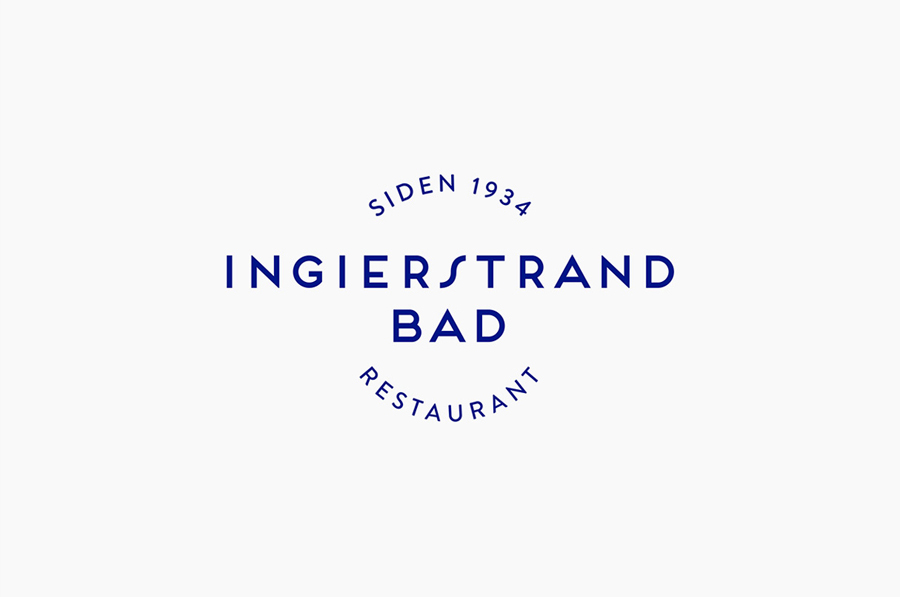 Ingierstrand Bad is a newly refurbished restaurant located on the shore of Norway's Oslofjord that balances the area's history as a 1930's summer retreat with a contemporary dining experience. Oslo based design agency Uniform recently captured this juxtaposition of past and present through a new brand identity solution for the restaurant that mixes vintage photography, cream substrates, geometric forms, two inks and the Art Deco sensibilities of the logotype, resolved with a contemporary consistency, eye for space and simplicity.
Although the sharp terminals, consistent mono line weight and decent spacing of the logotype's characters, the curved baselines, uppercase consistency and the distinctive qualities of the E's and the S may well be perceived as a familiar and on-trend choice today, it gains a lot from the authentic history of the venue, effectively conveyed by the nostalgia of vintage photography, itself given an on-trend red tint.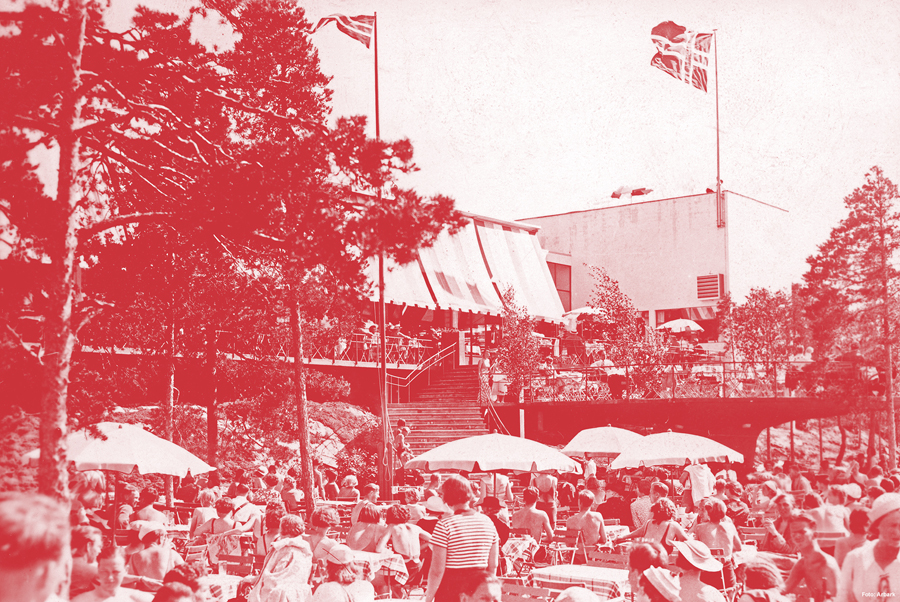 The logotype sits well within the context of the print work, especially the coasters, with a lovely navy blue. Its geometric forms are complemented by a recurring circular motif of lines – which also appear as part of the uniform – and containers creating a strong contrast to the organic richness of the photography, and the finer quality of the menu's blind deboss textile cover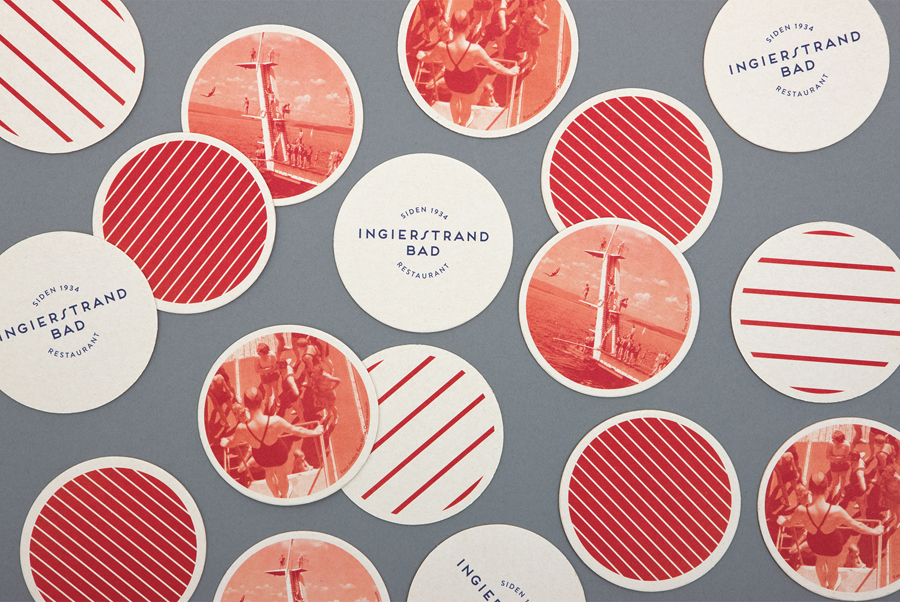 I am sure it is tempting to build a lot texture and detail into contemporary restaurant experiences, have a look at Work In Progress' project for Tjuvholmen Sjømagasin, a seafood restaurant also owned by the same group as Ingierstrand Bad, but this really benefits from having few but well executed assets, the period economy of the colour palette and the unmistakable retrospective approach to typography.
Follow BP&O:
RSS
Facebook
Twitter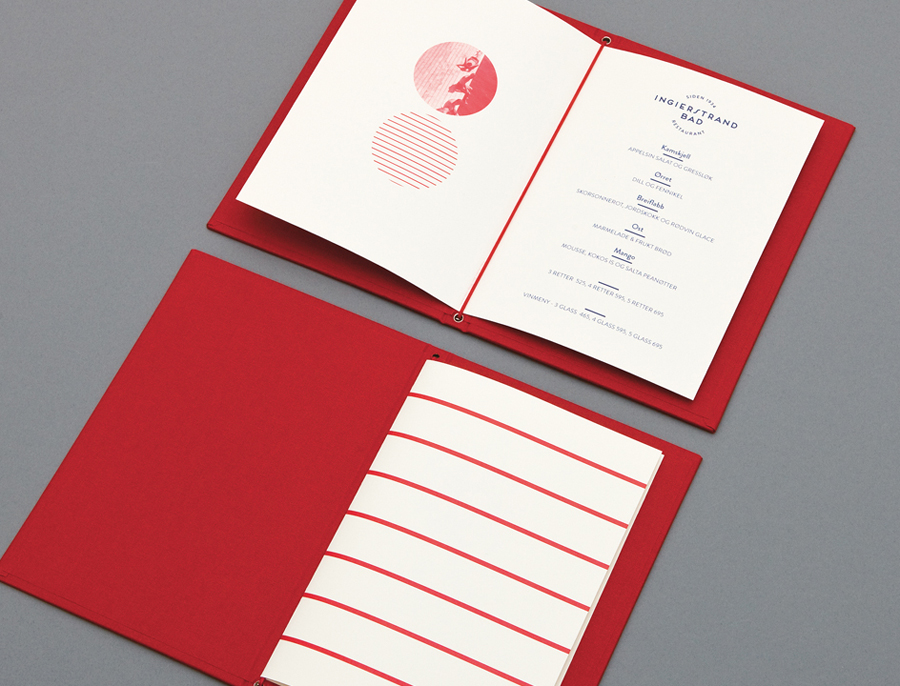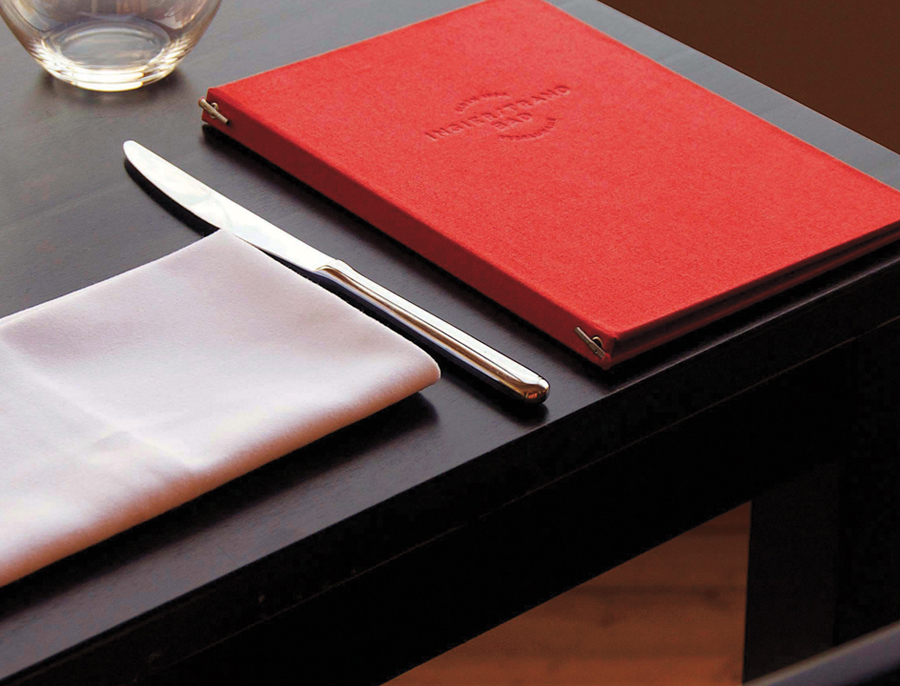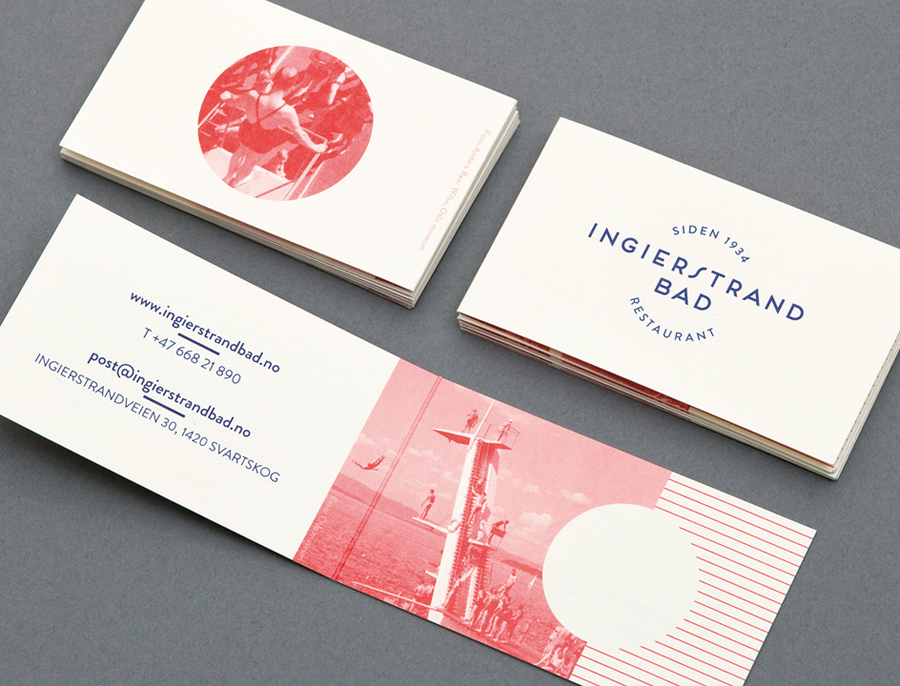 If you liked this then you may also like:
Support BP&O
Thank you to everyone who has visited BP&O since its beginning in 2011. As many of you know, BP&O has always been a free-to-access design blog that seeks to offer extended opinion on brand identity work. It has sought to be the antithesis of the social media platform that often disentangles form, context and content. Writing articles can take 2-4hrs and are carefully researched.
I am passionate about design writing and believe that spending time to write about work, rather than just posting images, furthers design discourse. If you have enjoyed this article, have been with the site from its early days and would like to help contribute to its future, please consider supporting the site with a small PayPal donation. This will go towards the costs of hosting, CDN (to make the site quick to load) and Mailchimp, and cover some of the time it takes to research, write-up, format and share posts.
---