Posted: September 16, 2014
Filed under: Art and Design, Fonts in Use, Logo Reviews
| Tags: American Design, Brand Identity, Brand Identity Reviews, Branding, Branding Blog, Branding News, Brochure Design, Business Card Design, Catalogue Design, Colour in Use: Green, Colour in Use: Pink, Coloured Paper, Copper Block Foil, Design For Print, Design News, Design Opinion, Design Reviews, Designed in New York, Duplex Business Cards, Foil Blocking, Fonts in Use: Dala Moa, Furniture Design Logos, Graphic Design, Homeware, Lighting Design Logos, Logo Design & Branding Blog, Logo Design Inspiration, Logo Opinion, Lotta Nieminen Studio, Luxury Logos and Packaging Design, Stationery Design, Stencil Cut Logotypes, The Best Brand Identities of 2014, The Best Logo Designs of 2014, Type Foundry: Commercial Type, Uncoated Papers & Cards, Women of Design
Comments Off

on Bec Brittain designed by Lotta Nieminen
Bec Brittain is a New York based lighting and product designer who is driven by a "love for luxurious materials, intuitive forms and forward-thinking technology." Working with her small team from a studio in Brooklyn, Bec Brittain creates products that explore and experiment with new production techniques and materials that push the boundaries of American-made centrepiece lighting design. Each piece is created and inspected by Bec and produced using a local network of fabricators and artisans.
---
Posted: July 3, 2014
Filed under: Art and Design, Home and Garden, Logo Reviews, Packaging Reviews
| Tags: Best Packaging Designs, Box Packaging, Brand Identity Reviews, Branding Blog, Branding Reviews, British Design, Creative Packaging, Design Opinion, Design Reviews, Designed by Charlie Smith Design, Furniture Design Logos, Graphic Design, Handcraft, Homeware, Lighting Design Logos, Lighting Logos, Logo Design & Branding Blog, Logo Designs, Logotypes, Packaging Company, Packaging Design, Packaging Design Blog, Packaging News, Sans-serif Logotypes, Typography, Unbleached Materials, Uncoated Papers & Cards, White Ink
Comments Off

on Terence Woodgate designed by Charlie Smith Design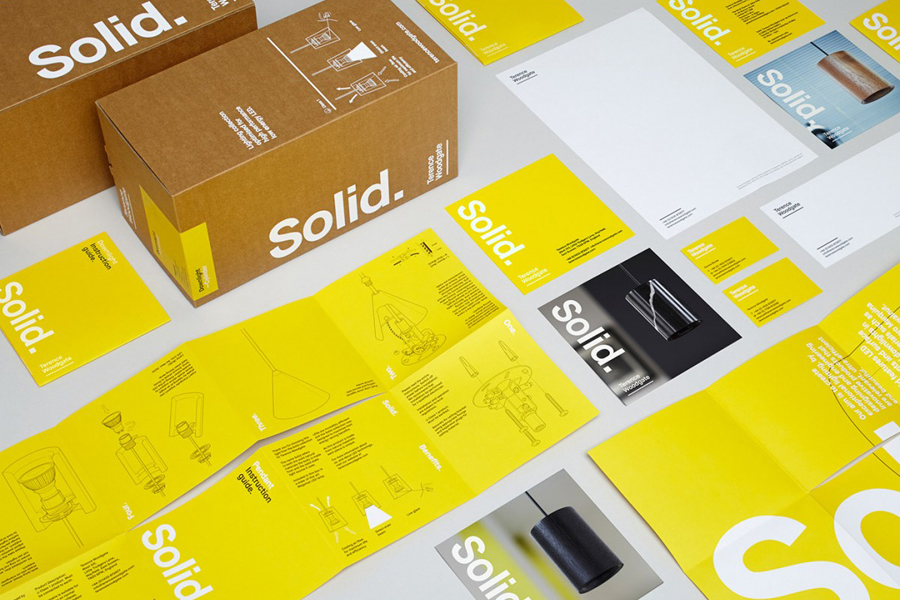 Terence Woodgate is a lighting design and manufacturing business, founded by industrial designer Terence Woodgate in 2014, that looks to "fully optimise the benefits of LED technology". Charlie Smith Design recently worked with Terence Woodgate to develop a visual identity for the business and modular packaging treatment for its first line of products as well as manuals, fitting instructions and website.
---