The Palomar Restaurant designed by Here
25 June,2014
| Author: Richard Baird

|

Filed under: Cafes, Bars and Restaurants, Logo Reviews | Tags: Brand Identity, Brand Identity Design, Brand Identity Reviews, Branding, Branding Blog, Branding Reviews, Coaster Design & Beer Mats, Coloured Paper, Colourful Business Cards, Custom Typefaces & Logotypes, Design For Print, Finnish Design, Foil Blocking, Fonts in Use: Bernhard Brushscript, Food Packaging, Gold Foil, Logo Design & Branding Blog, Logo Designs, Logo News, Logo Opinion, Logotypes, Metallic Spot Colours, New Logo, Pastel Coloured Papers, Restaurant Logos, Sans-serif Logotypes, The Best Brand Identities of 2014, The Best Custom Logotypes, The Best Logo Designs of 2014, Visual Identity Design Blog

|

1 Comment »
The Palomar Restaurant is located at the heart of London's Soho district with a menu that is described as being reflective of the foods of modern-day Jerusalem and influenced by the cultures of Southern Spain, North Africa and the Levant. Its interior features a zinc kitchen bar, mosaic marble and reclaimed parquet floors, marble surfaces, oak panelled walls, a skylight providing natural light and royal blue leather upholstered furniture.
The restaurant's brand identity, developed by Here with the intention of conjuring up the "romantic and nostalgic feelings of bygone days", uses a contrast of hand drawn script and uppercase extended sans-serif typography, a light and dark colour palette, the texture of uncoated paper and the gloss and perceived quality of a gold foil to mirror many of the classic details of the restaurant's interior and reflect the crafted nature of its food. The project extended to menu design and coasters, neon signage and business cards.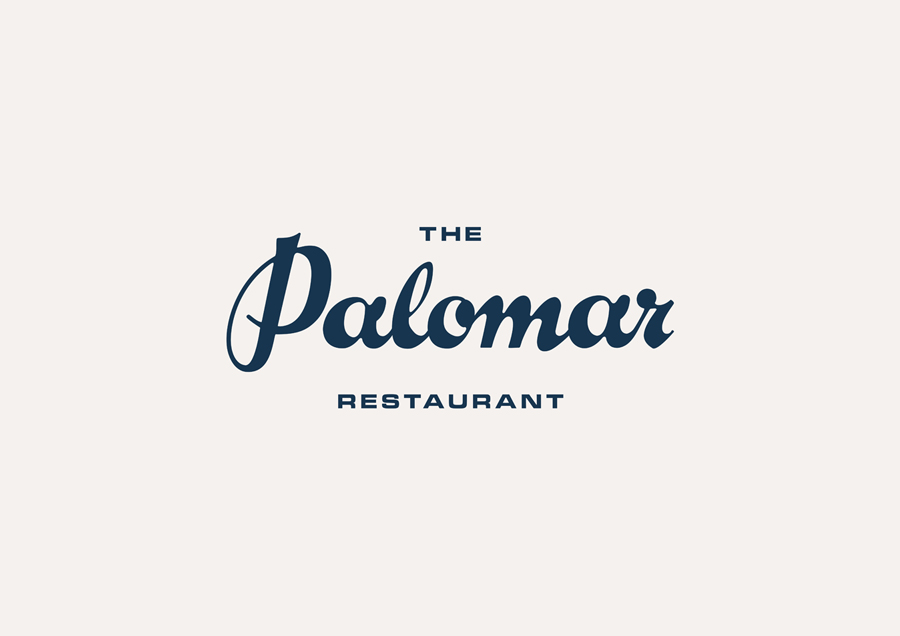 The script's solid mix of calligraphic loops, ligatures and stroke contrast are well handled with a good sense of motion and slight variation in the arches and counters that reinforce its hard drawn authenticity. It appears to draw inspiration from the logotype of famous LA Palomar Ballroom of the 1920's that while perhaps not widely recognised or remembered references the glamour of the past. 
The uppercase and extended sans-serif characters of Eurostile above and below appear a little awkward in their position and space, largely due to the sentence case rendering of the script, however, provides strong contrast and a more recent but still retrospective period sensibility. The way the logotype divides the light and navy blue of the menu does not quite work but its broad block foil coverage is impactful, is consistently executed in print and forms the good split between headings and body copy.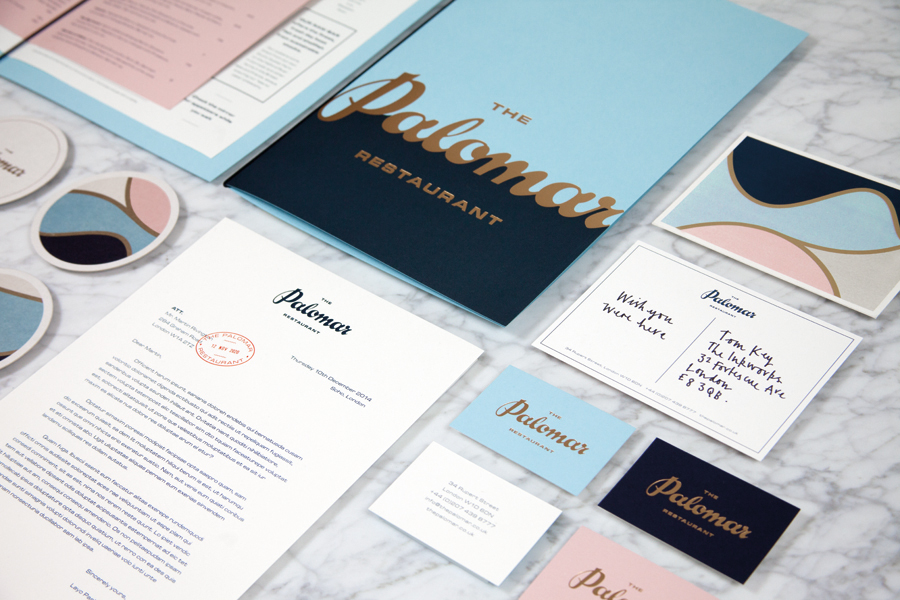 The colour palette, like the logotype, utilises contrast effectively, balancing both a reference to architectural materials and interior detail of past with what is now perceived as a contemporary craft aesthetic through the use of white, pastel pink, light and navy blue uncoated textured papers and the shine of a block foil print finish. These draw directly from and complement the restaurant's interior of marble, brass and dyed leather, reflect their classic high quality and period authenticity, and the care taken in building the restaurant's menu. It is a shame to see little reference to the foods of modern day Jerusalem within the identity but this is perhaps better left to the experience of dining.
Design: Here
Photography: Helen Cathcart
Opinion: Richard Baird
Fonts Used: Bernhard Brushscript & Eurostile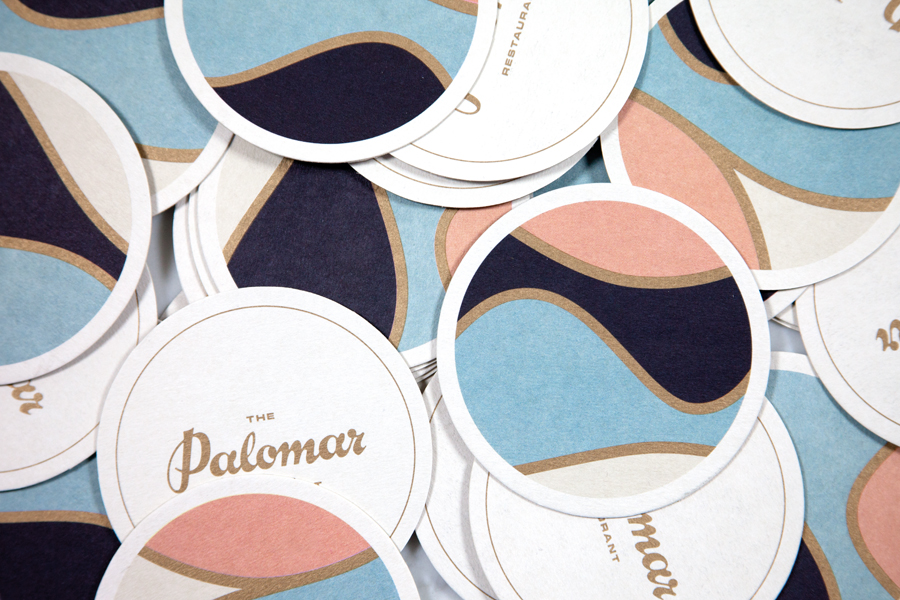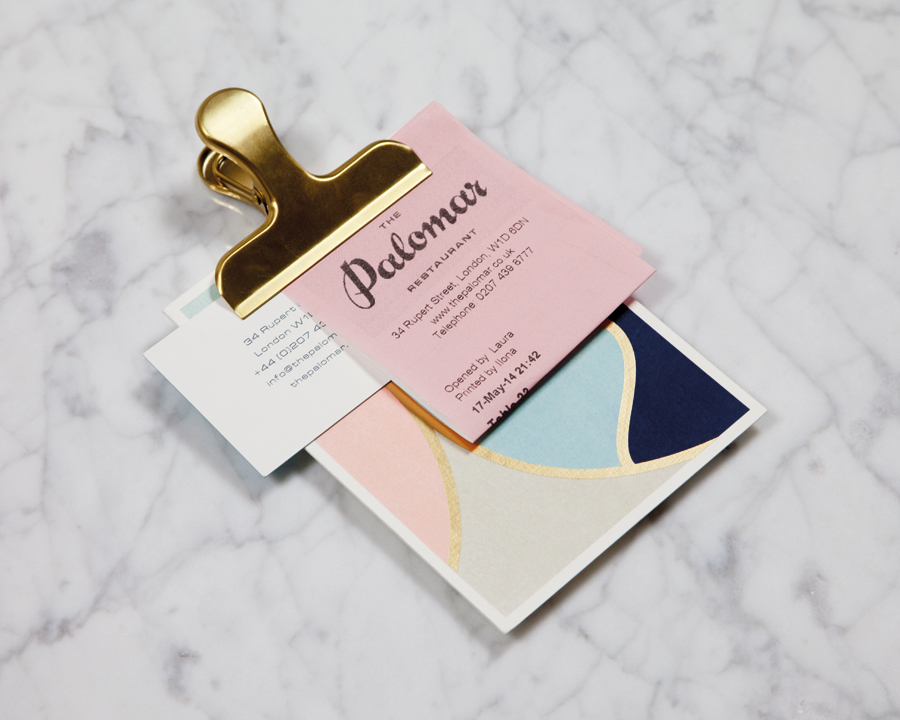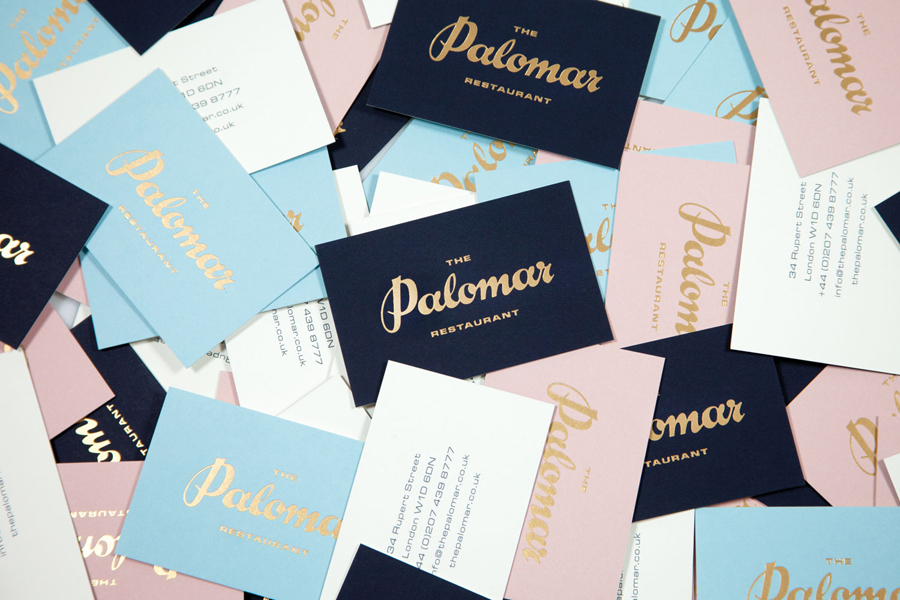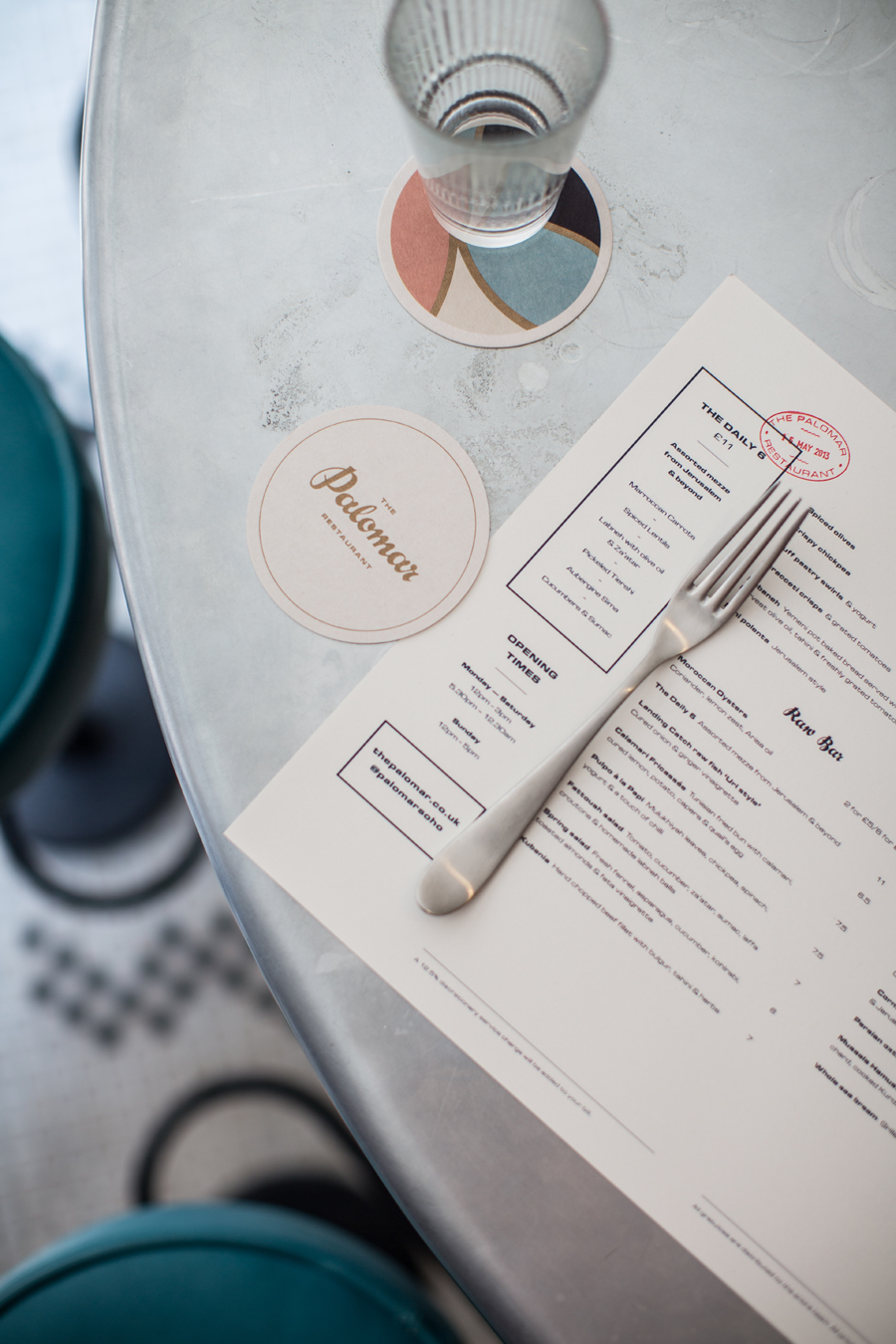 Follow BP&O:
RSS
Facebook
Twitter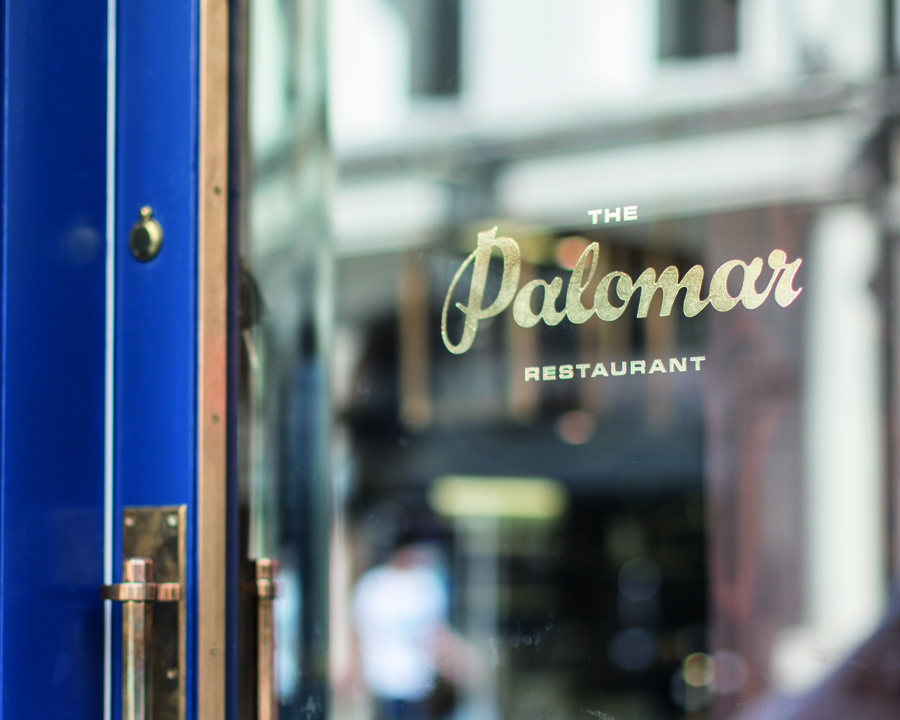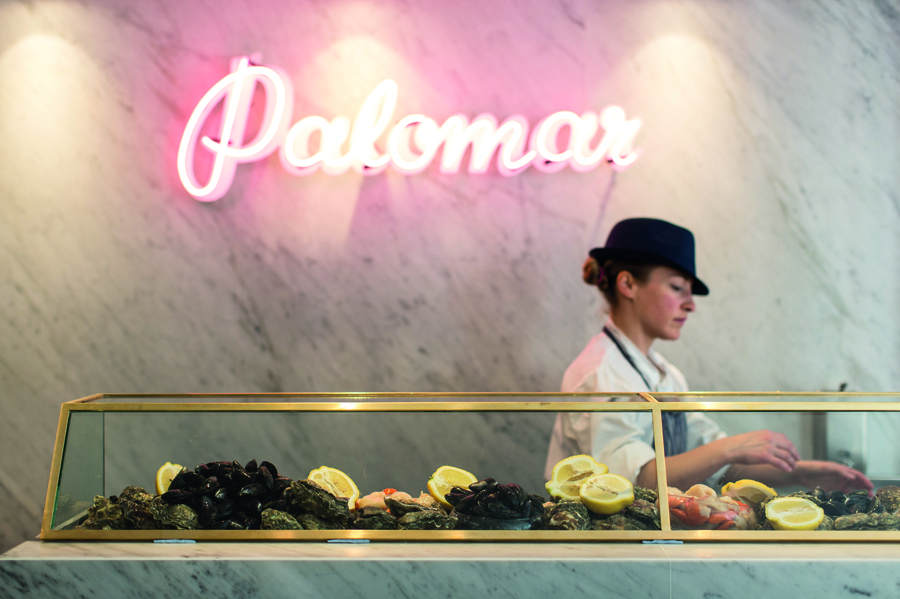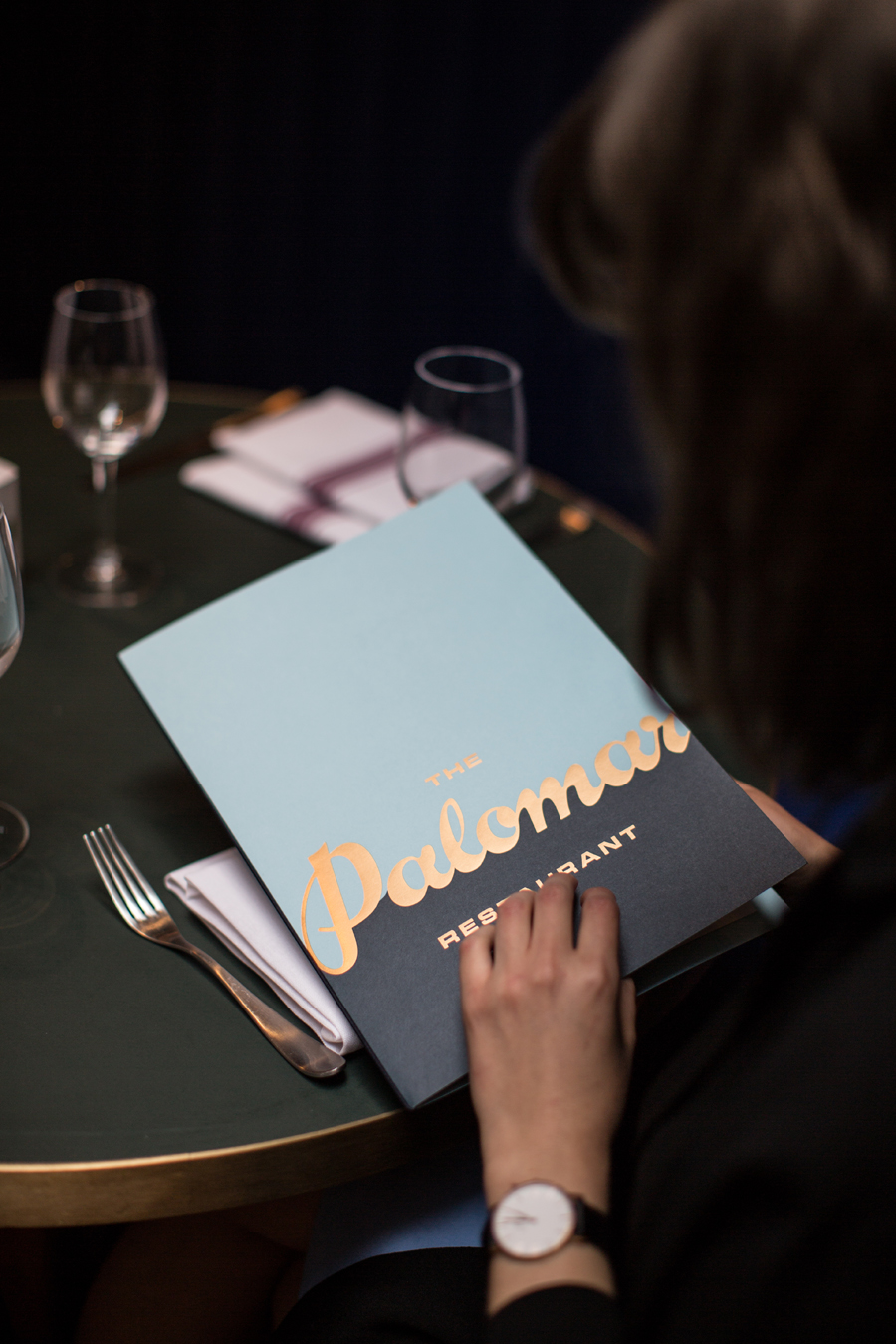 If you liked this then you may also like:
---