Platform designed by Substrakt
| Author: Richard Baird

|

Filed under: Cafes, Bars and Restaurants, Logo Reviews | Tags: Bar Logos and Brand Identities, Brand Identity Reviews, Branding, British Design, Design Opinion, Design Reviews, Designed in London, Graphic Design, Logo Design & Branding Blog, Logo Designs, Pub Logos, Restaurant & Cafe Menu Designs, Restaurant Logos, The Best Logo Designs of 2012, Typography

|

Comments Off

on Platform designed by Substrakt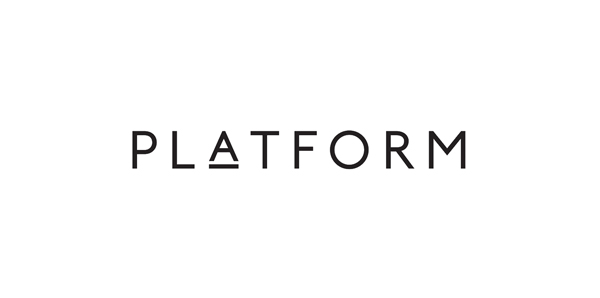 Platform is a bar and restaurant located on south east London's Tooley Street that serves simple, honest food made from British farmed organic produce. Developed by digital design agency Substrakt, Platform's visual identity mixes a simple logo-type with the iconic tiles once associated with London's transport network, a key feature of the restaurant's interior, to offer a more unique and sophisticated take on the organic and fair-trade dinning experience.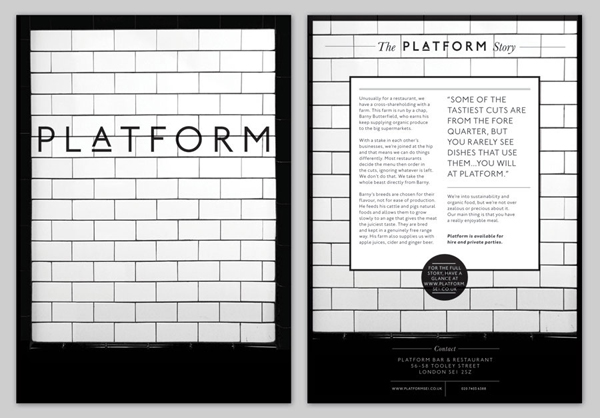 "We were approached by long standing client Tony McKinlay to produce a brand for a new joint venture with a traditional Devon farmer Barney Butterfield – a new restaurant nestled within the heart of SE1, under the history-steeped arches of London Bridge station. Diverting from the organic, fair trade, 'gate-to-plate' dining described to us, our eyes turned to the building. Named Platform, the restaurant sits in the archway under the oldest of the London railway termini and one of the oldest stations in the world. We explored the design of London transport systems; the black and white gloss brickwork, the humanist typefaces synonymous with the tube networks and railways of London. Taking inspiration from these devices we developed a branding system and signage for the venue which in turn determined the visual style of the website." – Substrakt
Breaking slightly from the latest news format of BP&O, this project is a little older but follows yesterday's Sailors Club project quite well sharing a similar mix of period typographic and pattern work executed with contemporary restraint and simplicity.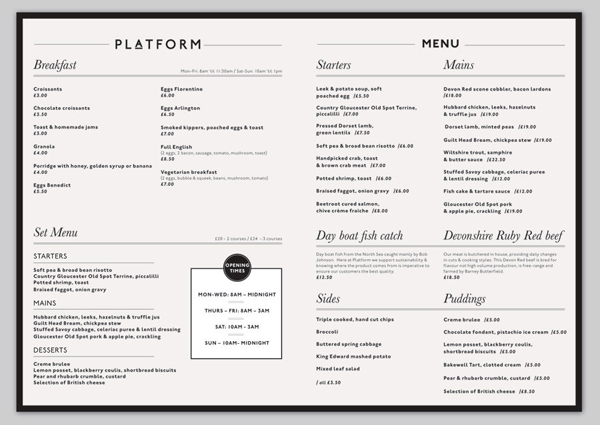 The consistent line weight, combination of wide and slim, broadly spaced sans-serif letter-forms, and the raised and underlined detail of the logo-type, clearly draws inspiration from late 19th century signage that delivers a retrospective authenticity, a period perceived to have good traditional values based around the ideas of locality and community. The monochromatic colour palette and simple geometry of the containers, frames and layouts across the collaterals appropriately reflect an honest but high quality menu free of superfluous detail. A number of small script details introduce a more conventional and sophisticated quality but remain largely complementary. The tile photography is remarkably simple but blends the aesthetics of traditional butchers with Victorian transport infrastructure to introduce a rich duality alongside the type, cleverly combining a sense of quality, personal service and provenance with the themes of honesty, practicality and truth to ingredients.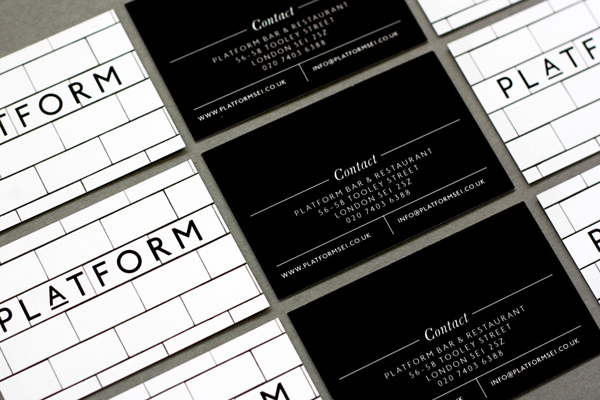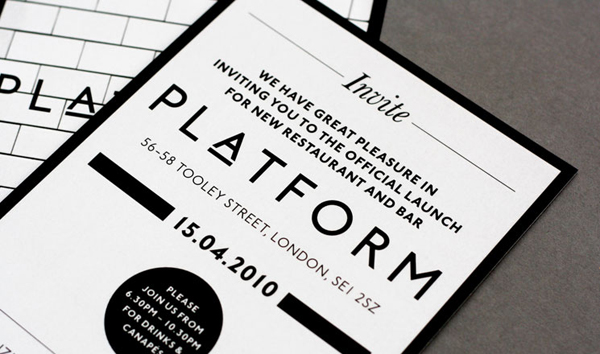 Follow BP&O:
RSS
Facebook
Twitter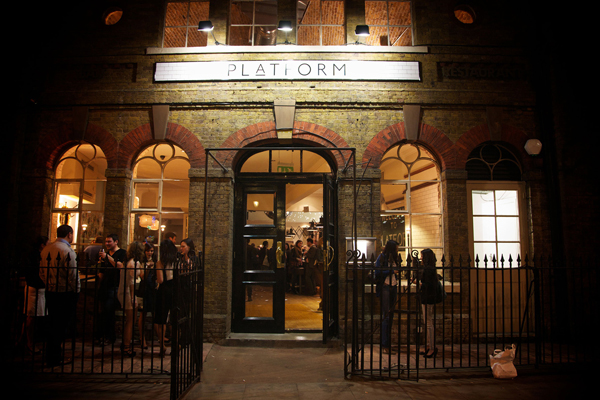 If you liked this then you may also like:
Support BP&O
Thank you to everyone who has visited BP&O since its beginning in 2011. As many of you know, BP&O has always been a free-to-access design blog that seeks to offer extended opinion on brand identity work. It has sought to be the antithesis of the social media platform that often disentangles form, context and content. Writing articles can take 2-4hrs and are carefully researched.
I am passionate about design writing and believe that spending time to write about work, rather than just posting images, furthers design discourse. If you have enjoyed this article, have been with the site from its early days and would like to help contribute to its future, please consider supporting the site with a small PayPal donation. This will go towards the costs of hosting, CDN (to make the site quick to load) and Mailchimp, and cover some of the time it takes to research, write-up, format and share posts.
---