Iannilli designed by Savvy
| Author: Richard Baird

|

Filed under: Cafes, Bars and Restaurants, Logo Reviews | Tags: Bag Design, Brand Identity, Brand Identity Reviews, Branding, Business Card Design, Design News, Design Reviews, Designed by Savvy, Gold Foil, Graphic Design, Heat Treated Detail, Italian Restaurant, Logo Design & Branding Blog, Logo Designs, Logo Opinion, Logos, Logotypes, Mexican Design, Packaging Design, Packaging News, Pizza Box Design, Restaurant & Cafe Menu Designs, Serif Logotypes, The Best Brand Identities of 2013, The Best Logo Designs of 2013, Typography, Visual Identity Design Blog, Wood Menu Cover, Wood Textures in Brand Identity and Packaging Design

|

Comments Off

on Iannilli designed by Savvy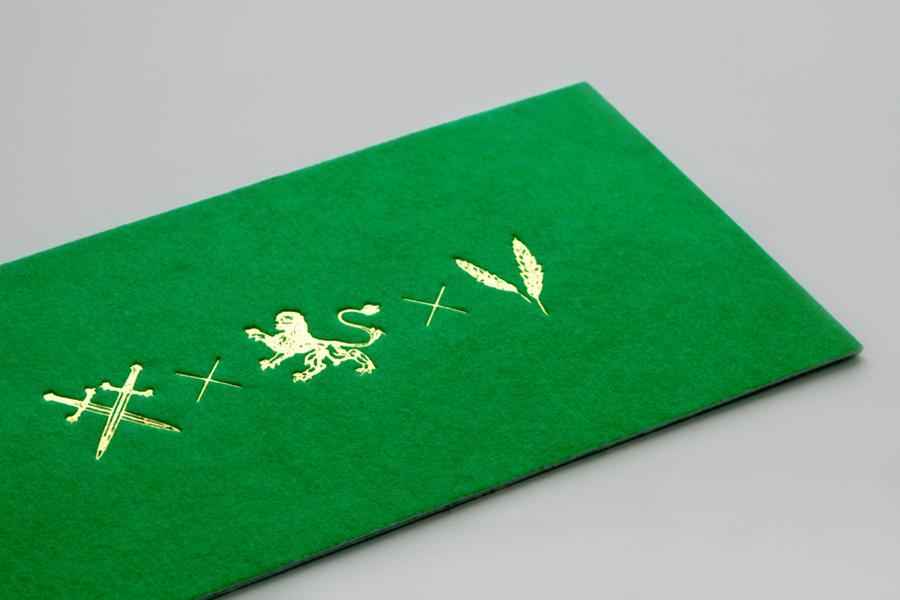 Iannilli is a traditional Italian restaurant located in the Mexican city of Monterrey. Its visual identity, recently revised by design studio Savvy, contrasts classic and contemporary design cues to satisfy an established clientele – expecting traditional food and service – while also appealing to a younger generation.
"With this project we proposed the creation of a graphic identity that gives honor to the Iannilli family, their restaurant and their loyal clientele that has accompanied them from the beginning, and, at the same time, to develop an identity attractive to a younger segment, fueling the growing interest of young people of providing an important space in their lives to the dining experience. Following the concept of the "Romantic Nostalgia", Iannilli is defined as an intimate place to evoke memories and enjoy the romance of a good dinner. Tradition, experience and Iannilli's past, at the service of their present guests."
– Savvy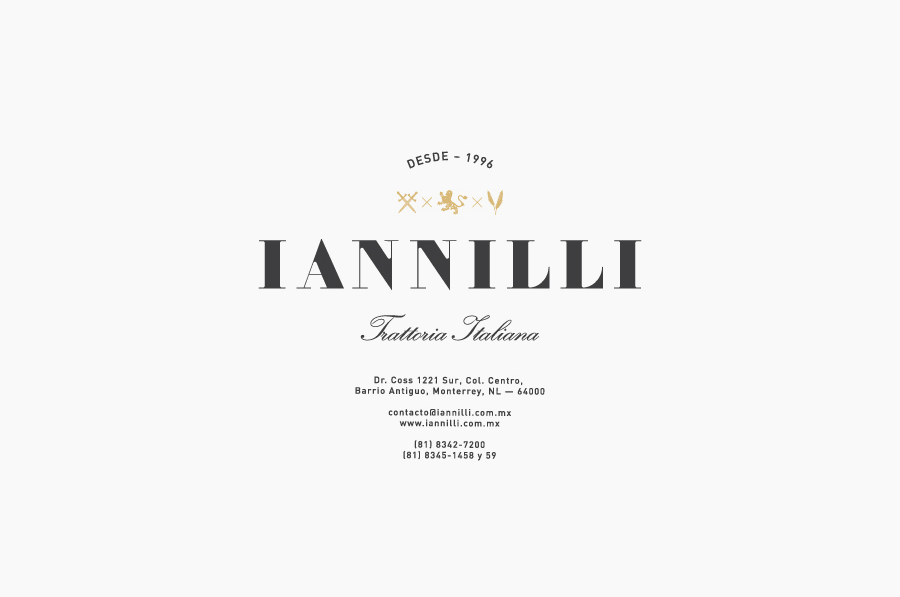 Savvy's design solution is an interesting juxtaposition of the traditional – heraldic iconography, the flourishes and low x-height character of a script, a curved baseline, cross-hatch pattern, gold foil, heat-treated and stamp-based print finishes across tactile substrates – alongside the more recent sensibilities of a well-spaced, uppercase Didona logo-type – a digitisation of 18th Century letter-forms and itself delivering contrast through its union of bold and very fine strokes – a neutral sans-serif and bright green spot colour choice as well as the on-trend tinting of vintage photography across the website.
Together these achieve a smart and communicative duality that deliver distinction without appearing old-fashioned by appropriating heraldry as a communicative device rather than a authentic presentation of significant heritage, and infuse it with a craft and high fashion undertone that appropriately conveys a continued commitment to quality and service provided within a modern environment.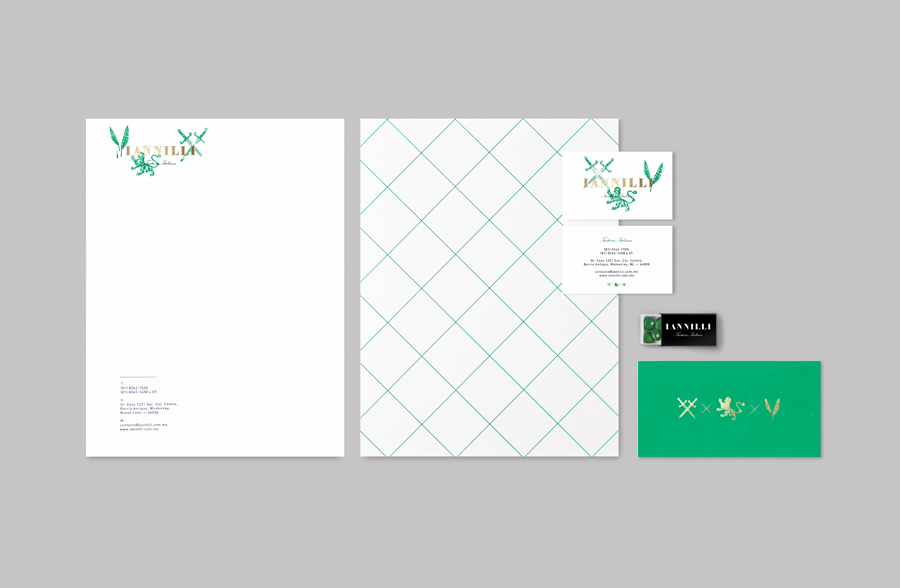 Follow BP&O:
RSS
Facebook
Twitter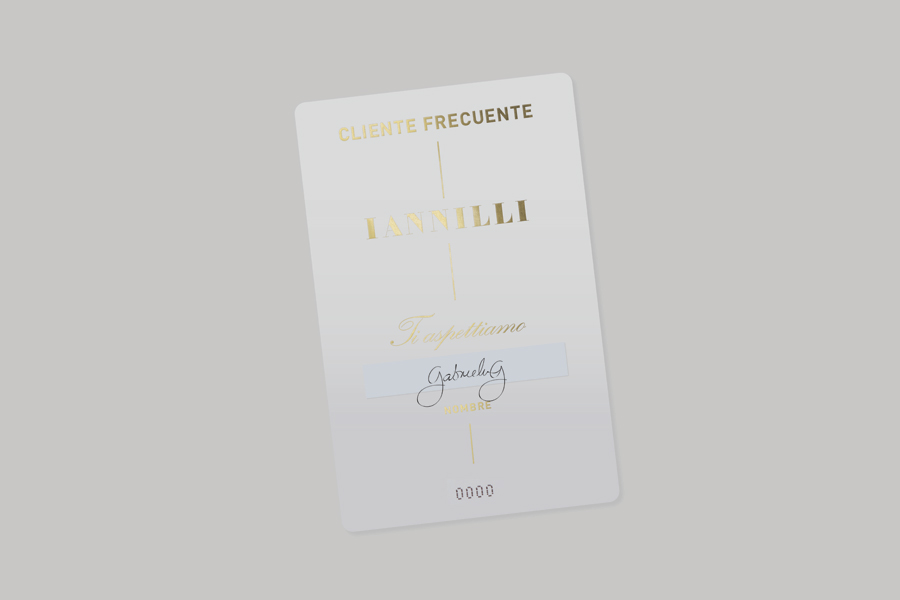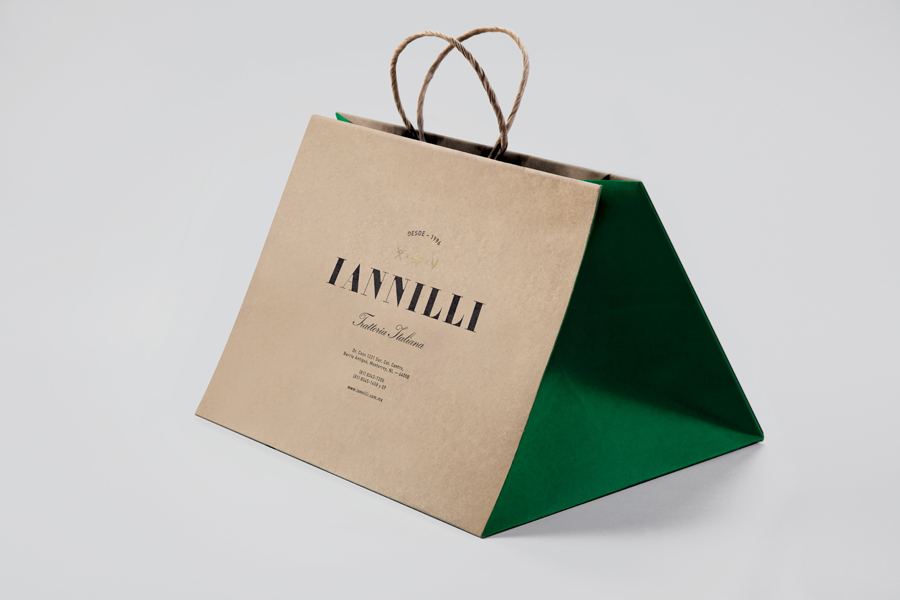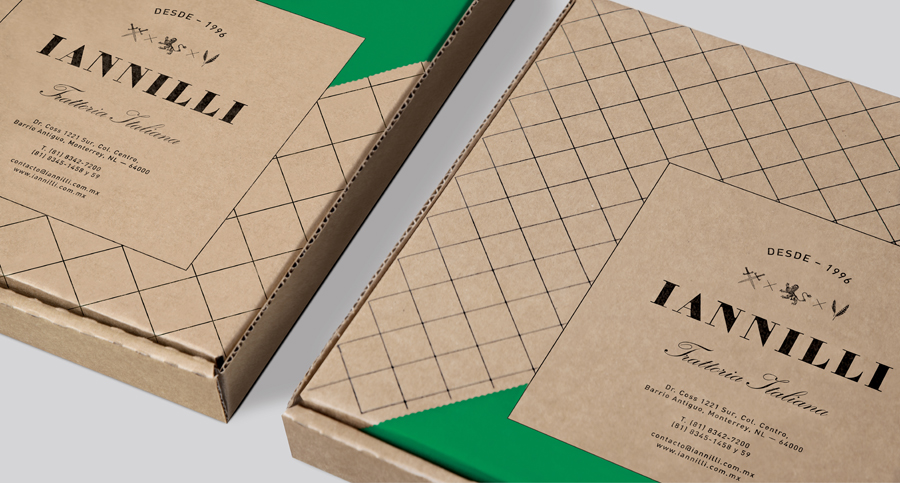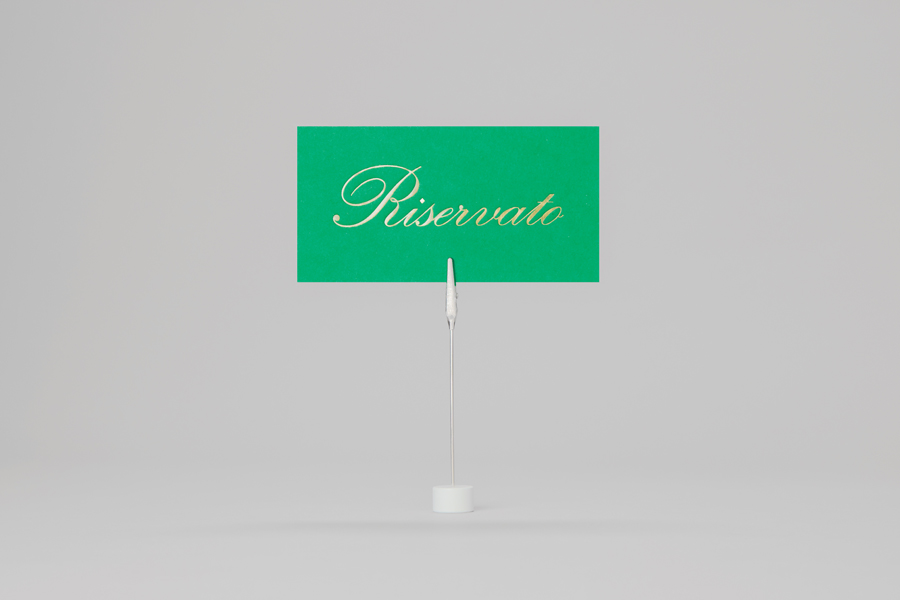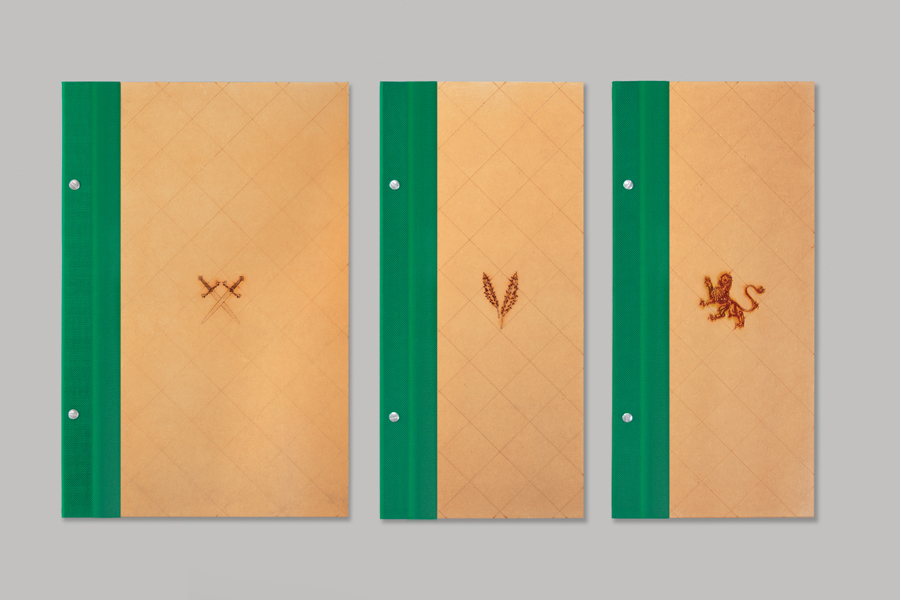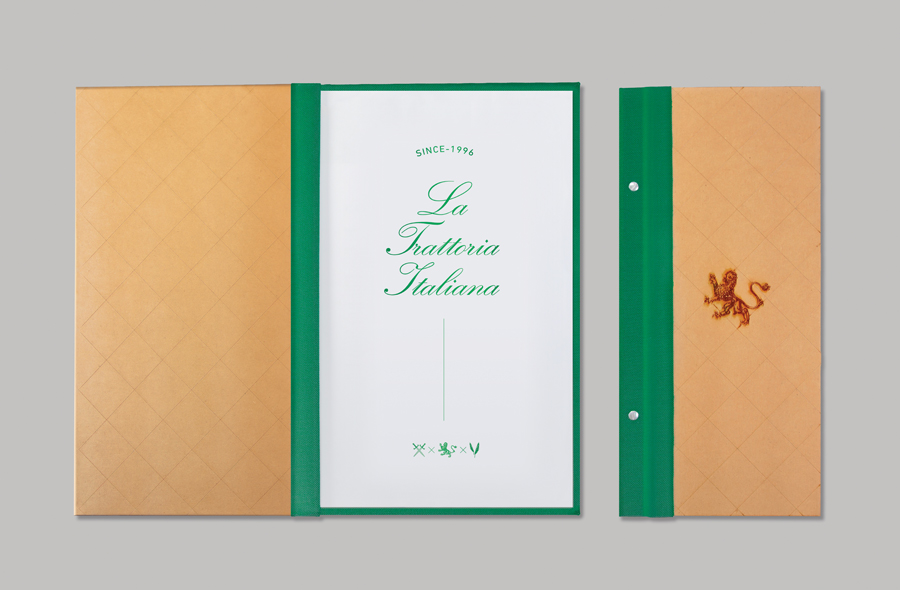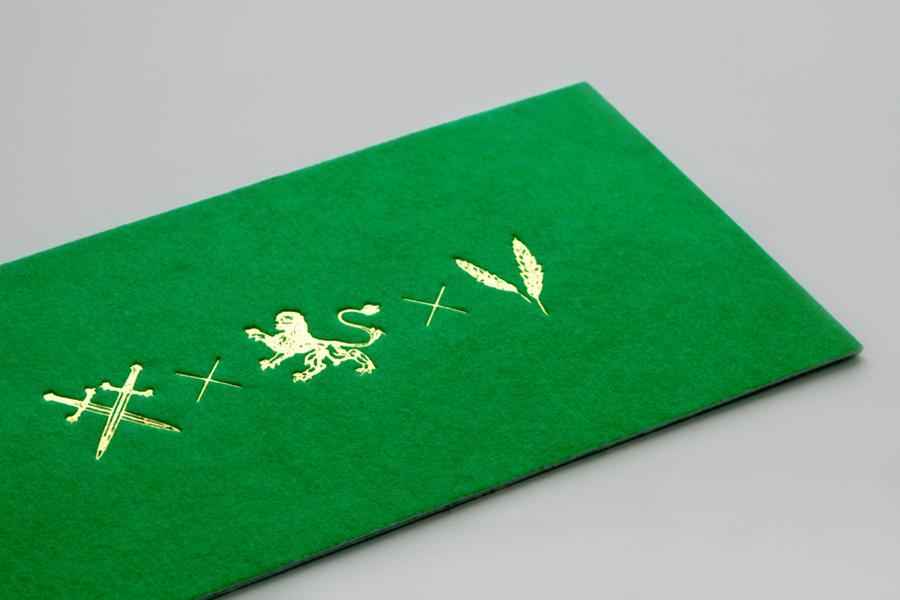 More brand identity work by Savvy:
Support BP&O
Thank you to everyone who has visited BP&O since its beginning in 2011. As many of you know, BP&O has always been a free-to-access design blog that seeks to offer extended opinion on brand identity work. It has sought to be the antithesis of the social media platform that often disentangles form, context and content. Writing articles can take 2-4hrs and are carefully researched.
I am passionate about design writing and believe that spending time to write about work, rather than just posting images, furthers design discourse. If you have enjoyed this article, have been with the site from its early days and would like to help contribute to its future, please consider supporting the site with a small PayPal donation. This will go towards the costs of hosting, CDN (to make the site quick to load) and Mailchimp, and cover some of the time it takes to research, write-up, format and share posts.
---