Posted: November 19, 2015
Filed under: Logo Reviews, Publishing
| Tags: Black Block Foil, Brand Identity Blog, Brand Identity Reviews, Branding Blog, Branding Reviews, Business Card Design, Business Card Design Inspiration, Coloured Paper, Colourful Business Cards, Design For Print, Design Opinion, Design Reviews, Designed by The Studio, From Scandinavian, Graphic Design, Graphic Design Blog, Letterhead Design, Letterpress, Logo Design Inspiration, Logo Design Resource, Logotypes, Monogram Design, Pastel Coloured Papers, Sans-serif Typography, Serif Logotypes, Serif Typography, Stationery Design, Swedish Design, The Best Brand Identities of 2015, The Best Business Cards of 2015, Typography, Uncoated Papers & Cards
3 Comments »
Opinion by Richard Baird.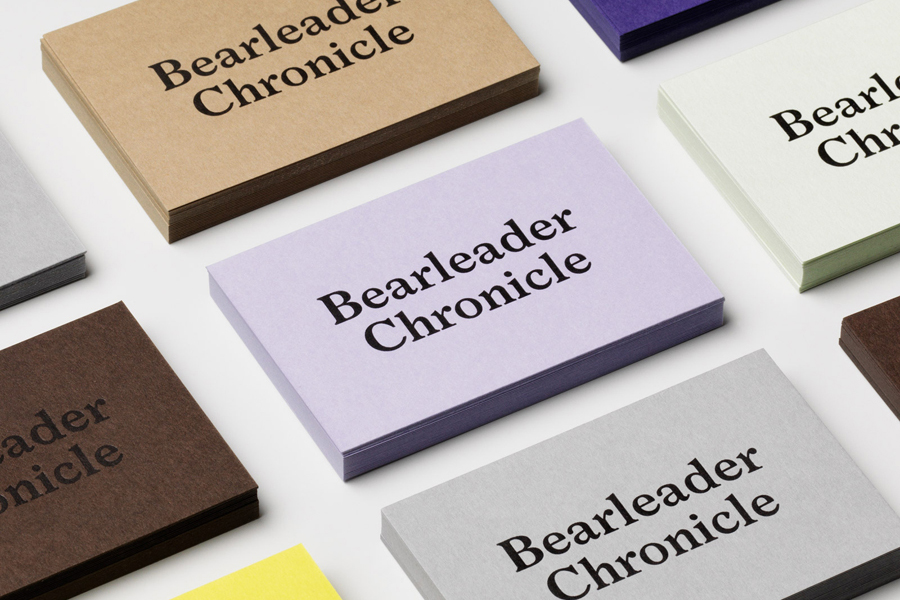 Bearleader describes itself as being dedicated to seeking out spectacular events, simple pleasures, awe-inspiring landscapes, hidden gems, and regions where traditions are meticulously maintained. They share these with their readers through an online magazine, which also includes insight into the people they meet and places they come across, with the intention of inspiring others to follow in their footsteps and chart their own adventures.
Bearleader draws its name from the leading of the inexperienced on risky adventures and the rise of foreign travel in the 18th and 19th century, while its content addresses the current favour for slow living (diverse and fulfilling experiences over possessions). This is conveyed through a brand identity treatment of traditional serif typography, a varied colour palette and simple layouts created by Scandinavian graphic designers The Studio. This extended across business cards, stationery, bookmarks and Bearleader's online magazine.
---
Posted: July 6, 2015
Filed under: Graphic Design Reviews, Publishing
| Tags: Brochure Design, Campaign Design, Catalogue Design, Coloured Paper, Design For Print, Design Reviews, Designed by Snask, Designed in Stockholm, Editorial Design, From Europe, From Scandinavian, Graphic Design, Graphic Design Blog, Magazine Design, Magazine Spreads, Swedish Design, The Best Graphic Design Work of 2015
3 Comments »
Opinion by Richard Baird.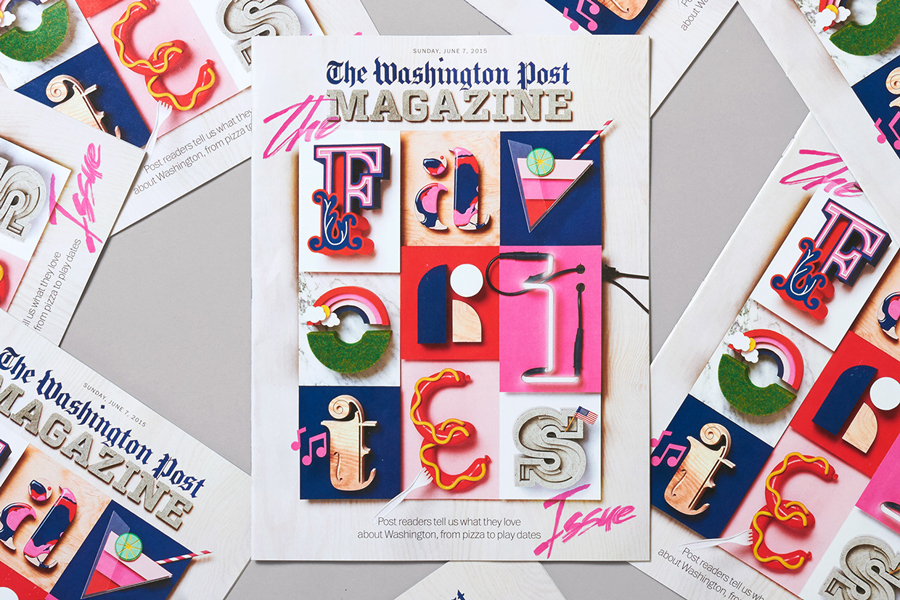 Following an extensive studio search The Washington Post, one of America's most widely circulated newspapers, commissioned Stockholm based graphic design studio Snask to illustrate The Favorite's Issue with a fun and tactile idea that would unite, amongst others, topics such as food and drink, music, art and the outdoors. Snask's concept is informed by the essence and characteristics of each topic, and individually visualised through form, texture, colour, process and material variety. These are combined to create a rich cover, spread and set of single typographic panels bound by a physical crafted quality.
---