Vocation Brewery Limited Edition by Robot Food
Opinion by Richard Baird Posted 7 December 2015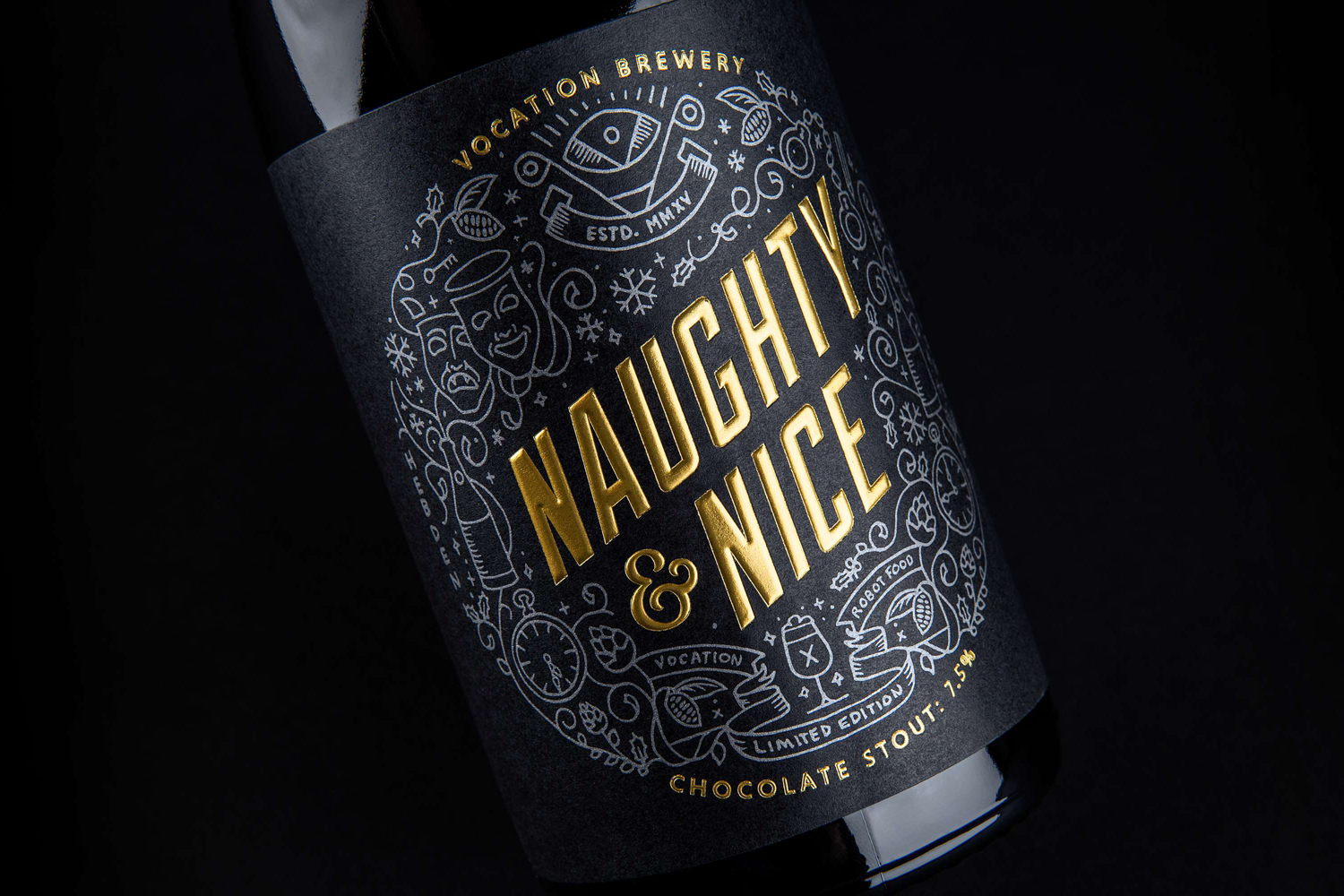 Vocation is a UK microbrewery, established and run by John Hickling, with a range of craft beers described as having distinctive and punchy flavour profiles. Communicating the brewery's unique personality and the crafted quality of its range rested in the hands of UK based graphic design studio Robot Food.
Drawing on the beer's tropical, fruity, floral and hoppy characteristics, the brewery's fearless, daring and renegade attitude, and the art of beer craft, the studio created a brand identity and label design that juxtaposes bold and robust typography alongside fine, fluid and hand drawn illustration.
To celebrate the holiday season, Robot Food and Vocation Brewery continue to collaborate, this time with a festive release in the run up to Christmas. Naughty & Nice is a single batch chocolate stout, dreamt up by the studio, created by the brewers at Vocation, and limited to 1323 bottles. It draws on the naming conventions, aesthetic qualities and design process of Vocation's core range, and the shared challenger attitude that unites studio and brewer, but with a couple of seasonal twists.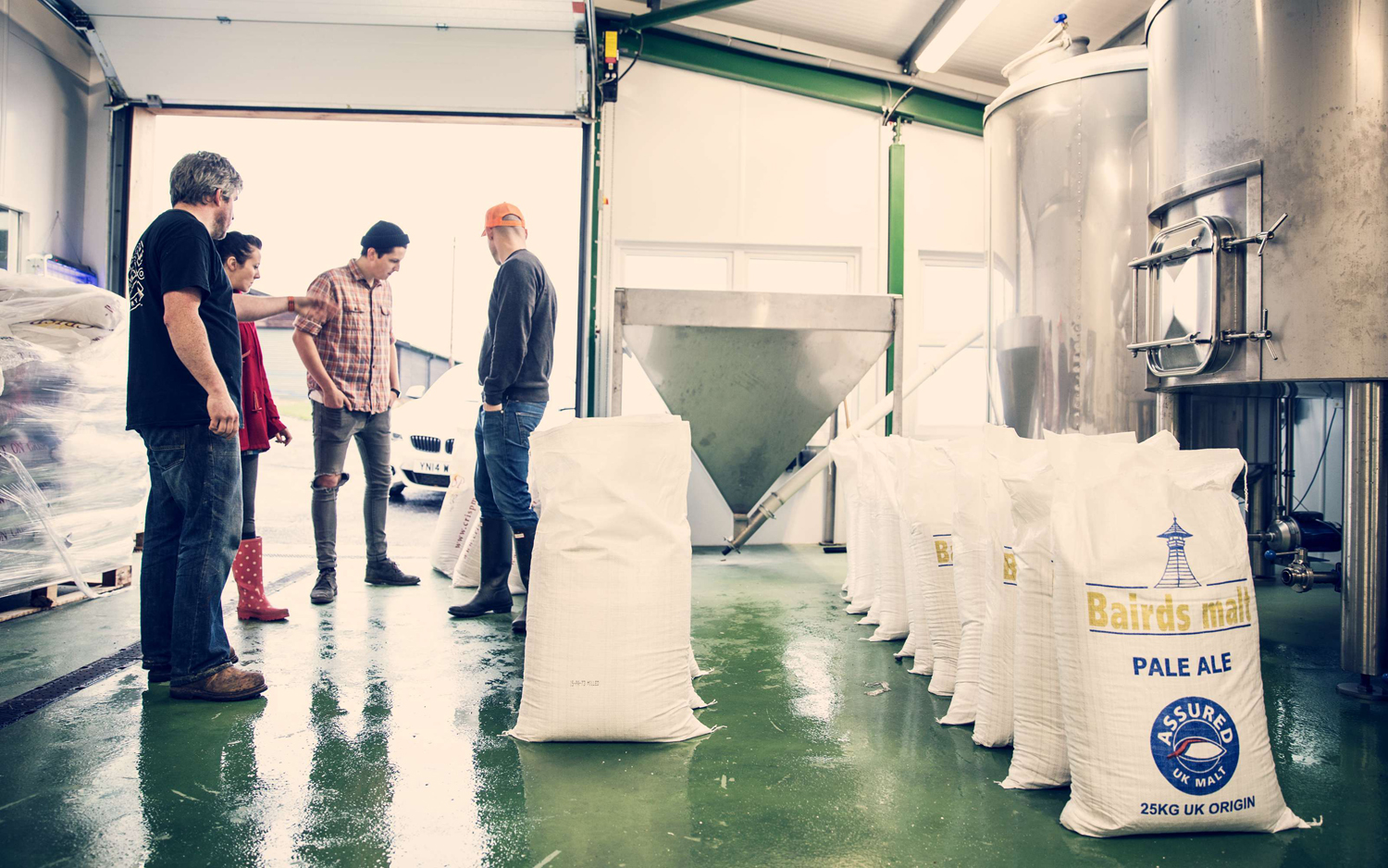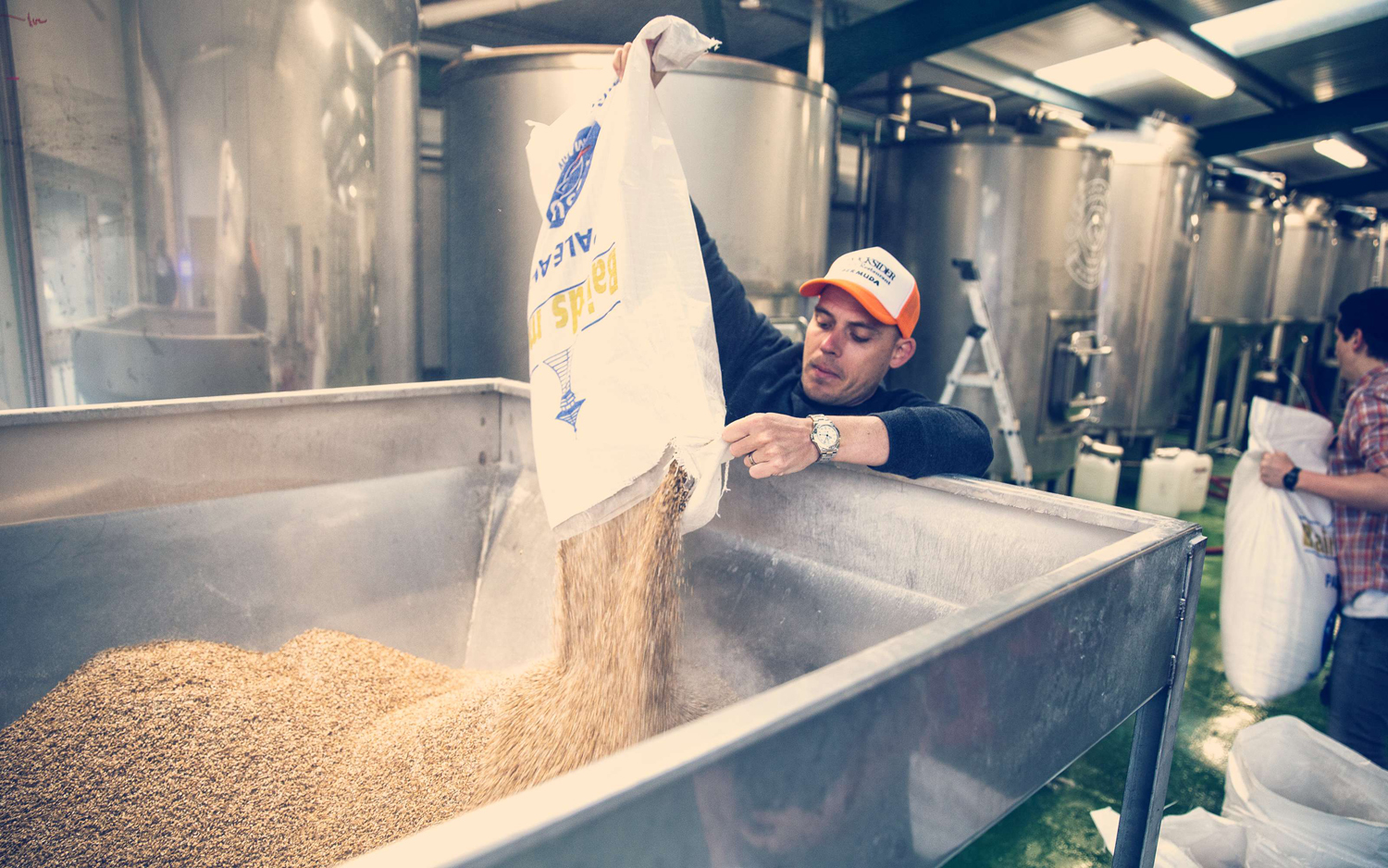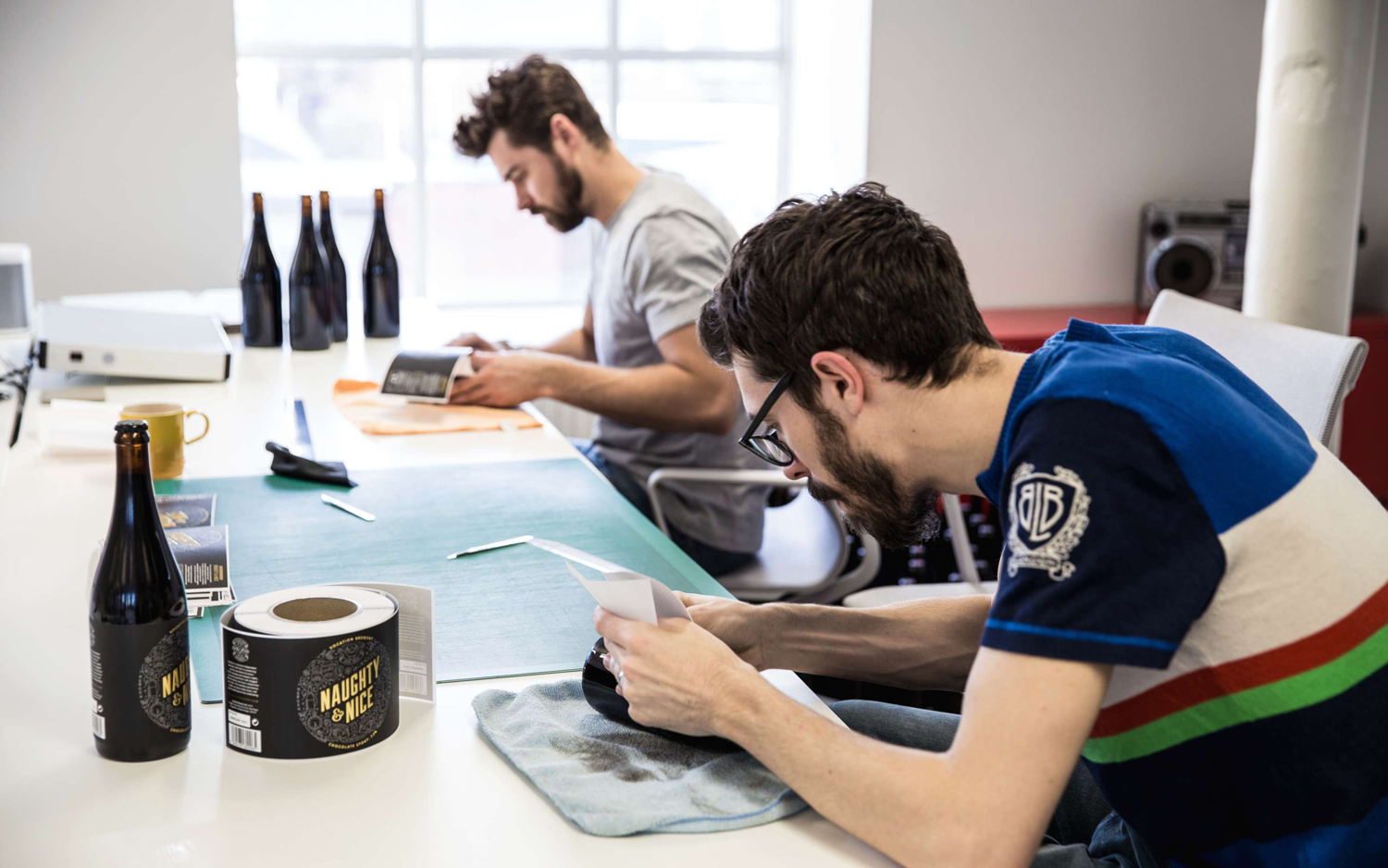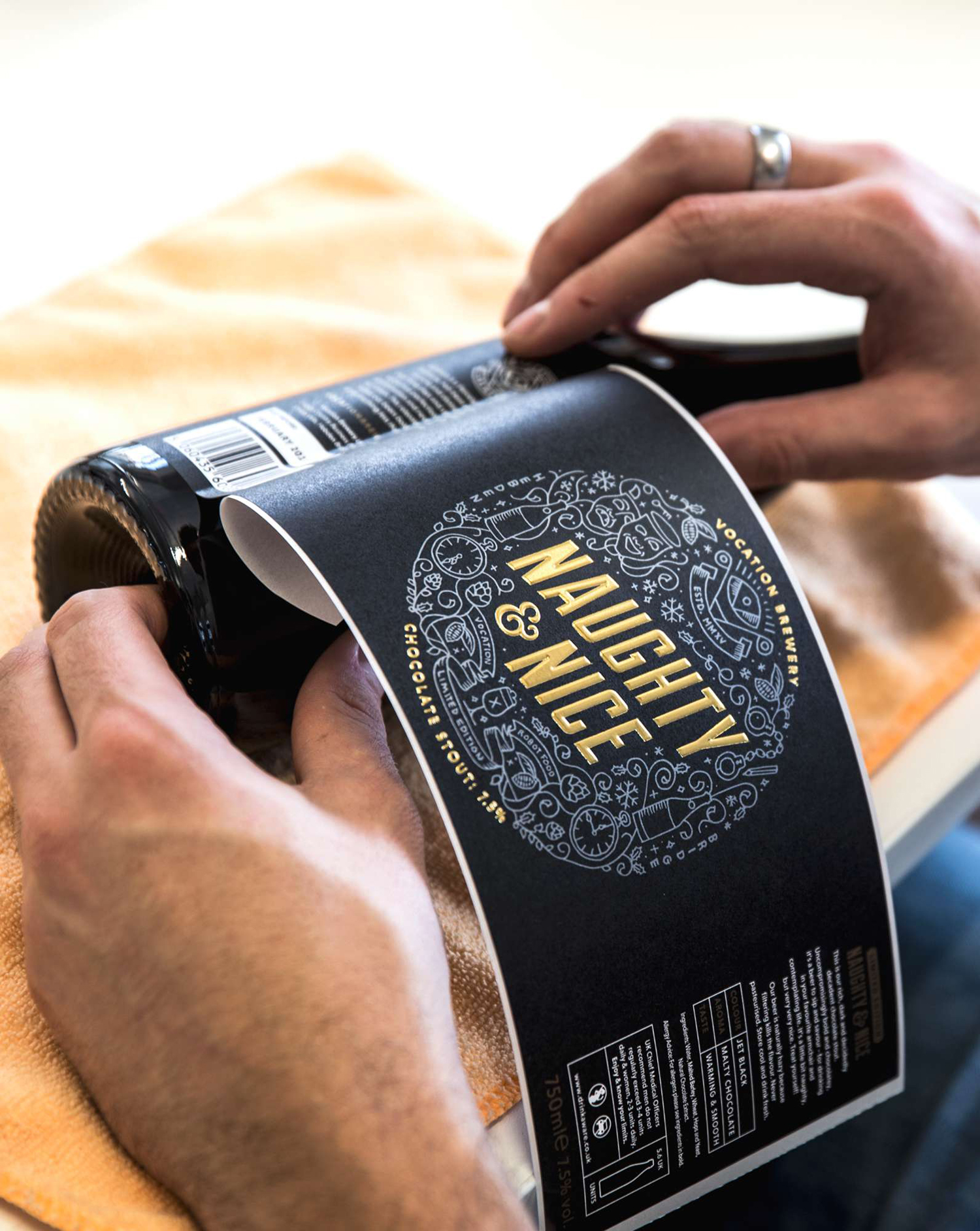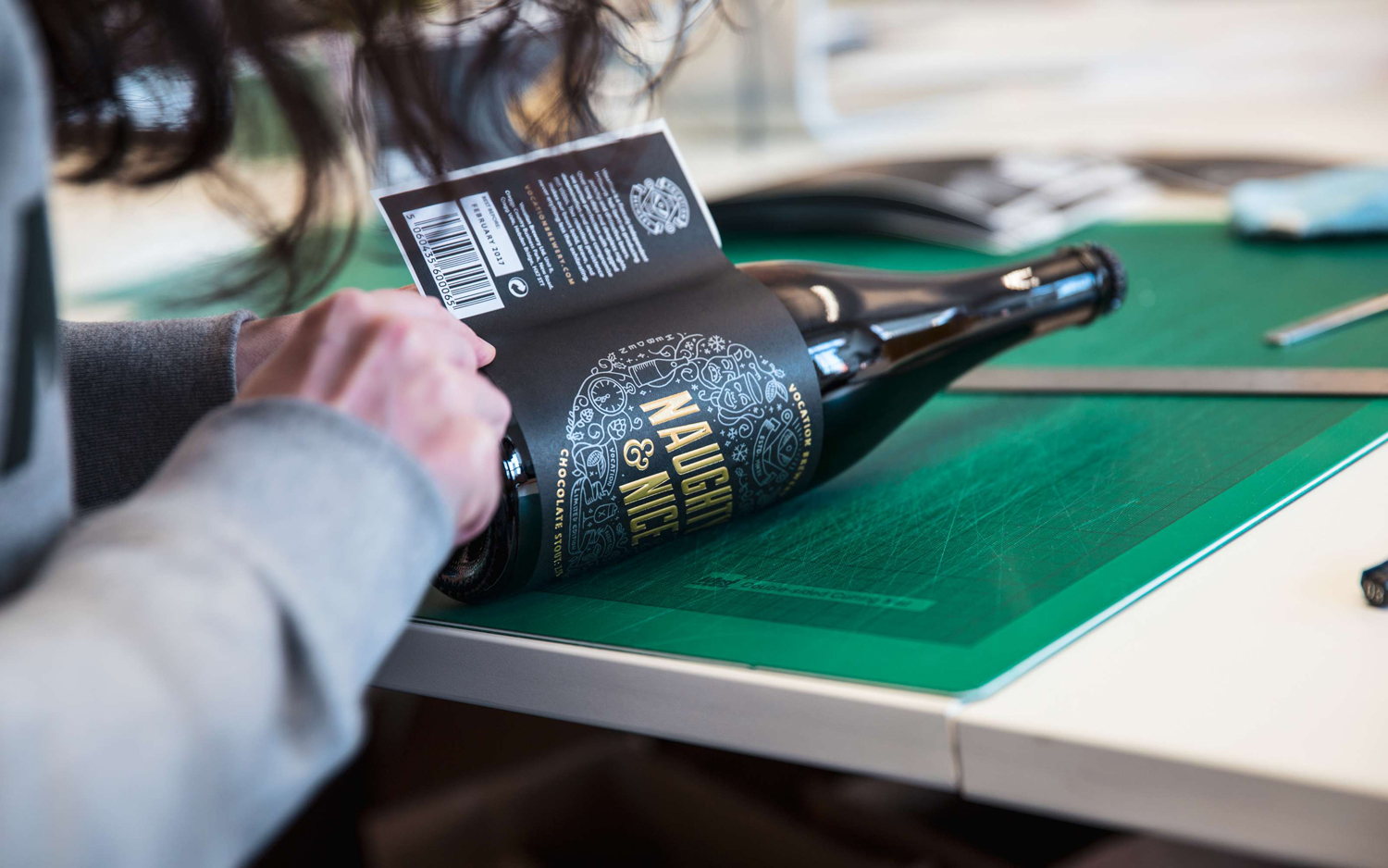 Naughty & Nice, although a limited edition, adheres to the naming convention, packaging structure, label layout and typographic and illustrative combination of Vocation's brand identity, only deviating in the choice of iconography, print finish and the flourish of a custom wooden box. It is a departure rooted in seasonality and festivity.
The name Naughty & Nice, a nod to a popular Christmas song, sits alongside other brews that include Divide & Conquer and Heart & Soul, and is fitting for a season of indulgence, and the fusion of craft beer and chocolate, whilst also building on a playful naming strategy.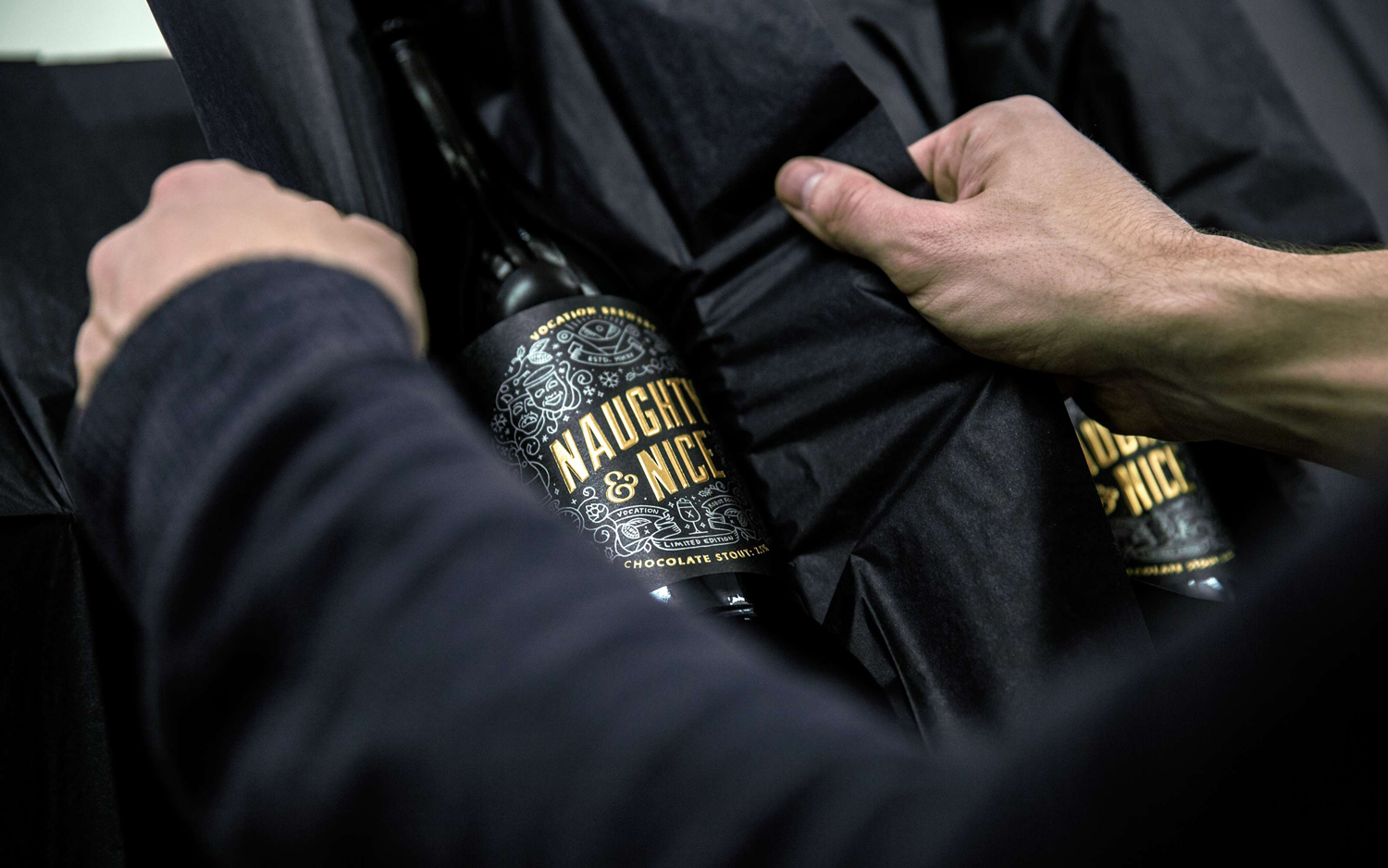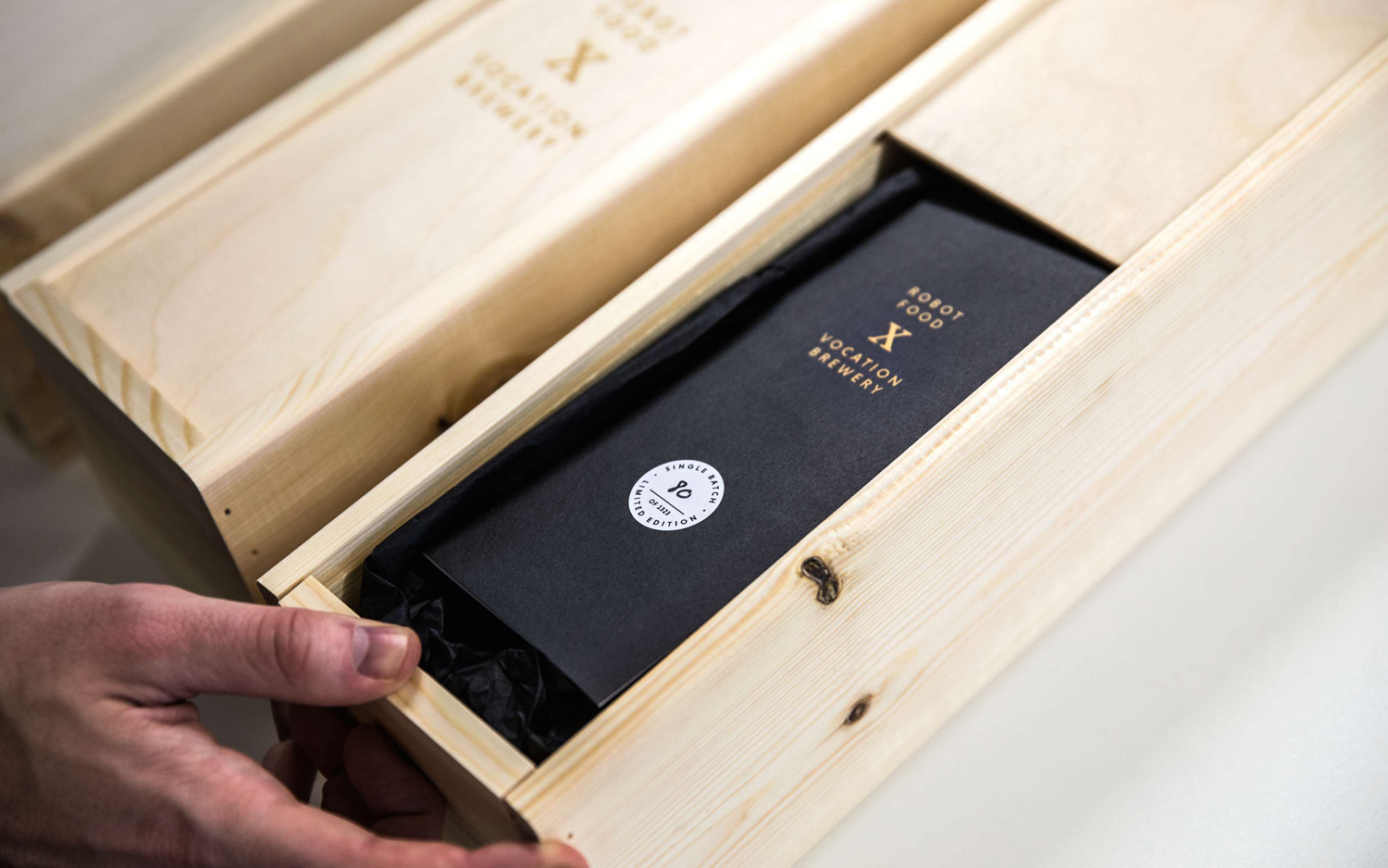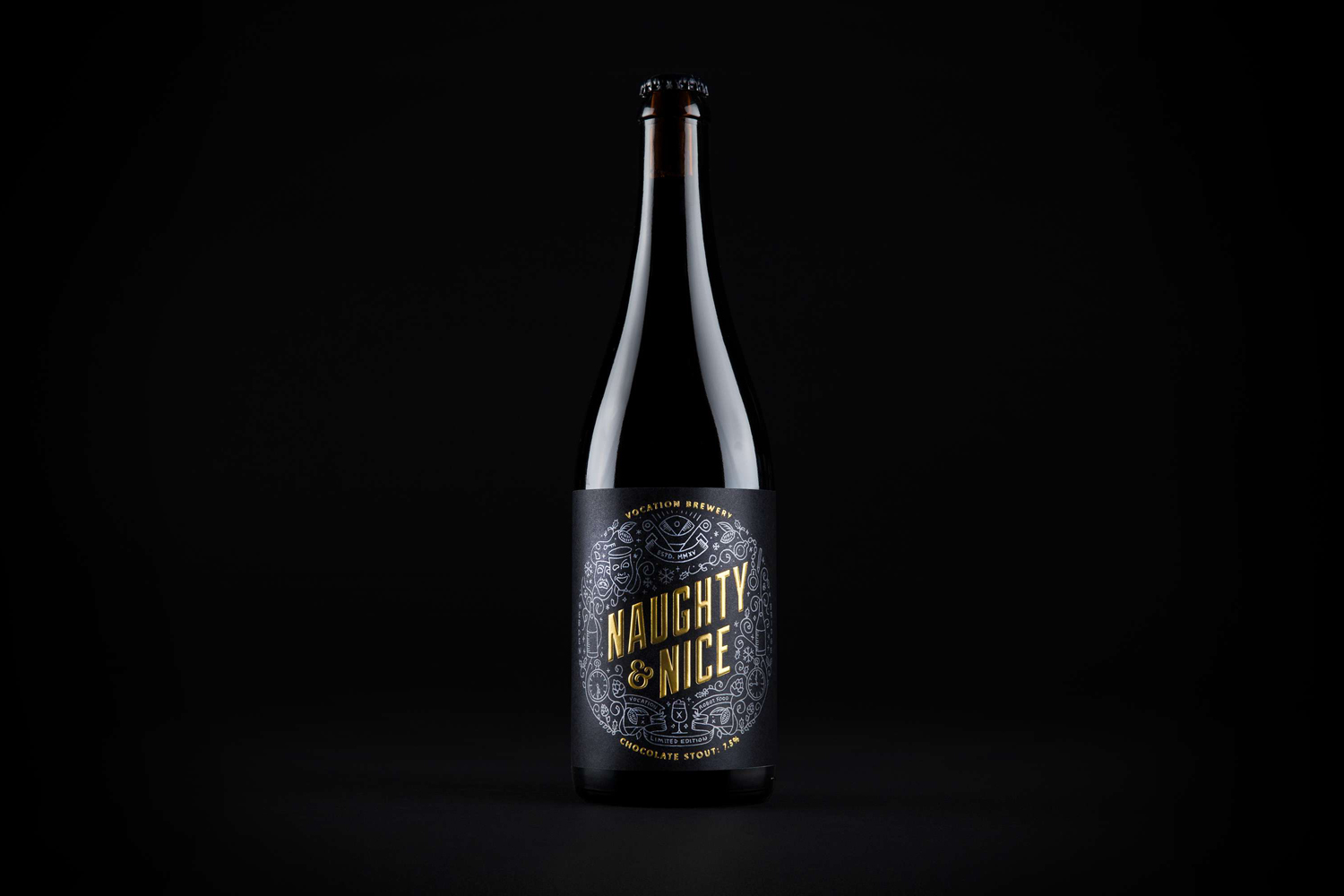 As noted in the BP&O Review of Vocation Brewery's brand identity and packaging back in May, the illustrations are busy but far from cluttered, youthful but not childish, and composed with a good eye for positive and negative space. Loose organic lines gives each illustration a fine hand drawn character that moves between prison tattoos and a current favour for the monolinear. These are well-suited to an attitude described as fearless, daring and somewhat renegade, but also to products and processes that are individual and crafted.
Naughty & Nice continues in this tradition. Seasonality and beer craft collide with plenty of detail that touches upon the British tradition of theatre and pantomime, cold weather, cocoa beans, hops and holly. It avoids commercial or religious clichés prevalent this time of year, and finds a balance between product characteristics, process and season, and maintains the elegant, intricate label illustrations of Vocation's core range.
It is nice to see that the expense of creating one-off illustrations for each new beer is seen as an investment. There is clearly both communicative and aesthetic value in such a commitment.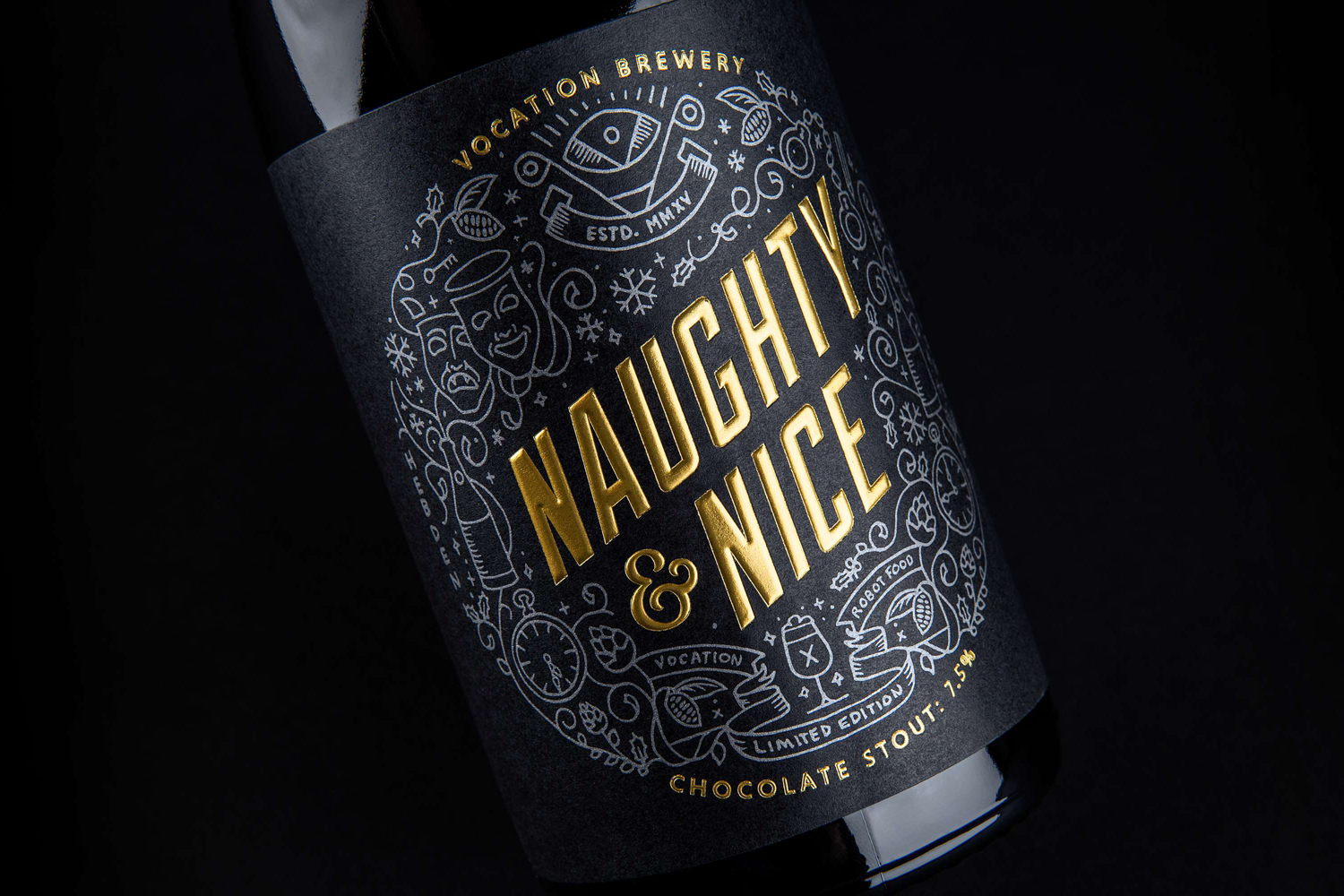 Bright contemporary spot colours make way for the festive and celebratory qualities of a gold block foil and silver metallic ink. Although familiar finishes that saturate the gift market, particularly at this time of year, these benefit from the context of good graphic design, the dark glass of the bottle, the black paper of the label and the limited edition nature of the beer.
Hand craft, a value shared by both studio and brewery alike, and emphasised by the documentation of this project, also plays out through the hand labelled, hand numbered, laser etched, custom cases for friends and clients of Robot Food.
The result is a considered balance of brand identity continuity and seasonality. The additions mark Naughty & Nice out from the range without undermining brand, rather contributing to the values communicated through the brewery's main range, whilst also functioning as a testament to the flexibility of Robot Food's work, making it an ideal client gift for Christmas. More from Robot Food on BP&O.
Design: Robot Food. Opinion: Richard Baird. Fonts Used: Niveau Grotesk & Duke