Self, Made by Collins
Opinion by Richard Baird Posted 1 January 2020
Exploratorium is a "public learning laboratory" and San Francisco based museum that enables visitors to question and make sense of the world around them through hands-on exhibits that touch upon science, art and human perception. Its summer 2019 exhibition, Self, Made, continues in the spirit of exploration but turns this inward, tackling the theme of human identity. It did this through a host of outside collaborators to curate exhibits, artefacts, and artworks with the intention to "shift visitors' inherent views of themselves." As part of a continued partnership with the Exploratorium, brand experience design company Collins created a launch campaign for the exhibition. This campaign is characterised by its broad use of colour, texture and imagery to construct a series of portraits, a graphic gesture that seeks to express the complex confluence of unseen forces that combine to create the self. These portraits run across and connect posters, transport livery, banners and super-graphics across the exhibition space and on to the streets of San Francisco. This was part of a three-month in-person and online campaign, which was then also integrated into wayfinding, merchandising and giveaways.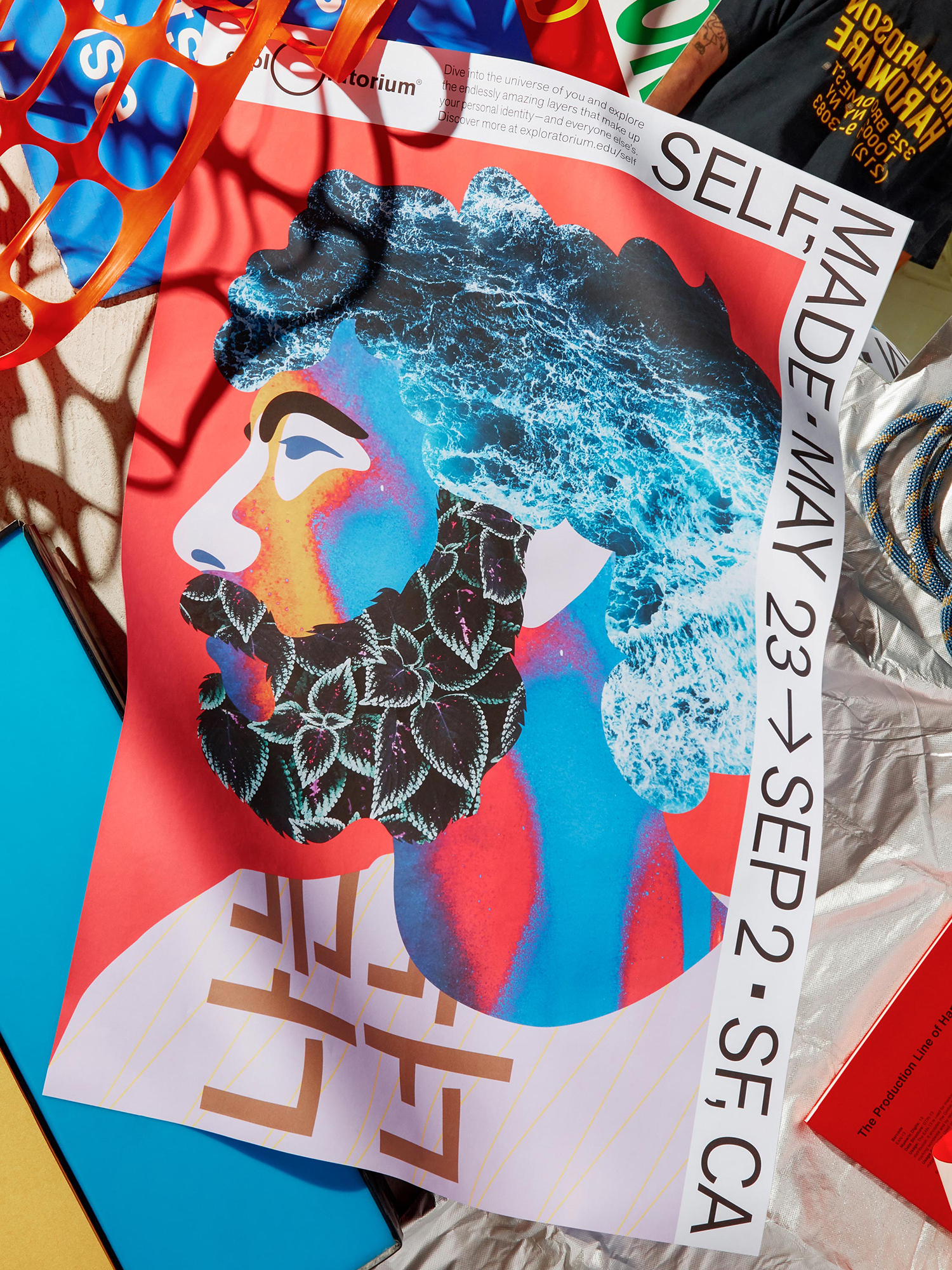 Self, Made encouraged visitors to challenge the notion of identity as a private fortress; a construct in which we metaphorically layer on brick after brick throughout our lives. The exhibition also created a variety of installations that would bring to light challenging questions around identity and develop a curiosity within that would go beyond the exhibition. The idea that people's faces can tell stories is given a very literal interpretation. Taking the "mash-up" of experiences, emotions, environments and genealogy, and working with the Exploratorium team, Collins developed a series of persona-collages, stitched together using the fabric of cultural influences, natural phenomena and abstraction. These visualise how identity is an evolving tapestry and multiplicity of subjective experience and encourage viewers to then "go beyond the surface level of appearance and explore the depths of personality and predisposition."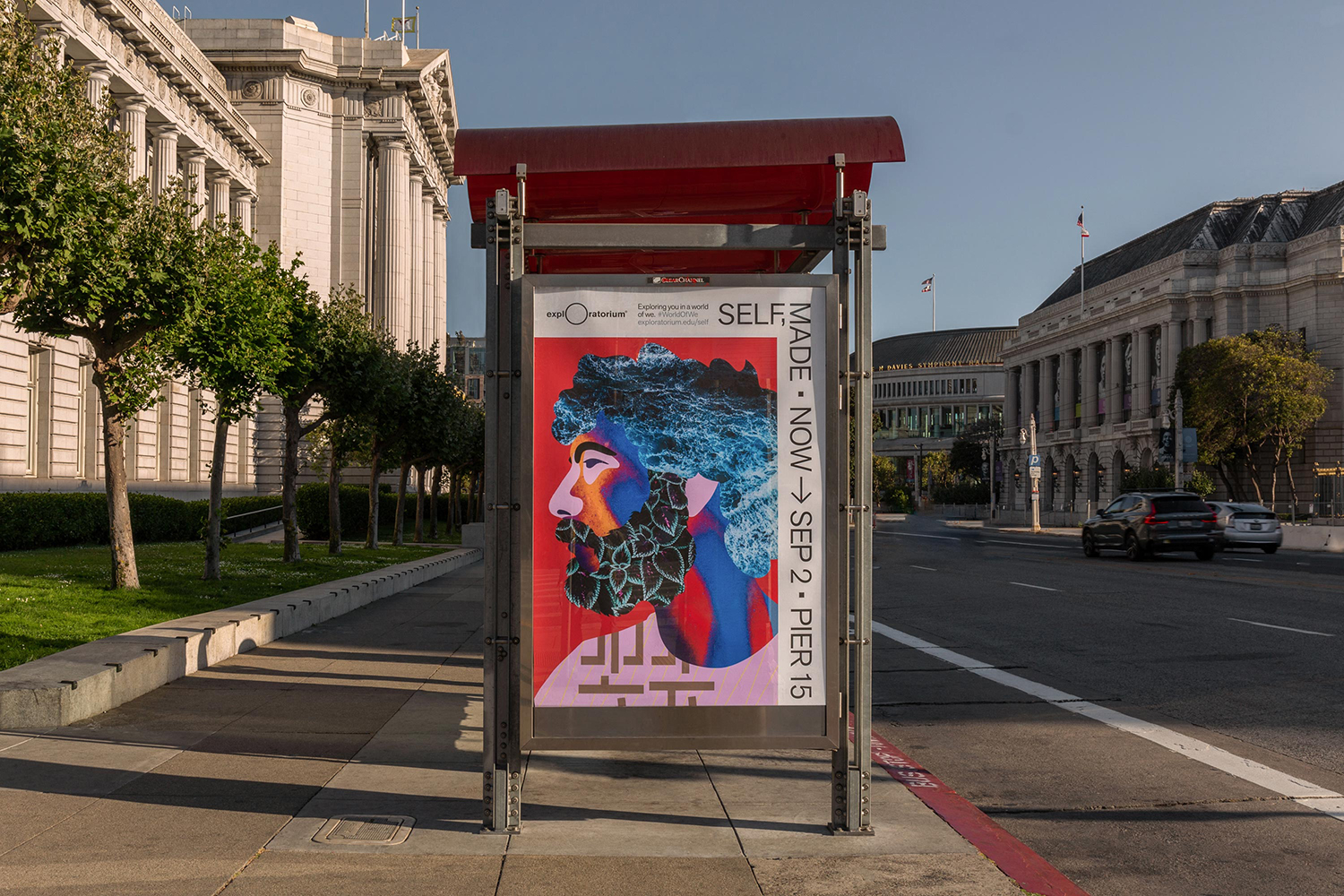 The work programmatises (into a series of identifiable gestures (persona-collages) across multiple surfaces) the complexity of individuality. These are provocations to find out more, rather than reveal any specific propositions. This is achieved in the use of colour, form and imagery, and the interactions and contrasts they create within the unified frame of a recognisable human face. There are, of course, difficulties in trying to capture the nuances of diversity. Physical traits and both abstract and specific imagery does a good job at conveying difference in a cohesive manner. These are eye-catching and artful. There are occasions where imagery is more about the convenience of the aesthetic, things such as leaves as beard and waves as hair–perhaps a connection with a specific past time, activity or moment–it is in service of the larger theme with space for interpretation and some degree of projection.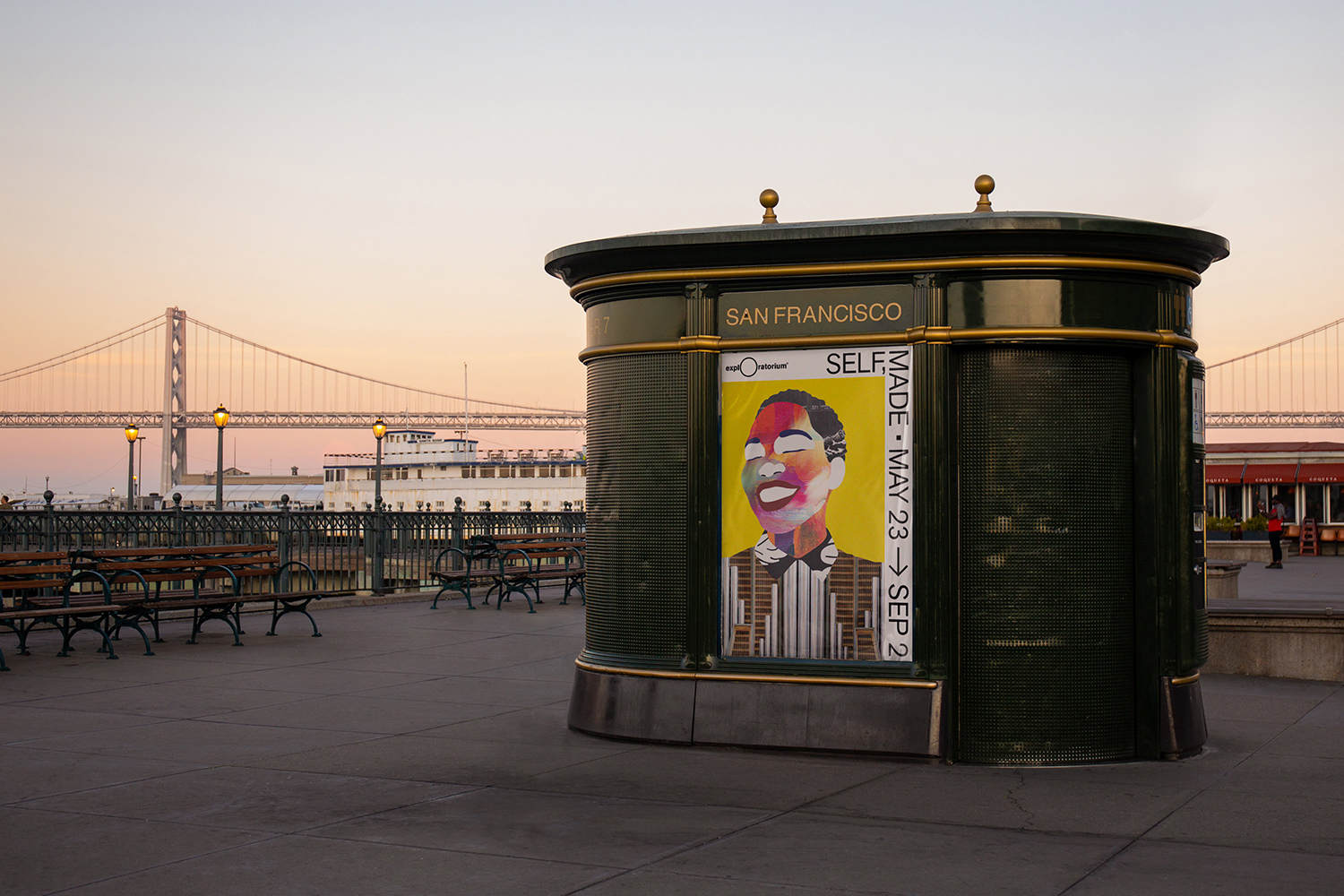 The portraits are framed by what is a very current typographical layout running along and around the top and right sides. This serves as a secondary graphic device alongside colour beyond the portraits that plays out in type only occasions. In some ways, in the occasional absence of text (see above) or because of the type size of the questions posed to passersby, the expectation might be an exhibition of the portraits themselves. Either way, there is something powerful in the face that draws you in. The use of different expressions, types of faces, colour and imagery work well to ask for consideration and allude to identity, but also, as works in their own right, bring a bright and cheerful imagery to the city streets. More work by Collins on BP&O.
Design: Collins. Opinion: Richard Baird.