BP&O Collections — Material Thinking
Selected by Richard Baird.
A collection of brand identity and packaging design projects published on BP&O that feature a distinctive material component, be that in external shape or internal structure, choice of substrate or print finish. This post includes work by Bibliothèque, Bedow and Mucho, and covers a variety of print finishes, material choices and production techniques.
Although many of the featured projects could be described as being stylistically compelling, their materiality is firmly rooted in concept, rather than the final beautification of type and image. For example, Mucho draw on locality for their work with Sant Francesc, Bibliothèque channel European and South Pacific heritage across the menus for restaurant Mere, and Filthymedia play with the industrial associations of Boxpark.
This post looks to showcase a variety of approaches, and intentionally moves between the abstract and the literal, the visceral and intellectual, and from the simple to the rich. Be sure to click the images to read more about the ideas that underpin the material expression of each project. This post will be continually updated, so bookmark and check back later, or take a look at more BP&O Collections here.
One Wellington St Kilda by Studio Ongarato, Australia
White Rabbit Collection by Toko, Australia
Tangent GC Organic Detergents by Carl Nas Associates, United Kingdom
OneFourFive Clarendon by Studio Brave, Australia
Inn Situ by Studio Mut, Italy
Napier Street by Studio Hi Ho, Australia
Fashion Central Saint Martins by Praline, United Kingdom
Inn Situ by Studio Mut, Italy
Albert Oehlen Book by Zak Group, United Kingdom
TGC x Stenerhag by Carl Nas Associates, United Kingdom
Espelma by Commission, United Kingdom
Migrant Journal No.5 by Offshore Studio, Switzerland
Unfolded by Commission, United Kingdom
Anton&Anton Kioski by Bond, Finland
Korea International Art Fair 2018 by Studio fnt, South Korea
David Collins Studio by Bibliothèque Design, United Kingdom
85 Spring Street by Studio Ongarato, Australia
Tatau by Inhouse, New Zealand
FranklinTill by Commission, United Kingdom
Migrant Journal by Offshore Studio, Switzerland
Dr Jart+ by Pentagram, United States
Revolt by Paul Belford Ltd., United Kingdom
REVOLT is an instruction manual for businesses seeking to do more with their brand. Its central premise is built around having people on your side; that the ability to form and activate a group is the secret to success. It essentially leverages and intends to help channel any feeling of disenfranchisement and anger into affirmative action and movements of change. Content feels very much of its time, although the visual and form language of action and disruption, revolution and dissent employed by Paul Belford Ltd. is an enduring and universal one. Conflating political and societal struggles with corporate interest is bold and provocative, as is its explosive visual and material expression.
Mere by Bibliothèque, United Kingdom
Bibliothèque touch upon on the European and South Pacific heritage of Mere's founders, Monica and David Galetti, and the interior design of the restaurant in the intersection of materials. And go on to draw a parallel with culinary craft in the inlaying of materials, a process of extensive experimentation and careful production in collaboration with French workshop Imprimerie du Marais.
Ekta Sketchbooks Vol. I–III by Lundgren+Lindqvist, Sweden
Lundgren+Lindqvist play with the line between art book and journal for Swedish animator, sculptor, designer and illustrator Daniel Götesson. Ekta Sketchbooks function as a facsimile of the artist's process, moving between moments of spontaneous expression and images that have a completed quality. Utilising the universal form and material qualities of a notepad, alongside essays and hand finished and numbered details, Lundgren+Lindqvist draw the reader closer to the artist.
Essem Design Product Catalogue 2018 by Bedow, Sweden
Employing a light sketchbook-like paper, pairing this with bringhtly colour pattern and illustration and alongside art direction that focuses on functionality Bedow make a compelling connection between the creative play a the product that follows.
Karla Black + Kishio Suga: A New Order by O Street, UK
O Street look to express the thematic commonality yet geographical difference between the sculptors Karla Black and Kishio Suga as part of their shared exhibition A New Order at Modern One, Scotland.
This is explored graphically through the intersection of artist names and a shared typeface, yet divides these through colour and motion. An interesting material component is introduced in the use of a semi- transparent paper, and in the printing of one name front and the other on the back. This brings a diffused quality to Kishio Suga, and serves to connect and divide in an interesting manner.
Anna Bjerger Book by Bedow, Sweden
Bedow make a personal connection to artist Anna Bjerger, and draw on the tactile vernacular of boxes of loose photos and the material flourish of classic photo albums through finger prints, robust unbleached box and leather bound and embossed book.
Sydlexia: Making Sense Of Dyslexia by BBDO Dubai, UAE
For Sydlexia, BBDO Dubai find an intelligent meeting point between compelling and modern single sheet graphic expression of fractured words and the material play of completing these words through the creation of origami animals.
Sebazzo by Bunch, United Kingdom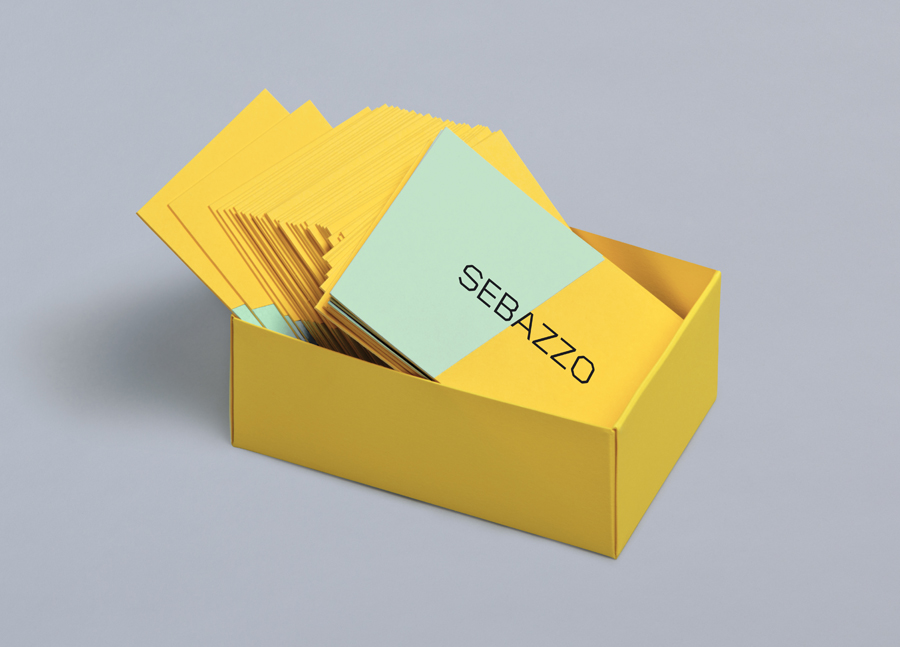 Design duo and studio Sebazzo bring a crafted approach to digital services. This is expressed by Bunch in the process of paper marquetry, the bring together and inlaying of dyed boards. The dual colour of business cards, and the bisection of name is informed by the partnership at the heart of the studio.
Campus by MultiAdaptor, United Kingdom
There are some neat techniques mixed in with MultiAdaptor's brochure for Google's Campus, a co-working and events space, as part of a broader brand identity programme. Highlights include the use of white bordered photography, the use of proportion and colour to break up pages, and the interplay between the very personal (image), the industrial (type) and creative play and design craft (colour, material, cuts, binds and finishes). It is busy but considered, with a pleasant and unexpected scrapbook quality that feels well-suited to a start-up hub of community, activity and creativity.
Label Lab by TM, United Kingdom
Label Label, through exhibition and talks, intended to showcase the potential of Arconvert's new papers and boards in branding and packaging. Design studio TM, through form, colour and texture, utilising much of the adhesive paper range across invitations, explores the theme of creative potential.
Highlights by Studio fnt, South Korea
Fondation Cartier's building, designed by renowned French architect Jean Nouvel, is celebrated for its interplay between structure and nature, and the transition from outside and inside, achieved by a prominent steel frame and glass panels, which extend out past the building.
Studio fnt explore this in the visual identity work for Highlights, an exhibition of work from Fondation Cartier at Seoul Museum of Art, using a reflective silver block foil. This brings the viewer and outside space, its changing for and light, right into posters, invitations and catalogue.
Skovin by Heydays, Norway
Design studio Heydays goes for clarity, universality and natural variety in their work for Norwegian floor specialists Skovin, creating business cards from wood veneer.
FS Silas Launch Campaign by Believe In, United Kingdom
Believe in, for their work on the FS Silas launch campaign, created a concept that draws its inspiration from the dossiers and secret files of espionage, as well as type specimens of the 50's and 60's. This is expressed materially in the combination of pastel coloured papers and manilla folders and boards.
Enea by Clase bcn, Spain
Rather than the glossy catalogue of corporate business Class bcn give contemporary furniture design and manufacturing company Enea a smaller crafted quality in the use of uncoated material choices, different paper sizes and simple binding.
Don Alonso de Suquía by Bermudez, Porta & Casasus, Spain
Bermudez, Porta & Casasus slice through the cover of a limited edition novella to playfully convey the profession of protagonist and swordsman Don Alonso de Suquía. The material texture and debossing of the cover, alongside colour and typestyle, effectively plays with period and setting. It has a conviviality and unusual quality to it, of the smile in the mind variety that largely avoids the gimmicky in the overall restraint and communicatively concise nature of the job.
Old Spike by Commission Studio, United Kingdom
There are a few of neat ideas at play in Commission Studio's work for coffee roaster Old Spike. Some are universal like the use of a block foil, high quality boards and the structural language of luxury boutique shopping bags. Some are subtle and conceptual like naming (a reference to the former workhouse the roaster now inhabits) and the connection between hard manual labour and premium quality. Others are practical, such as structural design that satisfies a need for strong shelf presence and a robustness for subscriptions sent out by post.
Yumn by Filthymedia, United Kingdom
Filthymedia draw on and reinterpret the industrial associations of Croydon's Boxpark as high visibility yellow papers and concrete grey boards to punctuate the traditional material flourishes of restaurant Yumn.
---